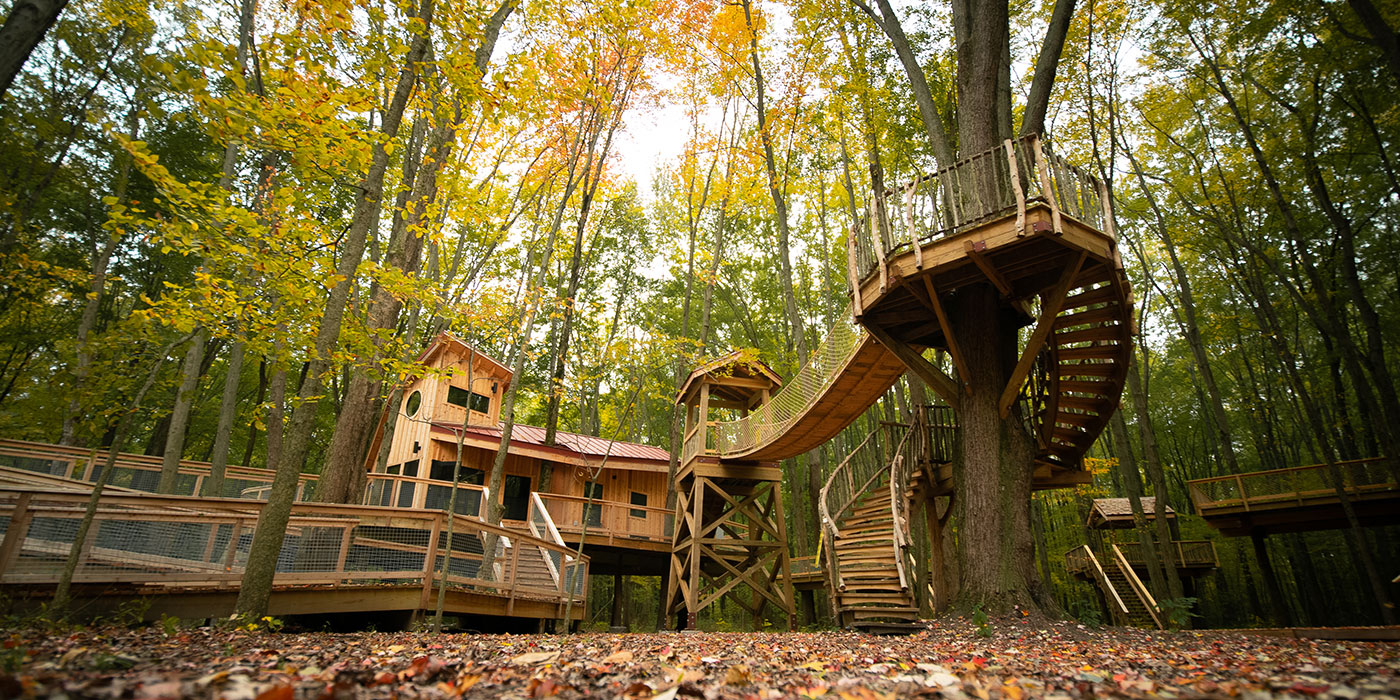 Cannaley Treehouse Village
The Cannaley Treehouse Village, located at the Beach Ridge area (3520 Waterville-Swanton Road), part of Oak Openings Preserve, provides Metroparks visitors new, memorable experiences that connect people with nature. 
Click Here to enjoy this exterior tour. Although the world is on hold. We hope to be cutting ribbons in the future. We will keep updates coming! Thanks for all your support.
Treehouse Village Rentals
Metroparks standard reservation process will be in place starting July 2020. Anyone who was not selected for the raffle can follow the standard reservation process then to book a stay, subject to availability.
Treehouse Village Features
A six-person treehouse
A four-person treehouse
Two, 2-person treehouses
Three tent/hammock platforms for camping in the trees
A common treehouse with seating for up to 49 people (day use only; ADA accessible)
A crow's nest
A canopy walk linking the common treehouse to the crow's nest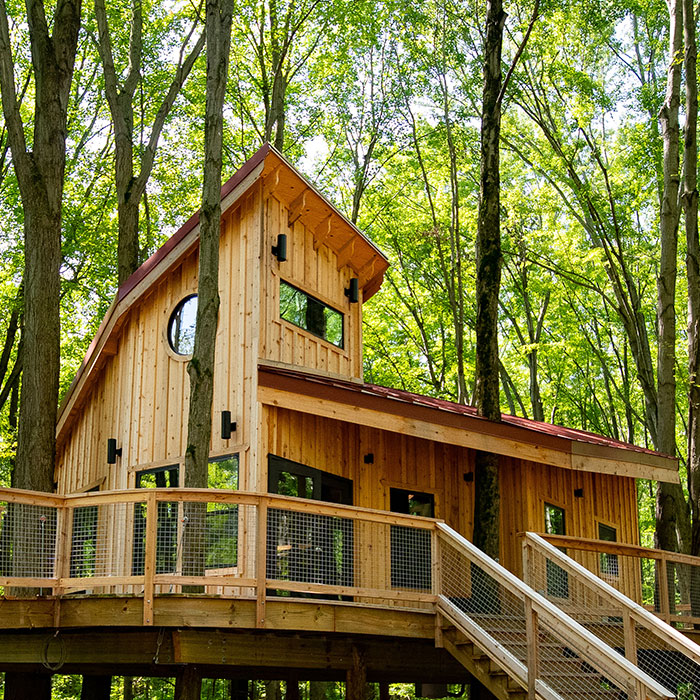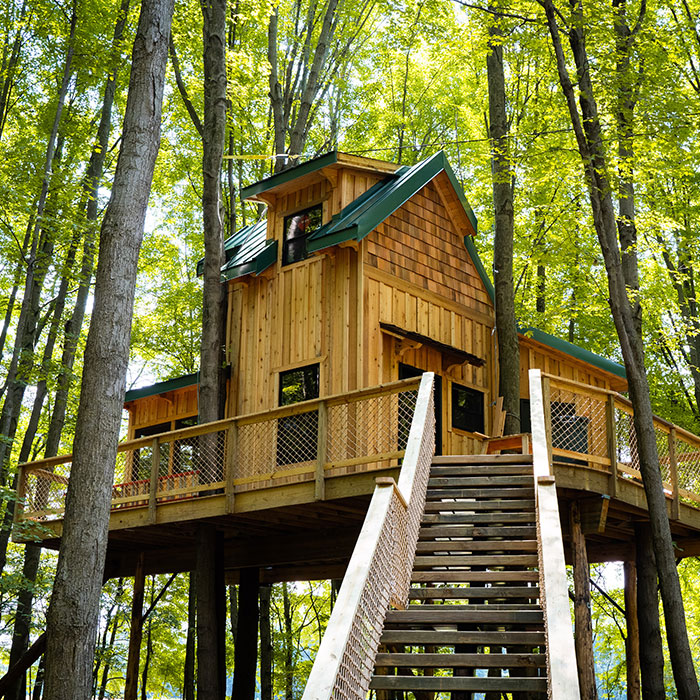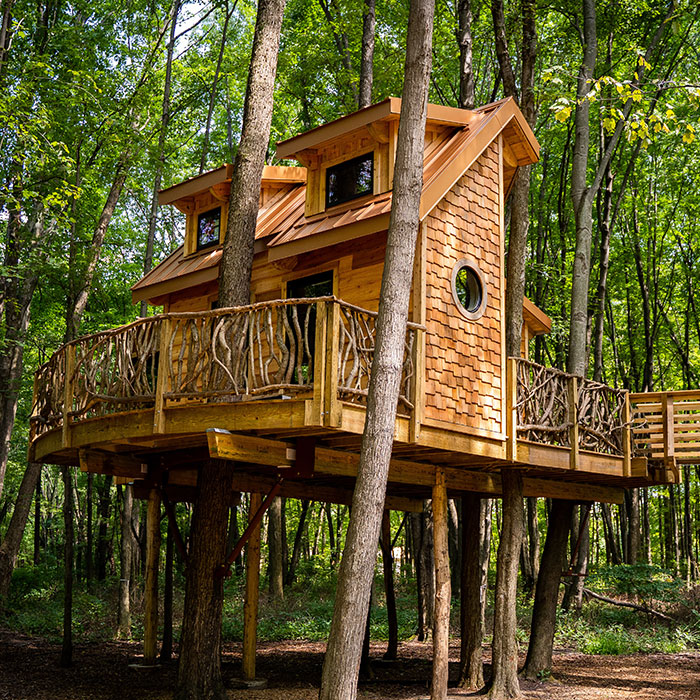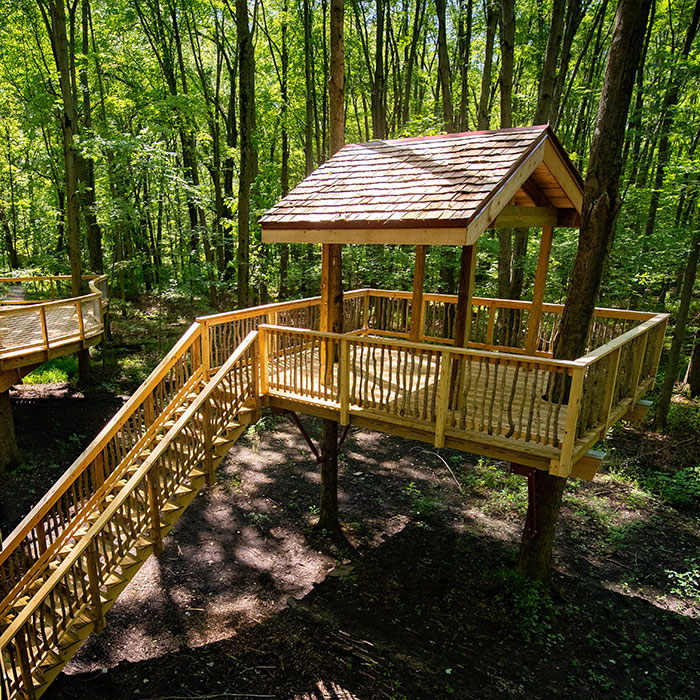 Staying at Treehouse Village
The four private treehouses and three tent/hammock platforms will be available to rent for overnight stays beginning in summer 2020. The common treehouse may be reserved for daytime and evening (but not overnight) group gatherings. And for that truly special event, the entire Treehouse Village may be reserved – available 4 weekends per year.
Treehouse Village Pricing
To ensure opportunity for a broad segment of the population to stay at Treehouse Village, an occupancy cap will be established for traditional rentals. Monday and Tuesday nights will be reserved for community outreach, programming, camps and subsidized stays. The treehouse structures will be priced at a rate that maintains accessibility for all.
Overnight Accommodations
6 Person Treehouse
Rental Rate: $225 per night
Member Rate: $200 per night


4 Person Treehouse
Rental Rate: $200 per night
Member Rate: $175 per night


2 Person Treehouse
Rental Rate: $150 per night
Member Rate: $125 per night


Hammock Platform
Rental Rate: $30 per night
Member Rate: $20 per night


Tent Platform
Rental Rate: $30 per night
Member Rate: $20 per night

Day Use
Common Treehouse
9 a.m. to 5 p.m.
Rental Rate: $500 per day
Member Rate: $450 per day
Extended Hours 9 a.m. to 11 p.m.
Rental Rate: $750 per day
Member rate: $650 per day
Amenities
Restrooms
Common Fire Pit (Wood Provided)

Entire Treehouse Village Rental

Friday & Saturday Nights, available once per quarter
Rental Rate: $5,000 for two nights
Make Your Stay An Experience
Tree Climbing: Facilitated tree climb at the Treehouse Village Climbing Tree.
Mountain Biking: Guided 2-3 hour mountain bike adventure on the Beach Ridge Singletrack Trail.
Maumee Kayaking Adventure: Self-guided paddle based out of the Farnsworth concession with transportation from Treehouse Village to Farnsworth.
Guided Backpacking/Hiking Adventure: Guided hiking adventure within the Oak Openings Region. Transportation from Treehouse Village to hiking location and return trip provided. Campfire snack upon completing the hike.
Romance Package: A dozen roses, a box of chocolates, and a bottle of champagne with two Treehouse Village commemorative flutes.
Catering Package: Have your event catered, including food, beverages, tableware, and linens.
Photo Package: 45-minute session at a location of your choice.
Creating a Destination
The 500-acre Beach Ridge Area of Oak Openings, including Treehouse Village, will be a compelling, unique new way for people to connect with the outdoors. This destination for local and out-of-town outdoor enthusiasts will feature:
Treehouse Village
A new, 12-mile singletrack mountain bike trail and skills development course
Additionally, Metroparks will host regular public events and programming at Beach Ridge and Treehouse Village to give the community access to this unique location.