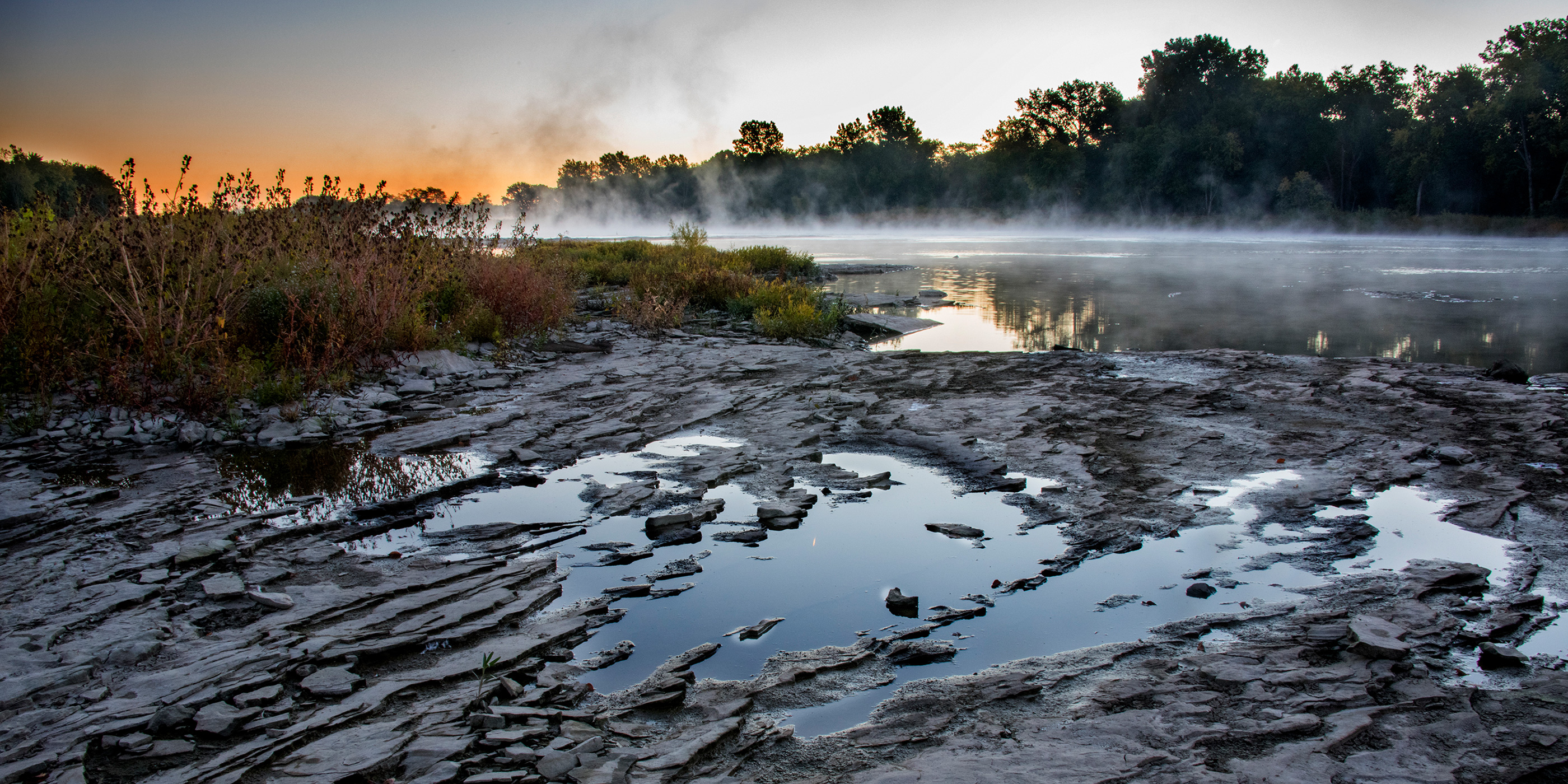 We're In This Together.
Metroparks will continue to provide places for respite and exercise during the ongoing health crisis, but visitors must observe the state mandate for Social Distancing. Only visit parks for short periods, alone or with members of your household, and give others 6-10 feet distance. Stay home if you are sick.
Latest Updates
Metroparks Are Open
The Metroparks are still here for you. Parks are appropriate places to go, but only if we all keep a safe distance from one another. Please give others 6 feet, and consider wearing a mask.
All 17 Metroparks are currently open. Restrooms are open for emergency use. Playgrounds remain closed.
Use your Metroparks as places to enjoy the outdoors at a safe distance from others, alone or with members of your household.
We can continue to enjoy the parks if we observe the social distancing rules, wash our hands and stay home if we are sick. Working together as a community, we can keep our parks open.
Hours: 7 a.m. to dark
Recent Announcements
Campgrounds are open effective May 21. The kayak concession at Farnsworth is open when river conditions allow. The kayak share at Middlegrounds is open. Details and campsite reservations are available online here.
Restrooms are now open for emergency use. The decision to reopen restrooms was made in consultation with public health officials. Additional, cleaning protocols are standardized across the park system. Restrooms are closed during cleaning.
The dog park at Middlegrounds is now open when conditions allow; it is closed when it is too wet/muddy to protect the turf
Parking may be limited and some areas may be closed to alleviate crowding
Scroll down for full list of closures and cancellations
Special Statements
Spring Bird Migration
Our region is renown for birds in spring, and normally we look forward to welcoming birders from around the country -- but not this year. Travel for non-essential purposes is discouraged, and visitors from out of state are asked to self-quarantine for 14 days. Please bird close to home, and we'll see you again in the future. Crowding at popular birding destinations, such as Howard Marsh, will result in closures. Ohio Travel Guidelines>
Maumee River Fishing
Metroparks has worked with other jurisdictions and public health officials to reduce crowding and encourage social distancing on the Maumee River during the spring walleye and white bass fishing season. Park law-enforcement is onsite to ensure compliance with the state mandates.
Keep Our Parks Open
Parks can stay open if we practice Social Distancing, say Dr. Johnathon Ross, president of the Lucas County Health Board, and Dave Zenk, executive director of Metoparks Toledo. Full Story>
Some National Parks, Magee Marsh Wildlife Area and Hocking Hills State Park here in Ohio, and parks in some other states had to close because of concern for public health. Metroparks are exempt under the Ohio order, but the decision to stay open is up to us. Park Rangers may restrict access when necessary for public safety.
Expect heavy-use parks such as Wildwood, and activities such as fishing at Side Cut and birding at Howard Marsh, to be busy. Consider going to other parks.
Only come alone or with members of your household.
Give others space—6-10 feet.
On the Trails: Walk, run and bike in single file on trails to give others room, and give warning when passing.
Please be kind to everyone, and give our Rangers a friendly wave. The parks are open to relieve stress and give us all safe space.
Closures & Cancellations
In consultation with public health officials, Metroparks is taking the following additional steps to protect the health of park visitors and employees.
All indoor facilities are closed. No reservations are currently being accepted
All programs are canceled until further notice
All Special events are canceled through this summer
Playgrounds are closed statewide until further notice
FitPark at Wildwood is closed under the playground closure mandate
The Elmer Drive entrance to Toledo Botanical Garden is open, but the Bancroft entrance is closed
Some parking lots and other areas may be closed to reduce crowding; parking has been limited at Wildwood Preserve
Other Announcements:
Soap and water hand-washing stations have been placed at trailheads
Park Rangers, as law enforcement officers, have authority to enforce Social Distancing and other rules mandated by Ohio Health Dept. orders. Maintaining a safe distance from others is vital to the health of the community.
Timeline of Announcements
May 14--The Lt. Governor announces that campgrounds are permitted to reopen May 21
May 9--Restrooms reopen district wide with additional cleaning protocols
May 1--The dog park at Middlegrounds reopens
April 21--The Bancroft Street Entrance to Toledo Botanical Garden will be one of four COVID-19 test sites in Lucas County. The area remains closed except for people who preregister
April 15--Westwinds Metropark opens for the season
April-- Facility closures and program cancellations extended until at least June 1 
April 6—Side Cut Metropark will remain open for visitors, including walleye fishing. The City of Maumee announced it is restricting access to the Maumee River
April 3--Middlegrounds off-leash dog area to remain closed through April.
April 2--The Ohio Department of Health has extended the Stay at Home/Essential Business Only Order until May 1. Parks continue to be exempt, but social distancing rules apply. To reduce crowd size, some parking has been closed at Wildwood.
April 1—Guest editorial published in The Blade by Johnathon Ross, president of the Lucas County Board of Health, and Dave Zenk, executive director of Metroparks Toledo. Parking areas to be blocked at Wildwood to reduce the number of people in the park at one time.
March 30—With warmer weather and heavier park usage anticipated, Rangers will limit parking at Wildwood and may close parks or areas of parks as necessary to prevent crowding.
March 25—Because of forecast warmer weather and anticipated heavy use, additional advisories issued regarding Social Distancing.
March 24—Parks remain open, restrooms are closed. Portable restrooms cleaned twice daily are available for "emergency" use. (Note that the Ohio Department of Natural Resources has closed Magee Marsh, as well as all State Park Campgrounds, restrooms, boat launches and other facilities.
March 23—Effective Tuesday, March 24, park restrooms will be closed. Parks remain open
March 22—Ohio Department of Health issues Stay at Home order; mandates publicly accessible playgrounds be closed. Gov. Mike DeWine specifically calls out State Parks and Metroparks as appropriate exceptions to the order, but stresses the importance of practicing Social Distancing.
March 19—Effective this date, all playgrounds in the Metroparks are closed until further notice. The off-leash dog area at Middlegrounds is also closed. Parks remain open. Hand washing stations are being placed at trailheads.
March 18—The Board of Park Commissioners meeting scheduled for today was canceled. At the close of business today, the administrative offices will be closed until further notice. Administrative staff will work from their homes.
March 17—Drive-thru testing by local health officials begins at Toledo Botanical Garden. The Garden is open to the public except that area of the Bancroft Parking Lot where testing is taking place.
March 16—The period of program cancellations and facility closures is extended at least through April. Administrative offices are closed to the public. Hand-washing stations have been placed at playgrounds. Toledo Botanical Garden, Bancroft entrance, will a coronavirus testing location for patients referred by their doctor. Staff are advised to cancel all non-essential in-person meetings and to work from home if they can.
March 13—All Metroparks remain open regular hours. All programs are cancelled and all indoor facilities are closed at least through the end of March. Restrooms will remain open.
March 12—All facilities with a capacity of 100 or more people are closed effective immediately.