First Win Was a Big One for Photographer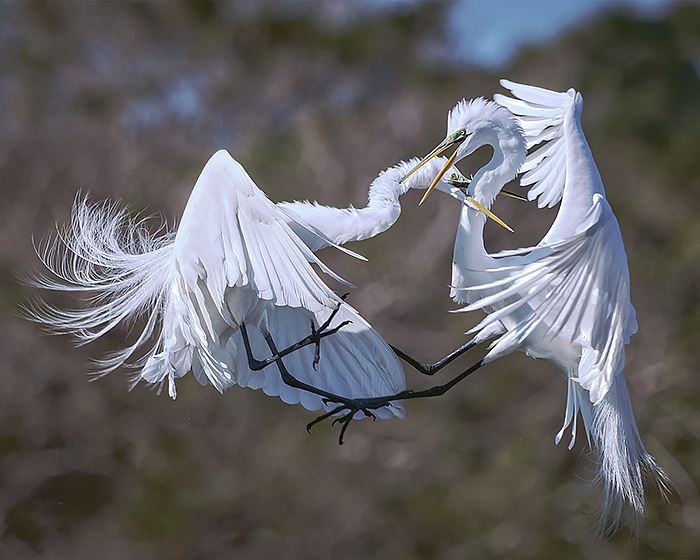 Margaret Meehan never won a photo contest before, but her first win will be hard to top.
In this year's Photo Arts Club of Toledo contest, Margaret's stunning image of two great egrets battling in flight came out on top, garnering first place in the Animals Category as well as the coveted Best of Show award.
"I was blown away, I really was. I was hoping for an honorable mention," the retired teacher from Lambertville, MI, said.
Her photo, "Tango," is among the more than 300 images entered in the contest that are now on exhibit at the National Center for Nature Photography at Secor Metropark. The show is open Fridays, Saturdays and Sundays, 10 a.m. to 4 p.m., through May 27. Admission is free.
Margaret entered two photos in the 31st annual contest. The winning image was one of more than 7,000 she captured in January, 2015, during a month-long stay in Florida. The birds were fighting midflight at a well-known rookery in Venice, Florida, where she visited four or five times during her trip. Her other entry was a photo of a bobcat taken on a Texas ranch near the Mexican border.
Margaret said her photo adventures began slowly, as she dabbled for three years before signing up for a field workshop, about photographing dragonflies, put on by Metroparks nature photographer Art Weber and naturalist Bob Jacksy, who has since retired. Similar workshops and interactions with fellow photographers helped her hone her craft, she said.
"It's a great hobby, and it's just a hobby for me," she said. "I don't sell my photographs. I'll be the first to admit, I'm still learning."
Photographic information: Canon 70D, EF100-400 f/4.5-5.6L IS USM at 400mm; ISO 250 at 1/2000 sec at f/5.6.
Note: Scott Carpenter, director of public relations for Metroparks, was among the judges for this year's contest.