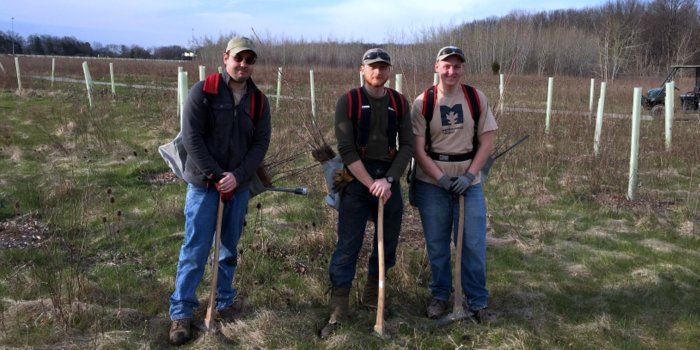 Help Plant 2,000 Trees in Two Weeks
Earth Day is just around the corner, and you can help make our planet a little bit greener. Metroparks has 2,000 red oak trees that need to be planted in the next two weeks at Fallen Timbers Battlefield in Maumee.
If the following describes you then you are one of the people Metroparks is looking for.
You're up for an adventure off-trail. There will be some wading through brush and a few pickers. Long pants and sturdy shoes or boots are a necessity.
You're up for a workout. The work site is not accessible by road so you'll be walking a mile to get to the planting area. The work is strenuous and requires bending over, digging and pounding stakes into the ground.
You want to give these trees the best chance of survival. Volunteers will be planting the trees using a dibble bar and a very specific technique (see a video below). There will be staff on hand to provide training.
You are 18+ or 16+ and accompanied by a parent/guardian.
Available Shifts
Wednesday, April 12
9 a.m. to noon, 12:30 to 3:30pm and 4 to 7 p.m.
Thursday, April 13
8:30 to 11:30 a.m.
Friday, April 14
8:30 a.m. to 11:30 a.m.
Monday, April 17
9 a.m. to noon, 12:30 to 3:30 p.m. and 4 to 7 p.m.
Tuesday, April 18
9 a.m. to noon, 12:30 to 3:30 p.m. and 4 to 7 p.m.
Make a difference and sign up today!
To get started, sign up to be a volunteer. List Tree Planting in the Volunteer Assignment box.
Already a volunteer? Login into Volgistics to sign up for a shift.
Other volunteers are needed, too. See the Reforestation Volunteers page.