Metroparks Facilities, Programs Available to Scout Groups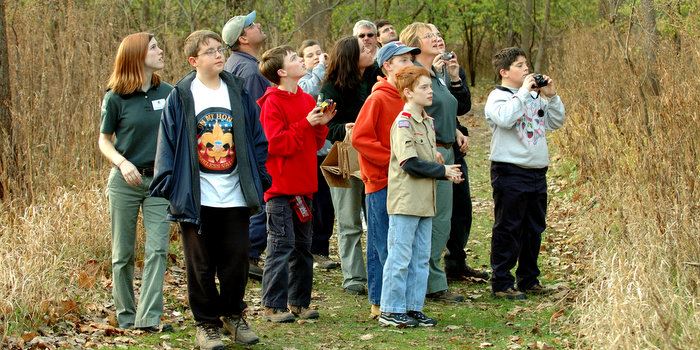 Scouting groups use the Metroparks to explore nature, camp and acquire new outdoor skills. Boy Scouts and Girl Scouts have also made important contributions to the parks, such as building trails and bridges, helping to manage the land and making other improvements.
This special relationship between Scouting and Metroparks has been mutually beneficial to both – and more importantly, to the community.
Metroparks is now offering new ways to connect with our friends in Scouting, from meeting spaces to educational programs that meet requirements toward advancement. We can even create quality, custom experiences to sharpen scouting skills.
Meet in the Metroparks
NEW: Scout groups can now hold meeting in Metroparks facilities at no cost. Leaders can schedule onetime events or set up a series of meeting dates.  Most Metroparks have heated indoor meeting spaces that can accommodate small to medium sized groups. To make arrangements, please call 419-407-9701. Some restrictions apply.
Earn Badges
Special programs for scouts focus on earning badges and achievements related to the environment, outdoor skills and other topics. Here are the Calling All Scouts programs scheduled though the end of the year.
November 2 - Cub Scouts, Bears: Furs, Feathers and Ferns, 5:30 p.m. at Secor    
November 3 – Cub Scouts, Wolves: Paws on the Path, 5:30 p.m. at Secor 
November 8 - Girl Scouts, Cadettes: Night Owl, 6:30 p.m.,  Oak Openings Preserve 
November 10 - Girl Scouts, Cadette: Trees, 6 p.m. at Secor
November 13 – Brownies: Hiker, 2 p.m. at Oak Openings Preserve 
December 6 - Boy Scouts: Fish and Wildlife Management , 5 p.m. at Farnsworth   
December 18 – Girl Scout, Juniors: Playing The Past (Juniors), 2 p.m. at Wildwood Preserve
Register for a Scouting program online
Request a Custom Program
Groups of scouts working on the same achievement/badge can schedule a requested program with Metroparks. With enough notice you can choose the date, time and place to have a member of the Metroparks staff all to yourself.  These programs are great ways to get scouts outdoors in the winter. (Note that some topics are specific to a season.)