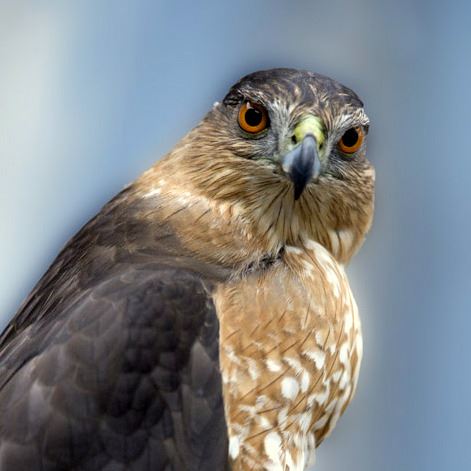 Natural History, Research to be Presented at Forum
Reintroducing lake sturgeon into the Maumee River. Managing deer in the Metroparks. Monitoring and restoring local streams. These and other topics about local natural history and research will be presented January 28 in a daylong forum at Main Branch Library.
The Forum on Local Natural History and Research expands on the Oak Openings Research Forum held for many years and now includes presentations on a broader array of topics. The forum, from 9:30 a.m. to 4:30 p.m., is co-sponsored by Metroparks of the Toledo Area and the Toledo Lucas County Public Library.
The forum will focus on recent research about northwest Ohio's rich natural communities, such as the Oak Openings, Maumee River and Lake Erie marshlands. The day will include presentations, posters and dialogue about rare plants, insects, birds, amphibians, ecology, water quality, geology and other topics.
Keynote speaker Mitchell Magdich, curator of education at the Toledo Zoo, will present "The Buzz about Local Bumble Bees." 
---
Registration
Reservations required. Cost: $40.00 program fee includes materials, lunch, refreshments and courtesy parking at the Library's garage on Adams Street. For more information, call 419-407-9701. Lead poster contributors, please register by phone for discount. For vegetarian lunch option, please make note at time of reservation. Presentations begin at 9:45 a.m. and the keynote is just before lunch. Parking garage on Adams Street opens at 9 a.m.

Agenda
(Some minor changes to this draft agenda may be made)
Guest Speakers/Topics: (In tentative order of occurrence)
Jessica Collier, University of Toledo. Reintroducing Lake sturgeon in the Maumee River
Bob Ford, wildlife management supervisor, Ohio Division of Wildlife, Peregrine falcon research update
Steve Lauer, Metroparks volunteer, Oak Openings raptor monitoring 2016 Highlights
Break
Keynote: Mitchell Magdich, The Toledo Zoo. The Buzz about Local Bumble Bees
Lunch
Jim Evans, Bowling Green State University. Geologic changes in Northwest Ohio rivers
Christina Kuchle, ODNR Scenic Rivers. Stream quality monitoring data: The Maumee River
Chris Collier, Black Swamp Conservancy. Stream restoration project at Forrest Woods
Break
Tim Schetter, Metroparks director of natural resources, Metroparks Deer Management
Julia Gehring, The Nature Conservancy. Oak Openings rapid assessment method (OORAM)
Eric Durbin, Toledo Naturalists' Association. Spiranthes Orchids of the Oak Openings
---
About the Keynote
Mitch Magdich is the Curator of Education at the Toledo Zoo where he has worked for 25 years. He holds a Bachelor of secondary education from the University of Toledo and a Master of Zoology from Miami University.
In addition to his work as an educator, Mitch has been involved in insect conservation efforts in northwest Ohio for 30 years. He was a senior member of a team that successfully reintroduced the Karner blue butterfly to Ohio in 1998. He has also performed conservation work with the monarch, purplish copper, swamp metalmark, frosted elfin, Edward's hairstreak and Mitchell's satyr butterflies. 
Mitch's recent insect related endeavors involve bumble bee surveys on prairie installations done by the Toledo Zoo's Department of Conservation and Research. He is also working on a National Science Foundation grant-funded project through Bowling Green State University that introduces 3rd and 8th grade students in Sandusky to insect citizen science programs such as Bumblebee Watch, Monarch Watch and E-butterfly, with the goal of improving student achievement of Ohio science standards.
---
Poster Presentations/Topics
(in alphabetical order of lead contributor's last name)
Paige Arnold, Bowling Green State University. Nectar variation in Northwest Ohio prairie/savanna forbs
Jessica Collier, University of Toledo. The science behind Lake sturgeon reintroduction
Sara Guiher, University of Toledo. Oak Openings Region invasive species control plan
Jennifer Hollen, Bowling Green State University. Bats of the Oak Openings Region
Lauren Jonaitis, Bowling Green State University. Predicting vertebrate movement with road/visual  surveys
James Martin-Hayden, University of Toledo. Hydrogeology of Wiregrass wet prairie aquifer
Karen Menard, Metroparks. Rare plants of Blue Creek Metropark's limestone glade
Denny Mortemore, Ohio Certified Volunteer Naturalist. Metroparks cavity nesting bird monitoring
Ashlee Nichter, Bowling Green State University, adjacent land use and species diversity in ditches
Penny Niday, Metroparks. Oak Openings Region grasshopper, cricket and katydid monitoring
Hannah Olenik, Bowling Green State University. Vegetation diversity, Northwest Ohio ditches
Misty Peavler, Bowling Green State University. Oak Openings ecological restoration
Eileen Sawyer, Metroparks. Vernal pool monitoring, Scout Pool of Oak Openings
Steve Smith, Ohio Lepidopterists. Metroparks  long-term butterfly monitoring in Oak Openings
LaRae Sprow, Metroparks. Update on Oak wilt management
Mark Warman, Cleveland Metroparks. Update on the invasive Hydrilla verticillata