Plans Advance for New Metropark on Toledo Waterfront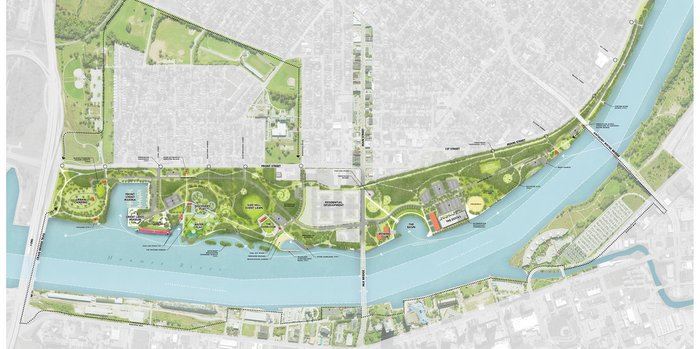 Plans were unveiled at a public meeting June 21 for a new waterfront Metropark on the east bank of the Maumee River, opposite downtown Toledo.
Metroparks plans to purchase 70 acres of the property, currently known as the Marina District, on Toledo's east side and has hired SmithGroupJJR to develop a master plan. The company created the master plan for Middlegrounds Metropark, now open downtown between Ottawa Street and the river, and Howard Marsh Metropark, which opened in late April in Jerusalem Township.
The park, which has not yet been named, will be the sixth Metropark on the Maumee River. All of the river parks and other sites along Ohio's 108-mile stretch of the Maumee River are part of the newly-designated Ohio Water Trail.
In April, 2017, Metroparks announced that it would purchase the majority of the riverfront property owned by ProMedica. At the same time, ProMedica announced plans to sell a portion of the land to Columbus-based Continental Real Estate Companies to develop housing and retail that will complement the park. ProMedica purchased the property in 2016, and held its own public meetings to obtain community input.
The waterfront park will serve the surrounding neighborhoods, with connections to Waite High School, International Park, Main Street, Front Street and the Historical Museum of the Great Lakes, as well as downtown via an existing trail that crosses the Craig Street Bridge. The park will – and has already begun to – spur adjacent investment in the community.
Development of the former Marina District has been a goal of leaders in East Toledo as well as a component of the Downtown Toledo master plan. A waterfront park will unite both sides of the river and be a destination for visitors.
Summary of Planning Process
Metroparks will purchase from ProMedica a total of 52 acres of land in three phases (acreage is approximate):
Phase 1 (2017): 20 acres; $1.2 million purchase price. A $1.9 million Clean Ohio Fund grant was secured for acquisition and development. A $500,000 Sustain Our Great Lakes grant through the National Fish and Wildlife Foundation was received for shoreline and habitat restoration. A $950,962 Congestion Mitigation/Air Quality grant through TMACOG was awarded to construct a pedestrian bridge over Main Street and build 4,300 feet of trail, allowing for continual connection across the Maumee River and into downtown Toledo.
Phase 2 (2018): 23 acres, $1.35 million purchase price. A $1.2 million Clean Ohio Fund grant was secured for acquisition and development, including a realignment of Riverside Drive.
Phase 3 (2019): 9 acres, $500,000 purchase price; grant funding to be requested
Metroparks will also assume an option to purchase an additional 17 acres of land owned by the City of Toledo