Prescribed Fire in the Metroparks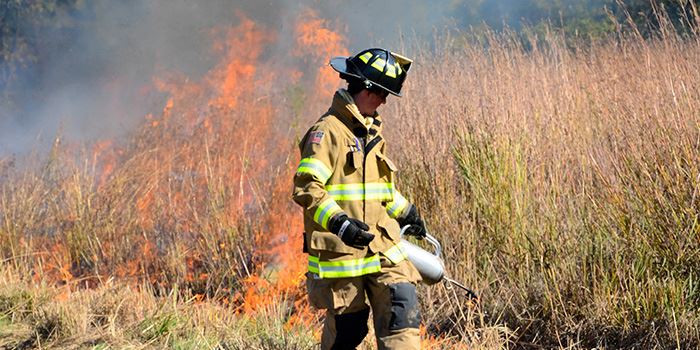 Prescription for Biodiversity
The globally rare Oak Openings Region is home to one-third of Ohio's endangered and threatened plants, more than any area of similar size in Ohio. For thousands of years, the Oak Openings ecosystem of sand dunes, oak savannas, and wet and dry prairies was sustained through periodic fires. In the last two centuries, much of the region was transformed into a mosaic of farms and residential areas where fire became undesirable.
Wherever the natural landscape has been protected or restored, such as Oak Openings Preserve Metropark, The Nature Conservancy's Kitty Todd Preserve and Irwin Prairie State Nature Preserve, the careful use of prescribed fire has significantly improved natural biodiversity and revitalized the preserves, bringing back the open character of the Oak Openings. Since 1988, Metroparks has safely used prescribed burns to renew oak savannas and prairies, and to control invasive non-native shrubs such as autumn olive and buckthorn.
By keeping weedy species in check, open habitats no longer are "choked" by dense shade or covered by too much leaf litter. Without sunny openings, fire-adapted prairie and savanna plants may not flower or be pollinated effectively. After a burn, the native plant growth is stimulated by fire-blackened soils that are warmed by the sun. Warm soils produce a longer growing season with greater soil microbe activity and more soil nutrients.
Wildlife can also benefit from controlled burns. Gains include open nesting areas for grassland nesting birds such as the Ohio endangered Lark Sparrow (Chondestes grammacus) and the vigorous growth of wild lupine (Lupinus perennis), the only host plant for the federally endangered Karner blue butterfly (Lycaeides melissa samuelis) and state endangered frosted elfin (Incisalia irus).
Care is taken in every prescribed burn to protect wildlife. Research shows that not all species are fire adapted. When a prescribed fire is conducted a portion of the habitat is not burned. This provides wildlife immediate shelter, food and breeding areas nearby. Usually, there is a two to three year interval between burns. They are timed for early spring and late fall to minimize negative effects on the wildlife or habitat. After a natural area has been studied, a comprehensive plan is developed by certified Metroparks fire managers to determine if fire is the best tool to restore its ecological quality.
This step-by-step process helps ensure the safety of people, property and wildlife during the prescribed fire.
Pre-burn Planning
• Describe and map site, soil type, topography, boundaries, possible hazards, property infrastructure
• List specific burn objectives and site conservation plan
• Request permits from EPA and Division of Forestry; review regulations and laws
• Write Smoke Management Plan with sensitive areas noted
• Describe fuels and compare to fuel models
• Predict fire behavior and duration, number of days since rain, time of day effect
• Establish safety communications plan and public communications plan
• List sources of emergency assistance, emergency routes and maps
• Clear firebreaks around unit
• Schedule fire crew of professional staff and trained volunteers
• Assemble equipment: weather kit, fire rakes, flappers, backpack sprayers, truck-mounted fire pump, drip torches, chainsaws, radios, signs, first aid kit and protective clothing
Conducting the Prescribed Burn
• Notify local fire department, officials, and affected neighbors
• Check for proper weather conditions: relative humidity; wind speed and direction, fuel moisture, air temperature
• With burn crew, review fire plan, ignition pattern, predicted fire behavior, safety and crew member responsibilities
• Check all equipment
• Place signs to restrict public access and educate park users
• Fire Manager and crew walks perimeter, checks fire breaks, notes escape routes and potential hazards.
• Radio test before ignition.
• If conditions are ideal, Fire Manager orders ignition. May be combination of head and back fires or strip fires.
• Crew members watch and control the fire to prevent it from jumping across fireline or embers rising on air currents. Fire Manager is in radio communication with crew.
• Check weather every 15 minutes.
• Ranger acts as smoke spotter and provides updates to Fire Manager. Smoke must be carried aloft and dispersed away from populated areas.
• Fire progresses until fuel is burned in the unit, then burns out.
• Post-fire mop-up: crew extinguishes smoldering areas or hotspots.
• Fire Manager leads post-burn briefing.
• Rangers return repeatedly to unit to check area.
Follow up Monitoring and Research
Metroparks staff and volunteers conduct long-term studies comparing burned to unburned control units. Research helps evaluate restoration efforts and guides future land management practices by the natural resources staff.
Independent scientific research is encouraged in the Metroparks and is reported on annually at a public forum. Current investigations include grassland nesting bird survey, analyzing global carbon-water cycles, vernal pool studies, plant, butterfly, frog, wasp, snake, turtle, cavity nesting birds and raptor monitoring. In 2007, the Toledo Zoo reintroduced the Karner blue butterfly into Oak Openings Preserve Metropark.
Making Progress
Together, Metroparks, Ohio Department of Natural Resources and The Nature Conservancy are making progress on actively acquiring, preserving and restoring the Oak Openings Region. Renowned ornithologist Harold Mayfield said, "You can't have the Oak Openings without the openings." By including prescribed fire to care for oak savannas and prairies, Metroparks and its partners can ensure the Oak Openings Region and its many rare and endangered species are preserved for the future.
For information, contact the Metroparks Natural Resource Department, 419-461-0571.