Ride and Climb Under the Lights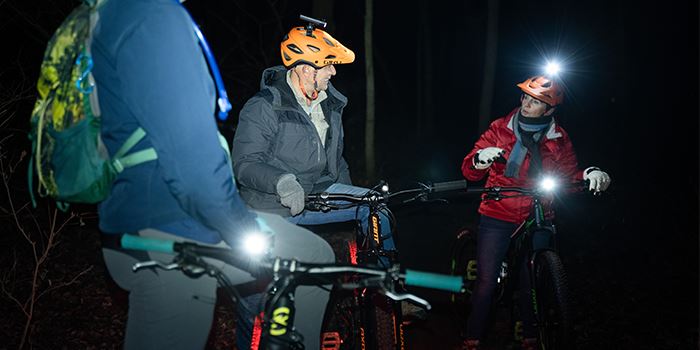 Ride the Lights: A Glow Mountain Bike Experience
Oak Openings Preserve, Beach Ridge Area, FitPark Ride
Wednesday - Friday, October 27-29, 7:30 to 10 p.m. 
Download the event flyer [PDF]
Experience FitPark- Ride, our mountain biking skills course, in a whole new light! We're lighting the course with festive lights for an unforgettable night-ride experience from 7:30pm - 10:00pm, Wednesday 10/27 through Friday 10/29. Riders please add to everyone's experience by lighting your bike, helmet and of course yourself with glow sticks and lights while you ride the illuminated FitPark-Ride skills course. 
You can also take to the Singletrack Trail with your own bike lights to help (white helmet and handlebar lights and red rear lights required.). If you don't have your own bike or lights, we have you covered! Metroparks will be offering guided group rides on Friday, October 29, 7:30 to 8:30 p.m. [Register]. At this programs, we can outfit you with a bike and full set of lights before teaching you all the skills necessary to take to the Singletrack for an illuminating group ride experience with Metroparks mountain biking experts!  
On Friday, October 29, we will have the ultimate after dark FitPark Celebration. Ride the Lights at FitPark: Ride and Climb the Lights at FitPark: Climb. In between riding, raise your stoke level to new heights on our illuminated FitPark Climb, our climbing wall, for some night climbing. Be sure to grab a bite from some of your favorite local food trucks.
FitPark: Ride and FitPark: Climb are brought to you in a wellness partnership with Mercy Health
Rental bikes and helmets are available each night on a first come, first served basis for $10/hour to use at the FitPark Ride skills course. Bikes and helmets are available to fit riders 5 years of age and older. They are sized as follows:
1 Kid's Bike (20")
2 Kid's Bikes (24")
1 Extra Small Bike
1 Small Bike (coming soon)
2 Medium Bikes
1 Large Bike
Mountain Biking 201: Guided Night Ride
Oak Openings Preserve, Beach Ridge Area
Friday, October 29, 7:30 to 8:30 p.m.
Registration, Fee: $8 
Looking to gain the skills to conquer the trail at night? Join Metroparks staff to learn the essentials and practice the fundamental skills needed for all mountain bikers to safely slay the trail! After acquiring all the skills necessary, we will ride a portion of the Beach Ridge Single Track at night with all bike lights provided! 
We now have mountain bikes available to rent! They are sized as follows and are available on a reservation basis for programs by contacting Jake Willing at 419-277-0107 or Jake.Willing@MetroparksToledo.com. They will be $10 for the hour (in addition to program registration fee) and you can pay on-site with credit card only. Helmets provided and required. Please bring your own water bottle. 
1 Kid's Bike (20")
2 Kid's Bikes (24")
1 Extra Small Bike
1 Small Bike (coming soon)
2 Medium Bikes
1 Large Bike
October 29, 7:30 to 8:30 p.m. [Register]