Second Mercy Health FitPark Will Keep People Active on the Water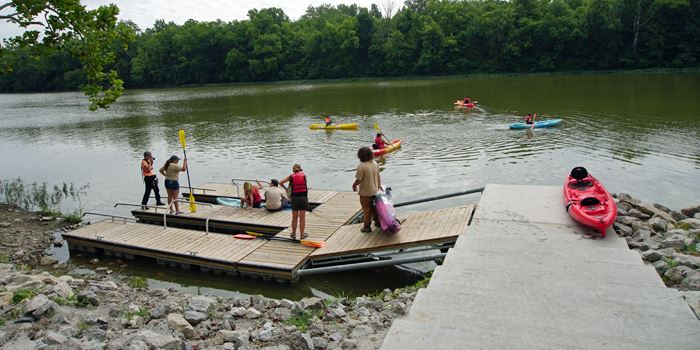 Metroparks Toledo and Mercy Health are partnering on a second FitPark, this one at Farnsworth Metropark, Boat Launch Area, 8801 S. River Road (US24), Waterville, OH.
FitPark Paddle is very different from the first FitPark, which opened last year at Wildwood Preserve and includes adult outdoor fitness stations. The newest FitPark involves three Metroparks and includes the region's first kayak share, based on the bike share concept, as well as a kayak concession and a youth outreach program.
 Kayak Concession & Landing
A kayak concession at Farnworth Metropark in Waterville opened Memorial Weekend and has already served nearly 800 paddlers this summer from a new launch on the Maumee River. With Mercy Health's contribution, the park system purchased boats and a trailer to haul them.
A new kayak landing at Side Cut Metropark, along River Road near the I-475 bridge in Maumee, provides a take-out location for all paddlers, including those leaving Farnsworth for a 6.5-mile-downriver excursion. Transportation is provided back to the start location for concession customers.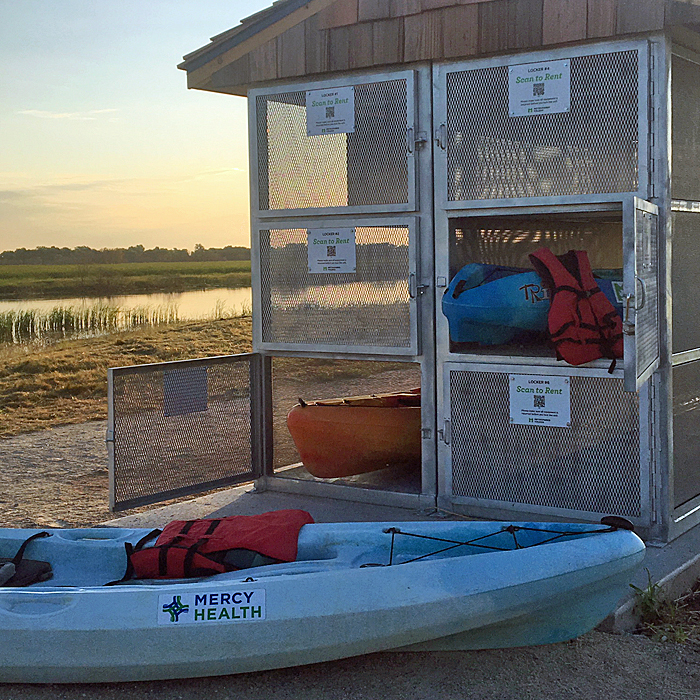 Kayak Share
The region's first kayak-share, being installed now at Howard Marsh in Jerusalem Township, is based on the bike share concept. Users rent boats by the hour using a smartphone. Six boats, along with paddles and personal flotation devices, are secured in lockers that open once payment is made through a cell phone app.
The cost to rent kayaks at Howard Marsh and Farnsworth is the same, $15 per hour. There are additional charges at Farnsworth for tandem kayaks ($20 per hour) and for downriver trips with return transportation ($25). 
Youth Outreach
Another component of the Mercy Health partnership will use the kayaks for paddle programs in the pool at the Boys and Girls Club of Toledo during the winter. Metroparks outdoor skills instructors will travel to the Club to provide instruction to youth, using a trailer purchased as part of the Mercy partnership.
The Mercy Health Foundation is donating $100,000 a year for five years to fund the purchase and installation of FitParks. Each unique FitPark will provide healthy, free or low-cost outdoor recreation opportunities. The third facility, FitPark Ride, a mountain bike skills-building course, is currently under construction at the Beach Ridge Area at Oak Openings Preserve and is set to open in September.
Facilities for a Healthy Lifestyle
"What I really appreciate about this extraordinary partnership is Mercy Health's flexibility and openness to trying things that we have never done before, such as the kayak lockers at Howard Marsh," said Dave Zenk, executive director of Metroparks Toledo. "Being active outdoors is both healthy and fun. Mercy Health not only gets that, but is investing a significant amount to provide access to these facilities for the benefit of our community."
"Mercy Health is proud to partner with our parks to promote a healthy lifestyle within our community by providing yet another way to enjoy being active outdoors," said Bob Baxter, president, Mercy Health – Toledo and Lima. "Mercy Health and Metroparks Toledo will continue to work together to ensure that area residents and isitors have access to quality exercise opportunities within some of the most beautiful settings in the region."
Related