The Snow People are Returning to Glass City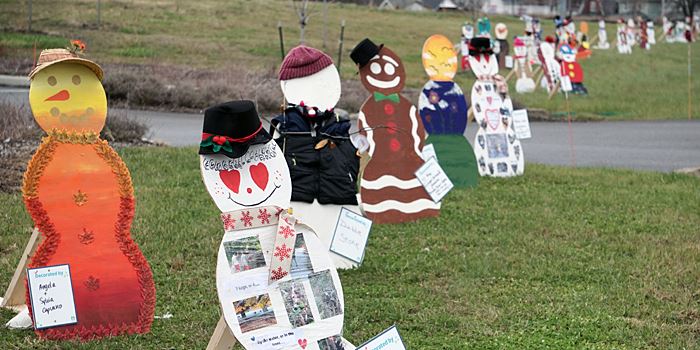 The Snow People will again invade Glass City Metropark in East Toledo (Address: 1001 Front Street, Toledo, Ohio 43605). Snow Place Like Metroparks will feature over 120 snowmen decorated by members, staff, volunteers and community groups to bring holiday cheer to the park. 
Visitors are able to drive through the display to see each of the unique snowmen in this year's Snow Place Like Metroparks. 
The event began last year during the pandemic and featured more than 100 decorated snowmen. Two volunteers cut out all the wooden shapes, and the Metroparks East District crew built stands for them. 
Last year, Snow Place Like Metroparks was organized by the Metroparks Volunteer Services and Marketing departments as a safe outdoor activity for families and as a way to introduce Glass City, which opened at the end of 2020 without the fanfare typical of grand openings, due the COVID-19 pandemic. 
Some of the Snow People at the first Snow Place Like Metroparks event were four snowmen decorated by a grandmother that represented each of her grandchildren's favorite things about the Metroparks, a snowman that one woman decorated in her late husband's name with butterflies that he loved, and snowmen decorated by a family of four with sticks and dried foliage gathered in their yard by one of the children. 
This year, Snow Place Like Metroparks will be open to the public on December 20 and will run through January 31 during regular park hours. All of the Metroparks, including Glass City, are open 7 a.m. until dark. 
To view the Snow People, visitors should use the Morrison Street entrance off Front Street and follow the road, exiting on E. Broadway to Front. 
Don't miss out on this free holiday drive-through event!