Water Trail Designation Sought for Maumee River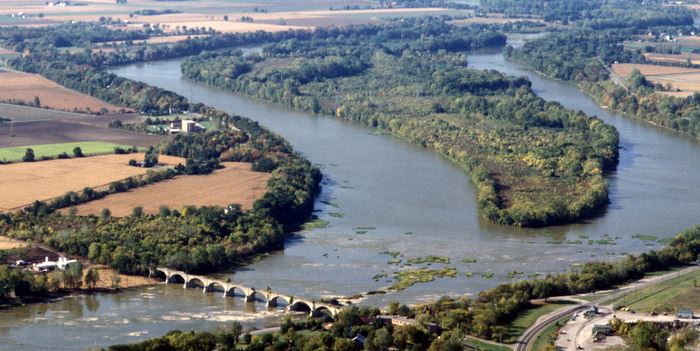 Metroparks, the Defiance Soil and Water Conservation District and other agencies are seeking to designate the Maumee River from the Indiana boarder to the Maumee Bay as an Ohio Water Trail. Public open house-style meetings are planned to answer questions and collect public comments as part of the designation process.
A Water Trail is a cooperative effort by agencies, communities and organizations to map, sign and maintain river access sites for public use.
Waterways that meet the criteria and gain community support are designated as official Water Trails by the Ohio Department of Natural Resources Division of Watercraft. The Board of Park Commissioners, at its November 2016 meeting, adopted a resolution supporting efforts to seek official designation for the Maumee.
Securing the designation will also require the support of the jurisdictions along the 108 river miles in Ohio. Metroparks has partnered with Defiance Soil and Water Conservation District as the lead agencies to coordinate the effort. There are 11 municipalities, 21 townships and more than 30 recognized access sites in five counties along the route.
An initial stakeholders' meeting was held in April 2016. Five open houses will be held in January and February, one in each county, to gain public support.
Public Meetings
Defiance County
Wednesday, January 25 from 5:30 to 7 p.m.
Defiance Public  Library
320 Fort Street, Defiance
Henry County
Monday, January 30 from 5:30 to 7 p.m.
Oberhaus Park
750 W. Maumee Avenue, Napoleon
Wood County
Monday, February 6 from 5:30 to 7 p.m.
Way Public Library
101 E. Indiana Avenue, Perrysburg
Paulding County
Monday, February 13 from 5:30-7pm
Paulding County Public Library
205 S. Main Street, Paulding, OH
Lucas County
Tuesday, February 21 from 5:30 to 7 p.m.
Locke Branch Library
703 Miami Street, Toledo
Why a Water Trail?
A water trail can package and promote public access sites and other information to provide a "one-stop shopping" experience for people interested in water recreation.
Water Trails benefit local paddlers and tourists alike by providing a consistent, safe experience with standardized signage, printed materials and online resources.
It is in keeping with the Metroparks mission of preserving natural areas, creating public access to them and providing interpretation and instruction that allows people to enjoy their natural resources to the fullest.
More about Ohio's Water Trail program
Video: "Northwest Ohio Journal" on WBGU
Information Posters
About Water Trails
Maume River Trail Map
Signage/Brochure Examples
Safety Messages
Survey Results


---
Counties, communities and districts that have voted to support the designation of a Maumee River Water Trail:
Defiance County
Henry County
Lucas County
Wood County
Antwerp
Defiance
Waterville
Cecil
Maumee
Perrysburg
Rossford
Toledo
Oregon
Grand Rapids
Monclova Township
Waterville Township
Damascus Township
Harrison Tonwship
Liberty Township
Flatrock Township
Delaware Township
Defiance Township
Richland Township
Crane Township
Emerald Township
Defiance County Metropolitan Park Board
Henry County Parks Board
Toledo Metroparks
Wood County Park District
Black Swamp Conservancy