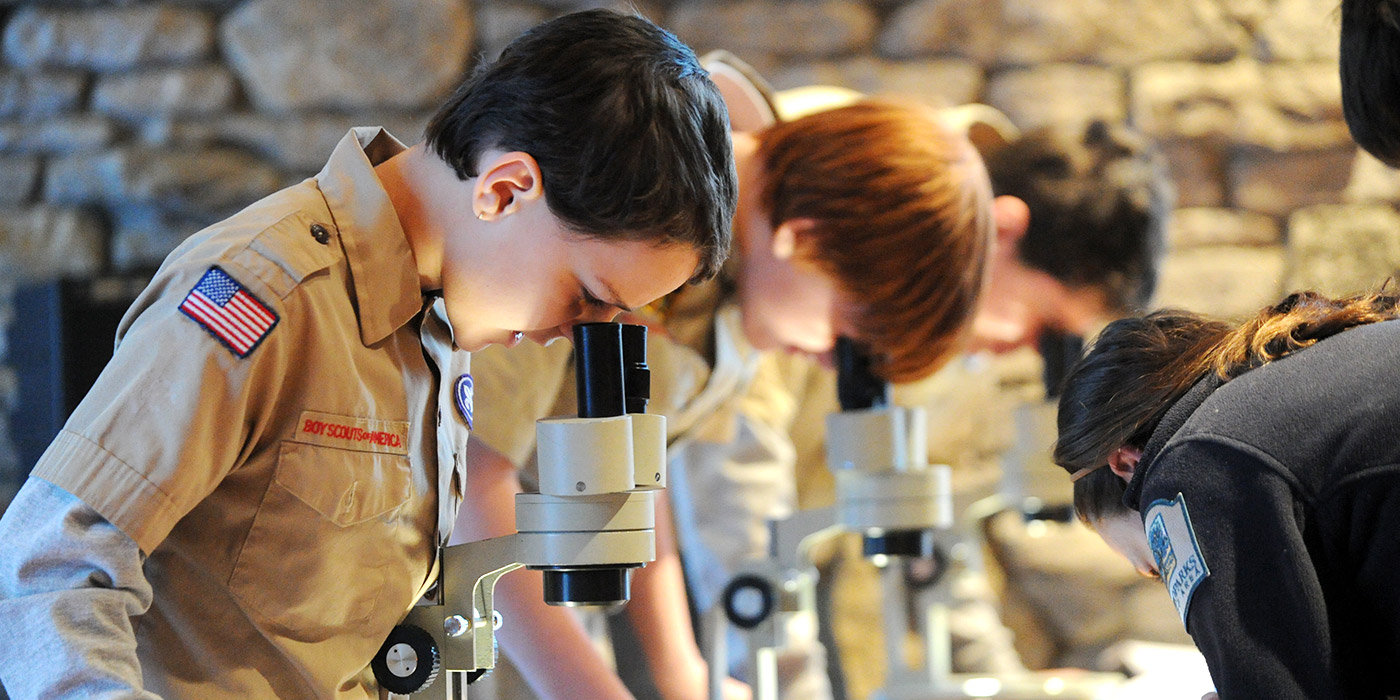 A Leader in formal and informal learning
Calling all Teachers, Home Schoolers, Scouts, Youth Leaders, Vacation Bible Campers, and Group Organizers
Metroparks is your regional leader in outdoor skills, environmental education, conservation and natural resource management, team-building, eco-tourism and exploring local history and culture. We work in the classroom, at local club and business meetings, online and in some of the best natural areas in the state to connect people of all ages to natural and cultural resources. Metroparks programs are great for educational and school year outings, badge work, youth retreats, camps, leader workshops, teacher trainings, corporate team building, company picnics, festivals, and more.
Our knowledgeable, certified and passionate staff are available to create a comprehensive curriculum or one-time event. There is so much to discover in the natural world—let us unlock those wonders and adventures for you. Metroparks educators offer programs tied to Ohio's Learning Standards, the latest scouting badge requirements and national archery and paddling sport certification. Financial and transportation assistance is available for individuals, schools and agencies serving at-risk youth or under-served populations in Lucas County.

Adult Learners
Never stop discovering new and exciting things in your parks. Metroparks offers regular classes, field trips and outings in both natural and cultural history. Our online videos and footage from web and trail cameras connect you to the parks any time. We offer guided trips to other natural areas to expand your horizons and explore new habitats. There's so much to learn about nature and how it shaped our culture and history! Sign up today for one of our many Metropark adult learning series.

School Groups
Metroparks is the perfect field trip destination and classroom partner. Learning concepts are reinforced through hands-on discovery and experimentation. The Nature Express Fund can provide up to 75% of the cost of bus transportation to Chapter 1 schools where 505 or more of the students are eligible for free or reduced lunches. Teacher loan kits and online videos are available to provide variety and assistance to classroom teachers. Metroparks is also a great way to make your next school assembly a wild experience.
Nature walks that highlight seasonal phenomena, focus on ecology or water study, or even look to the stars for inspiration are some of the most popular school programs. Imagine exploring the parks at night when wildlife takes center stage and stars provide our light. Or sampling water with nets and scoops to find the living things that make a home underwater and tell us how clean and fast the pond, stream or river is just by their presence. Call and let us design the perfect field trip for your class.
Historic sites at Metroparks transport students back in time to experience history where it happened. Board the canal boat at Providence Metropark, tour a water-powered mill and visit the Heritage Center to better understand how the Maumee River played a major role in settlement and transportation. At the Fallen Timbers Battlefield, you will learn of one of the most significant struggles in the settlement of Ohio. The Johlin Cabin at Pearson Metropark helps students experience life in the Great Black Swamp. Visit the Oak Grove School at Wildwood Preserve to experience what lessons and life were like in the late 1800's. The Manor House at Wildwood Preserve reveals life in the 1930s and the modern day miracle that saved the mansion from destruction. You can also journey back hundreds of years in time to the Woodland Indian period when Native Americans walked the same paths as students, but lived a much different life.

Teachers
Get continuing education credits and enhance your skills with proven state and national curriculum like Project WILD, Project WET and the Leupold Project. Metroparks offers teacher in-service trainings, weekend field experiences, and workshops in partnership with local universities and educational institutions.

Home Schools
Let Metroparks help you provide individualized instruction in ecology, biology, local history, earth and space science, weather, land management and stewardship, or social sciences. We also provide outdoor skills and health and wellness activities to teach children how to have a healthy, active outdoor life and combat childhood obesity. Team building and problem solving group activities help build social skills, confidence and achievement. Call us for more details.

Scouts and Other Youth-Serving Organizations
Sign up for your latest badge, a seasonal nature walk or outdoor adventure. Metroparks dedicated staff specialize in connecting youth to Nature. We offer group programs for ten or more scouts, or you can sign up individually for the Calling All Scouts programs offered each quarter. Metroparks has some great camp sites and a 17-mile hiking trail for that capstone trip. We also offer the equipment needed for archery, fishing, canoeing, kayaking, stand up paddleboarding and more. Call us today to schedule your next adventure!
If your scout group would like to hold meetings in a Metroparks rental facilities at no cost, call 419-407-9701. Some restrictions apply.

Speaker's Bureau
Looking for that next great program for your group? Let us bring Metroparks to your meeting place or come to us for a change of scenery. There is so much happening – new parks, new adventures and the latest discoveries of native plants and animals. We can teach you nature photography basics, introduce you to birds of prey, or show you the nightlife in the parks captured by our trail cameras. The topics are endless. Call for more details.

Group Outings and Tours
Are you looking for an exciting outing? How about kayaking the Maumee River and rappelling down a local quarry? Or maybe you'd like to hike and camp overnight in one of the rarest natural habitats in the Midwest? Metroparks has much to offer, including special ecotours to see natural phenomena like the gathering of thousands of sand hill cranes on migration. Call for more information on how you can really make your next outing memorable.

Faith-based Groups
Serve many of the targeted youth we want to reach. Metroparks can partner with you to add outdoor adventures to your Vacation Bible School or after-school activities. We can bring archery to your indoor gym or multipurpose room or use our 14-passenger shuttle to take youth to the parks for fishing, canoeing, kayaking and more. Having an annual picnic in the parks? Why not add a nature walk to your morning or afternoon. Call us for more details.

Health and Wellness
Add more life to your years. Good health really can start with just a walk in the park on one of our trails. Look for regular walking support groups and special fitness and wellness offerings in your Metroparks through our contracted, certified instructors. Exercising outdoors has so many benefits—tap into them today by getting outside yourself.