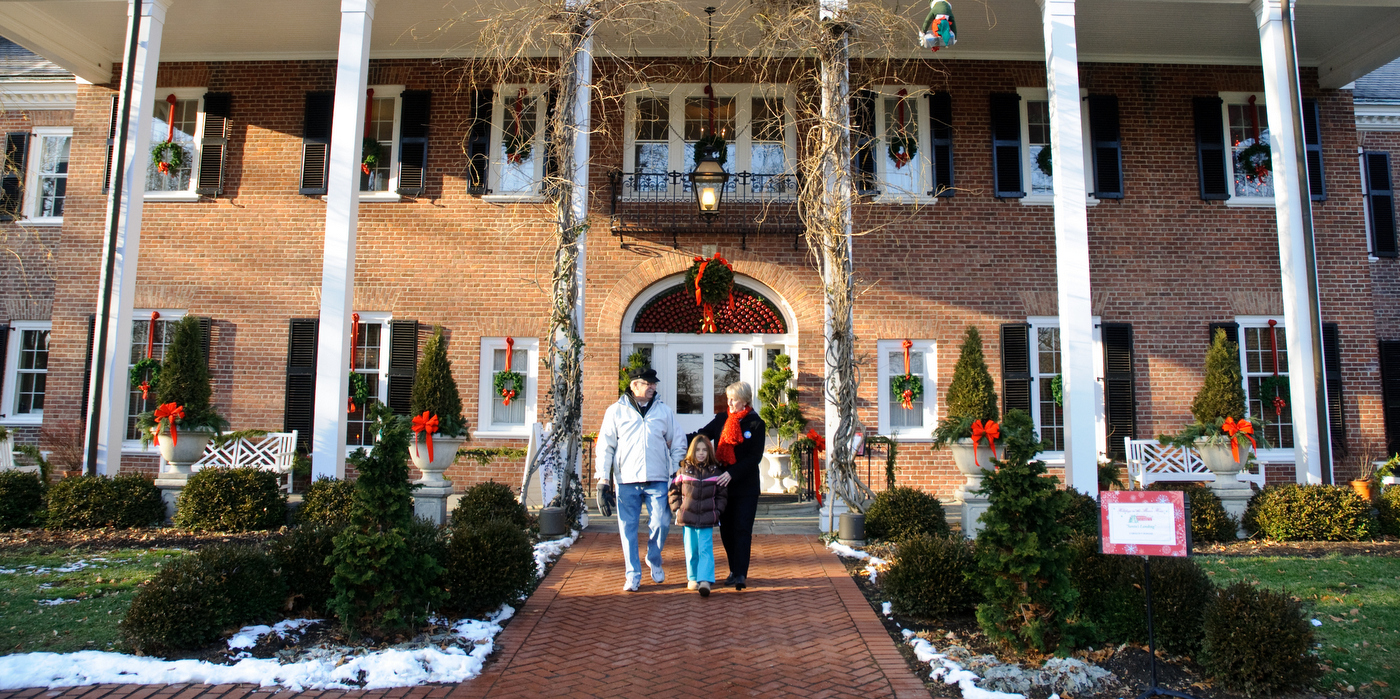 Holidays at the Manor House December 7-15
The 44th annual event opens Saturday, December 7 and continues through Sunday, December 15. It is open each day from 10 a.m. to 8 p.m.; Admission is free.
Holidays at the Manor House has been driven by volunteers since the earliest days of Wildwood. Not only do volunteers decorate the 30,000-square-foot house, but they also serve as stationary guides, welcoming and directing visitors on the self-guided tour of 32 displays. Other volunteers help with stoking the fires and supplying visitors with the cookies and marshmallows to make s'mores at the S'more Shack.
If you are interested in volunteering please call 419-407-9703.
The process of decorating the stately mansion begins almost a year in advance when decorators submit proposals for displays to a committee, which makes the final selection. This year, decorators were asked to incorporate a Metroparks theme into each display.
Visitors can also stroll a lighted path leading from the Manor House down to the boardwalk, and stroll through the decorated Shipman Garden.
Bigger Model Train Exhibit
Where are the trains? The Swanton Area Model Railroad Club's popular exhibit has moved to Metroparks Hall, with the biggest display yet!
Carriage Rides
All time slots for the Carriage Rides are now full.
Mitten Tree
Guests are invited to bring donations of new hats, scarves and gloves to place on the Mitten Tree. Items collected will be donated to local children in need. The Mitten Tree is an annual project of Volunteers in Parks.
Make S'mores
Stop at the S'more Shack and make s'mores over an open fire on the way to or from the Manor House. Open daily noon to 8 p.m.
Shipman Garden
Wander through the decorated historic Shipman Garden and pause to take posed outdoor photography in this winter dreamscape.
Holiday Lighted Trail
The Boardwalk Blue Trail, located behind the Manor House, has been transformed into a spectacular lighted trail to enhance your Holidays experience.
Family Movie Days
Four, free holiday movie days at the Ward Pavilion (east entrance) are another new addition to Holidays this year. Movies begin at 1 p.m.
"How the Grinch Stole Christmas"
Saturday, December 7
"The Santa Claus"
Sunday, December 8
"Prancer"
Saturday, December 14
"Arthur Christmas"
Sunday, December 15
Bring your camera! Santa and Mrs. Claus will make appearances before each movie, 10 a.m. to 12:30 p.m.
Santa's Mailbox
Santa asked the Metroparks to place a special delivery box with express service to the North Pole at Holidays in the Manor House. The mailbox will be located in the basement of the Manor House. Bring your letters with you to drop in the box.
---
Additional Holiday Programs
Heralding the Holidays
Heralding the Holidays is a decades-long tradition showcasing the artist and garden clubs of the Artist Village at Toledo Botanical Garden. Throughout the weekend, you will find art, jewelry, stained glass, and pottery for sale, dried herbs and herbal products, food trucks and roving carolers. Visitors can blow a glass ornament, and glimpse Father Christmas (Friday evening) wandering through the village. Village studios will be decorated. For more details visit the Artist Village website at artvillage419.org
Friday, December 6, 5 to 9 p.m.
Saturday, December 7, 10 a.m. to 5 p.m. 
Sunday, December 8, 11 a.m. to 4 p.m.
Toledo Botanical Garden
Holiday Tree Climbing
Saturday, December 7
Wildwood Preserve, East Entrance
Fee: $25 [Register] 
Holiday Tree Climbing
Friday, December 13
Wildwood Preserve, East Entrance
Fee: $25 [Register]
Holiday Tree Climbing
Saturday, December 14
Wildwood Preserve, East Entrance
Fee: $25 [Register]
Holidays Family Night Hike
Wednesday, December 11
Wildwood Preserve, Manor House lawn
Free [Register]
Holiday Walk
Wednesday, December 25, 3 to 4:30 p.m.
Wildwood Preserve, Metz Visitor Center
Fee [Register]
For more than 40 years, volunteers have decorated the grand mansion at Wildwood Preserve as a holiday gift to the community.