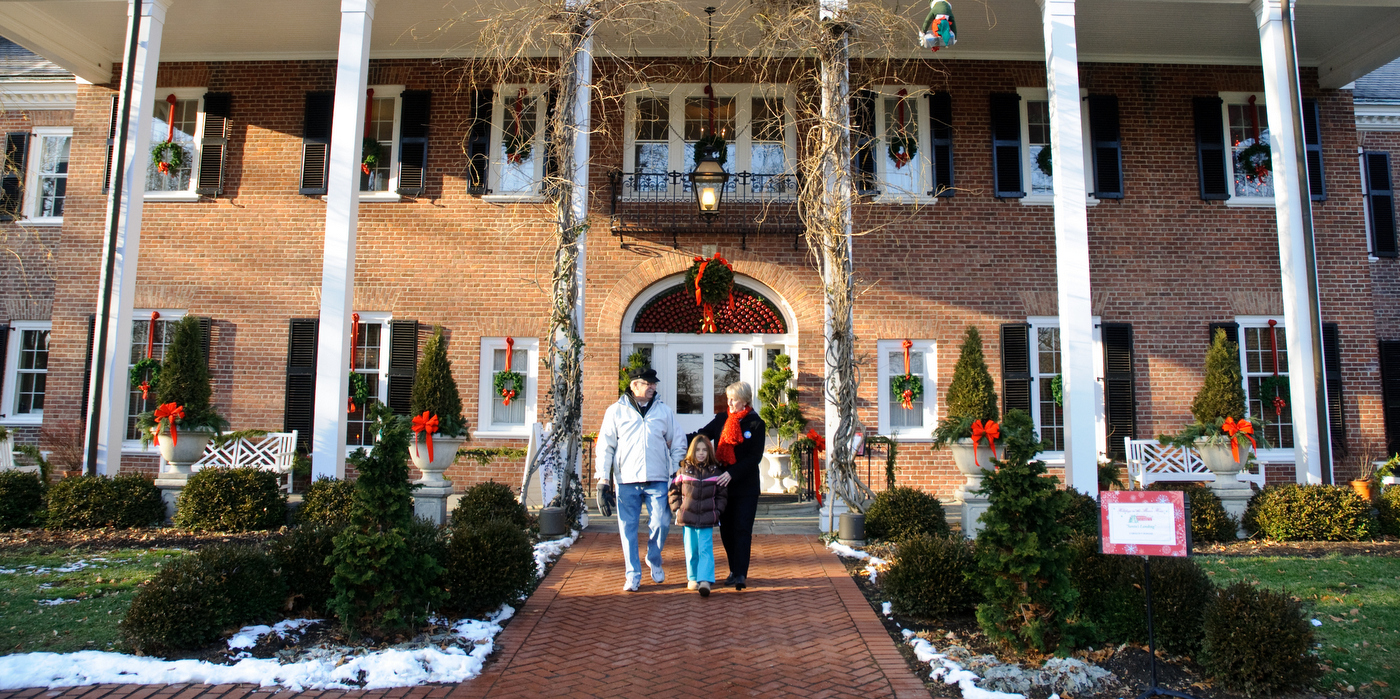 Holidays in the Manor House December 1-16
Open For Two Weeks Again This Year!
Up to 40,000 people are expected to tour the grand mansion at Wildwood Preserve Metropark during this year's extended Holidays in the Manor House celebration.
The 43rd annual event opens Saturday, December 1 and continues through Sunday, December 16. It is open each day from 10 a.m. to 8 p.m.; the house will be closing at 3 p.m. on Wednesday, December 5. Admission is free.
Holidays in the Manor House has been driven by volunteers since the earliest days of Wildwood. Not only do volunteers decorate the 30,000-square-foot house, but they also serve as stationary guides, welcoming and directing visitors on the self-guided tour of 32 displays. Other volunteers help with stoking the fires and supplying visitors with the cookies and marshmallows to make s'mores at the welcome tent.
If you are interested in volunteering please call 419-407-9703.
The process of decorating the stately mansion begins almost a year in advance when decorators submit proposals for displays to a committee, which makes the final selection. This year, decorators were asked to incorporate a Metroparks theme into each display.
Visitors can also stroll a lighted path leading from the Manor House down to the boardwalk (follow the signs), and stroll through the decorated Shipman Garden.
Bigger Model Train Exhibit
Where are the trains? The Swanton Area Model Railroad Club's popular exhibit has moved to Metroparks Hall this year, with the biggest display yet!
Carriage Rides
Carriage Rides return this year on weekends during Holidays in the Manor House. Reservations are now being accepted online. [Register]
Ice Skating
NEW Ice skating will be available at the Manor House. Bring your skates any day -- it's free! Free skate rental will be available weekends during Holidays in the Manor House.
Mitten Tree
Guests are invited to bring donations of new hats, scarves and gloves to place on the Mitten Tree. Items collected will be donated to local children in need. The Mitten Tree is an annual project of Volunteers in Parks.
Make S'mores
Stop at the S'more Shack and make s'mores over an open fire on the way to or from the Manor House.
Shipman Garden
Wander through the decorated historic Shipman Garden and pause to take posed outdoor photography in this winter dreamscape.
Holiday Lighted Trail
The Boardwalk Blue Trail, located behind the Manor House, has been transformed into a spectacular lighted trail to enhance your Holidays experience.
Family Movie Days
Two, free holiday movie nights in the Ward Pavilion (east entrance) are another new addition to Holidays this year. Movies begin for both of the following showings at 2 p.m.
"Elf"
Sunday, December 9
"The Polar Express"
Saturday, December 15
Hot cocoa and popcorn will be available for all to enjoy.
Bring your camera! Santa and Mrs. Claus will make appearances after the December 9  show from 3:30 to 4:30 p.m. and before and after the December 15 show from 1 to 2 p.m. and from 3:30 to 4:30 p.m.
Food Truck
Smash Dawgz food truck will be on site, located near the ice rink and the S'Mores Shack. Various times throughout Holidays in the Manor House.
Santa's Mailbox
Santa asked the Metroparks to place a special delivery box with express service to the North Pole at Holidays in the Manor House. The mailbox will be located in the basement of the Manor House. Bring your letters with you to drop in the box.
Holiday Pop-Up Shop
This year for your shopping convenience Holidays in the Manor House will feature a limited number of Metroparks shirts, sweatshirts and ornaments on sale in the Manor House Lower Level on December 8, 9, 15 and 16, noon to 6 p.m. or visit Metz Visitor Center Monday through Friday, 9 a.m. to 5 p.m.
Grab your limited edition Metroparks gifts and avoid the shipping cost. Get yours while supplies last. More options are available online [details]. 
For more than 40 years, volunteers have decorated the grand mansion at Wildwood Preserve as a holiday gift to the community.