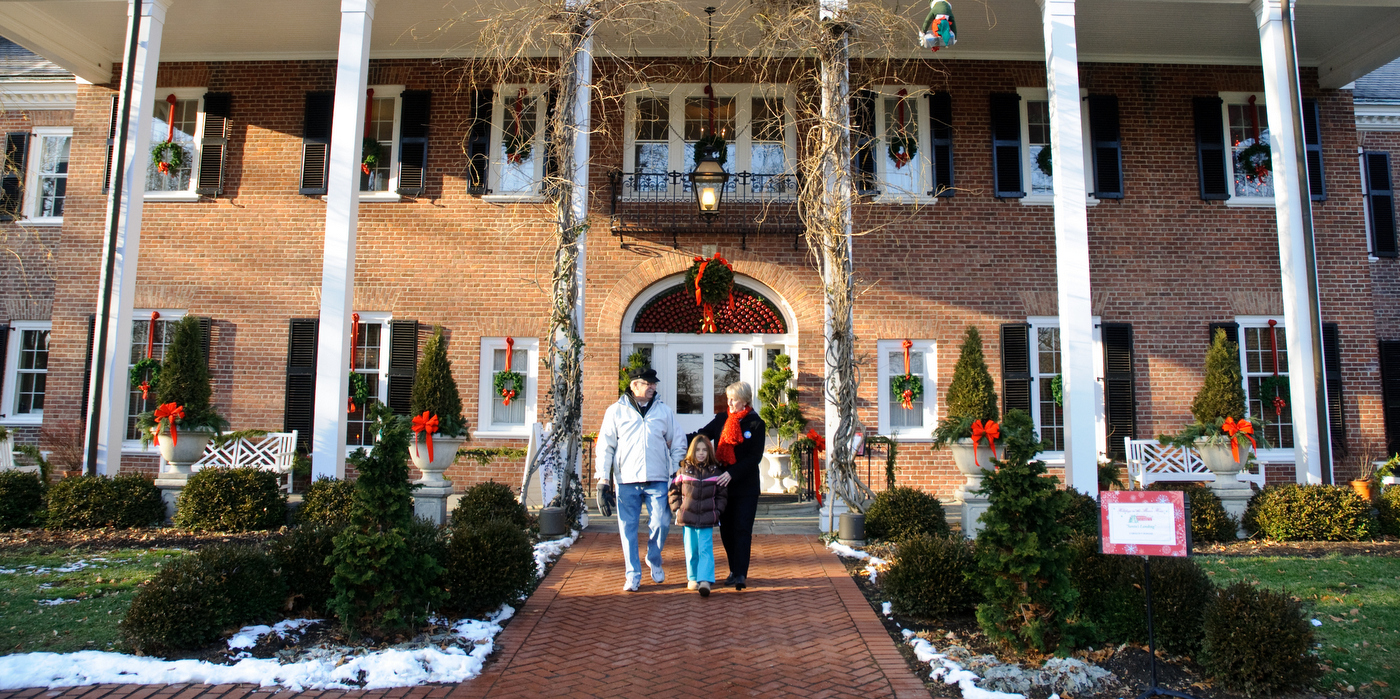 Holidays in the Manor House
Now Open Two Weeks!
Up to 30,000 people are expected to tour the grand mansion at Wildwood Preserve Metropark during this year's extended Holidays in the Manor House celebration.
The 42nd annual event opens Saturday, December 2 and continues through Sunday, December 17. It is open each day from 10 a.m. to 8 p.m. Admission is free.
Holidays in the Manor House has been driven by volunteers since the earliest days of Wildwood. Not only do volunteers decorate the 30,000-square-foot house, but they also serve as stationary guides, welcoming and directing visitors on the self-guided tour of 32 displays. Other volunteers help with stoking the fires and supplying visitors with the cookies and marshmallows to make s'mores at the welcome tent.
Following the passage of a levy to purchase the former Stranahan estate, which became Wildwood, volunteers decorated the house for the holidays as a thank-you to the public. The spirit of the event has remained the same for four decades.
The process of decorating the stately mansion begins almost a year in advance, when decorators submit proposals for displays to a committee, which makes the final selection. This year, decorators were asked to incorporate a Metroparks theme into each display.
Visitors can also stroll a lighted path leading from the Manor House down to the boardwalk (follow the Blue Jay signs), visit a fairy garden, and stroll through the decorated Shipman Garden.
Holidays in the Hall: Nature's Sandbox
Just a short walk from the Manor House is Metroparks Hall. Along the way, experience the natural beauty of Wildwood Preserve Metropark as you pass the restored 'hidden sand dune." Find out more about the Oak Openings region by visiting the hall - get an up-close look at a sand dune and learn about rare species, as well as natural area restoration. Enjoy beautiful views of wildlife photos.
Carriage Rides
Carriage Rides return this year, and reservations are now being accepted. Sign up online
Mitten Tree
Guests are invited to bring donations of new hats, scarves and gloves to place n the Mitten Tree. Items collected will be donated to local children in need. The Mitten Tree is an annual project of the Volunteers in Parks.
Make S'mores
Stop at The Andersons S'more Tent and make s'mores over an open fire on the way to or from the Manor House. 
For more than 40 years, volunteers have decorated the grand mansion at Wildwood Preserve as a holiday gift to the community.