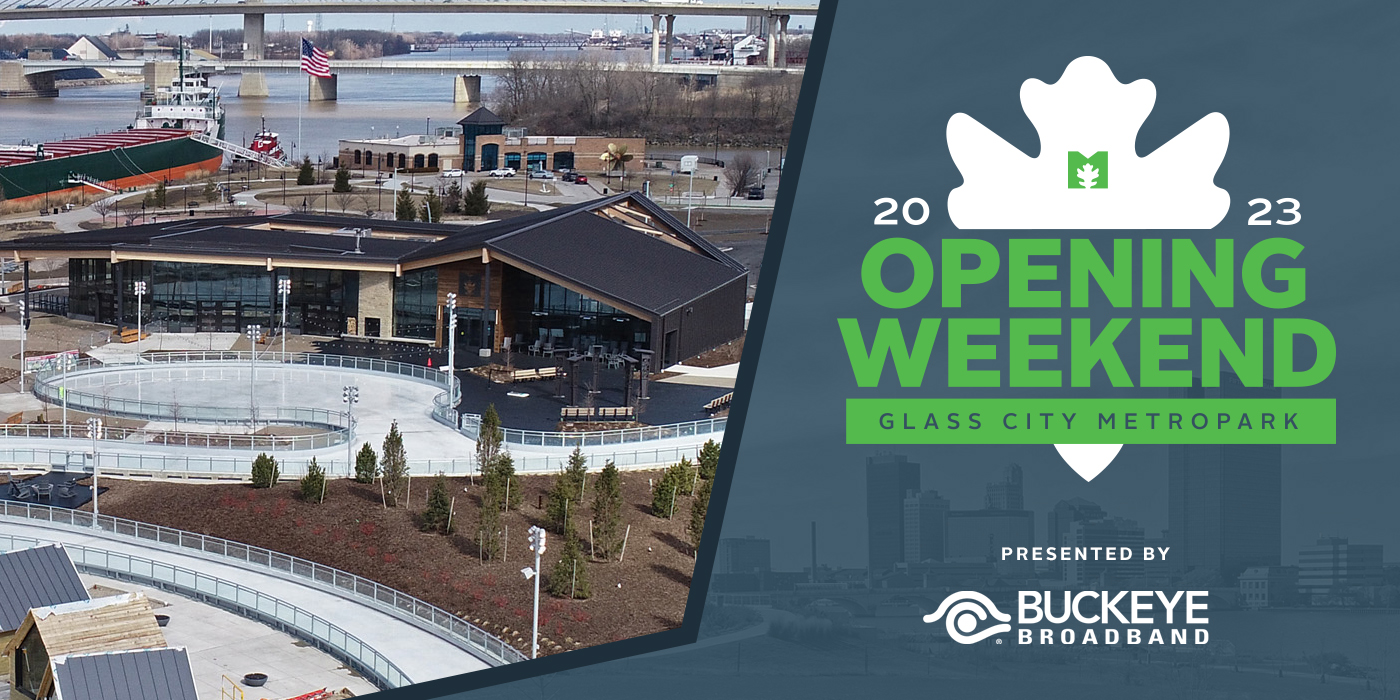 A Landmark Metropark
June 9 through June 11
From a brownfield to a world-class public park on the Maumee River, Glass City Metropark connects East Toledo to the Maumee River and brings high-quality public greenspace, trails and programs to our riverfront. Glass City Metropark is a place to gather and celebrate as a community with adventure playgrounds, water play features, a kayak cove with an interactive boardwalk, picnic & party shelters, the Glass City Pavilion with a rooftop deck, an event lawn for up to 5,000 people, The Ribbon ice skating and roller skating trail, and the Market Hall building that will feature The Garden by Poco Piatti, a year round fast casual restaurant.
Opening Weekend Activities – Celebrate with us
Friday, June 9 - Opening Day & Play!
11:30 a.m. Opening Weekend festivities will begin with a dedication event near Market Hall.


12 p.m. Glass City Metropark is open to all.

The Garden by Poco Piatti, a new fast casual concept by a well-known local restaurant family, will officially open at noon inside Market Hall. It will be open to serve park visitors year-round, seven days a week for lunch and dinner with indoor seating inside Market Hall or outdoor patio seating overlooking the Maumee River.
7:30 p.m. Opening Night Celebration Concert featuring Nikki D & the Sisters of Thunder.

After a day full of play at Glass City Metropark, the celebration continues with Toledo's own Nikki D & the Sisters of Thunder who will headline a free concert on the event lawn adjacent to the Glass City Pavilion. The gospel-soul band made up of family members has travelled the country to perform at festivals, churches and auditoriums, and opened for Jack White & the Raconteurs in Detroit. The band is fronted by Nikki Brown, who is known for her powerful vocals and lap slide "sacred steel" guitar skills honed in church. She has performed at the Blues on Broadbeach Festival in Australia. Click here for more information about our live music events at Metroparks this summer <Details>.
Saturday, June 10 - First Saturday
It's the First Saturday of fun at Glass City Metropark. Plan to spend your day with us exploring all of the new park amenities and attractions. Kids can climb the 40-foot-tall Grosbeak Adventure Tower, cool off at the Mini-Maumee water play area, roller skate at The Ribbon <Details>, or enjoy lunch or dinner at The Garden by Poco Piatti.
11 a.m. Our first Saturday events kick-off with giveaways and prizes (while supplies last) and Metroparks volunteers stationed throughout the park to guide you through your first experience at this new addition to Glass City Metropark.
7 p.m. Join DJ Folk at The Ribbon for our first skating party of the summer. Admission is free if you have your own roller skates or roller blades. Rentals are available at Market Hall on a first come, first served basis. Click here for more information about our rental program at The Ribbon <Details>.
Sunday, June 11 - Outdoor Expo at Glass City Metropark
Noon to 5 p.m. Metroparks Toledo hosts the biggest annual event of the year during our Opening Weekend celebration. Metroparks is for everyone and Outdoor Expo invites the community to try kayaking, rock climbing, mountain biking, Kids Zone and much more. Metroparks programmers will be on site to showcase the new park and guide you as you discover your next outdoor passion – regardless of ability.
Download the Glass City Scavenger Hunt [PDF]

This is an inclusive event and staff are trained and ready to make accommodations. Adaptive equipment will be readily available. Click here for more information about Outdoor Expo <Details>.
About Glass City
While the opening will include most of the major amenities of the new park, additional art installations, a campground and the East Toledo Enrichment Center on Front Street will still be in development.
The park is part of the larger Glass City Riverwalk. The first legs of Riverwalk are currently under construction on both sides of the river: from the MLK Bridge to Fort Industry on the downtown side, and from the bridge to The Docks restaurant complex in International Park. Future phases will renovate the remainder of International Park and extend from the MLK bridge to the Vistula neighborhood downtown.
Get Involved - Consider joining us as a Riverwalk Founding Supporter
You can be a part of our community's legacy and create powerful, sustainable change for generations to come. Join us in transforming Toledo as a Founding Supporter as we build a world-class riverfront destination. This initiative will create 300 acres of new and revitalized greenspace, naturalize the shoreline, and will reduce storm water runoff to the impaired Maumee River, the largest watershed on the Great Lakes. A five-mile, multi-purpose trail will connect six downtown and East Toledo neighborhoods, corporate campuses, small businesses, parks, and cultural institutions. Individuals and corporations have a unique opportunity to help this vision for a world-class riverfront come to fruition. Learn more here <Details>
*NOTE: Opening Weekend activities and event details are subject to change. Additional details will be available as opening weekend approaches.