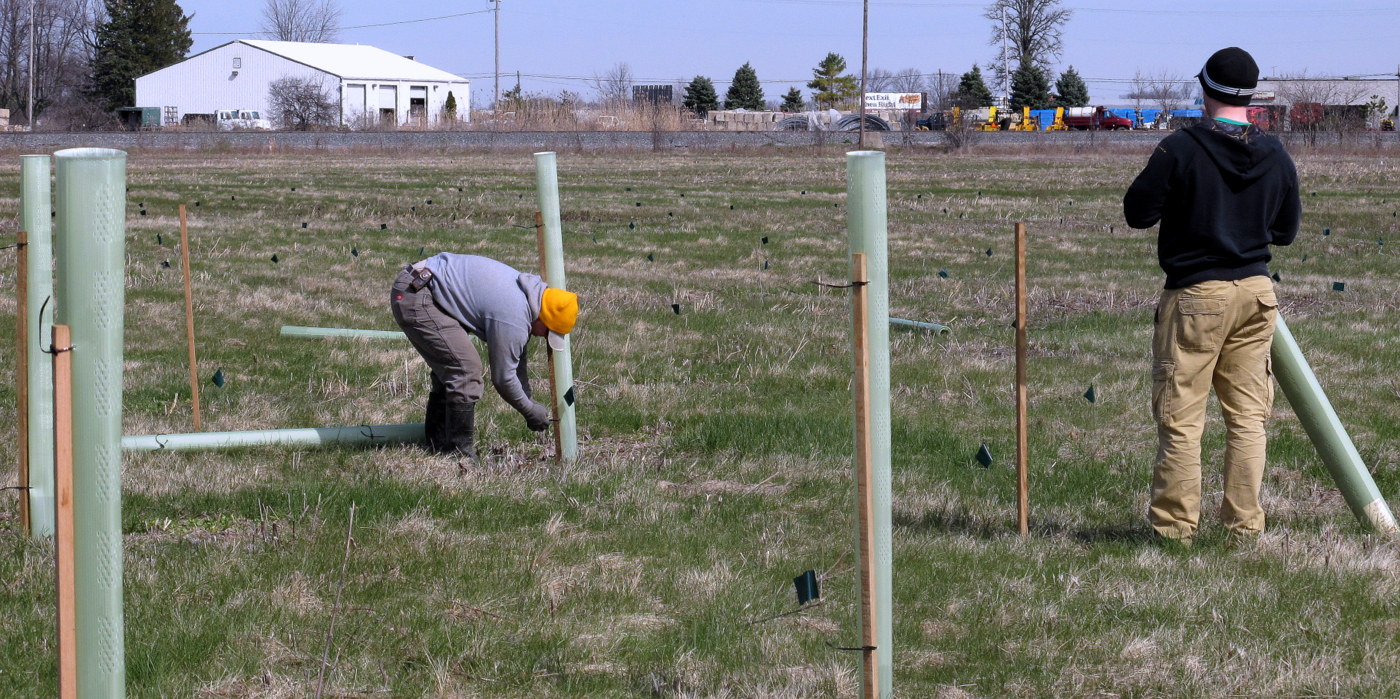 Reforestation Volunteers. 
Join the reforestation effort at Fallen Timbers Battlefield Metropark. More than 5,000 bare-root trees are being planted this spring and we need help getting them ready for planting and ensuring they will thrive.
Schedule of Reforestation Work Days
April 7
Root Trimming & Tree Prep
Shifts: 9 a.m. to noon; 1 to 4 p.m.
Sort trees into diverse bundles, trim roots with machetes/hatchets, roll up tree roots in burlap and prep for planting. Volunteers must be 18+
April 14-15, 21-22, 28-29
Tree Shelter Installation & Mulching
Saturday shifts: 9 a.m. to noon; 1 to 4 p.m.
Sunday shift: 1 p.m. to 4 p.m.
Install tree shelters, stake trees and apply mulch. Volunteers must be 14+; able to walk a mile to the worksite.
Returning Volunteers can log onto Volgistics to sign up for any of these shifts.
New Volunteers must fill out a volunteer application before they can sign up for a shift. How to sign up
Volunteers under the age of 18 must be accompanied by an adult.
If you'd like to bring a group of volunteers, please contact Annie Devine by email or 419-407-9841 to register.
Wondering what to wear or bring with you? Interested in bringing a group of volunteers? See our Frequently Asked Questions.
---
About the Project
Metroparks will plant six species of trees: red and white oaks, hickories, black cherries, walnuts and maples.
Trees grow about 1 foot per year under good conditions, so it will take 20 to 30 years for the newly planted area to begin to resemble a forest ecosystem.
That's why it is important to use tree shelters (white tubes) to protect the trees from deer, rabbits and other animals to give them a healthy start. Generally it takes the trees about three years to begin to grow out of the tubes.
---
How the Project works
In the video below, Tim Gallaher, natural resources manager, explains how trees are prepared, planted and protected at the project site.