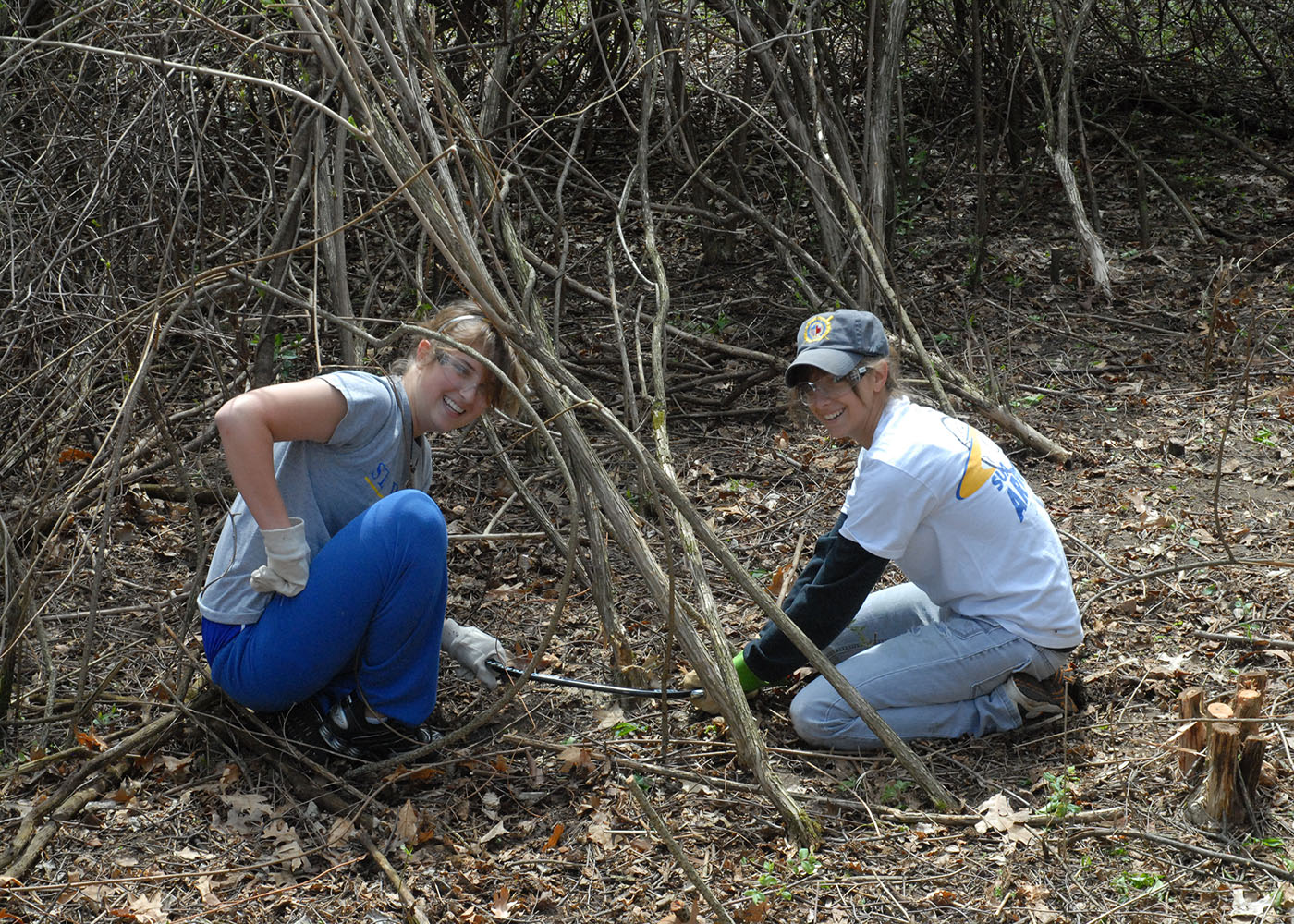 Stewardship Club.
Stewardship Club gives juniors and seniors in high school the opportunity to learn current land management practices and participate in stewardship and restoration projects.  In addition to these hands-on volunteer opportunities, participants will engage in a variety of fun and exciting outdoor recreation programs such as kayaking and tree climbing.
Being a Stewardship Club member is an excellent way to earn service hours, gain valuable experience and build friendships with others. It's also a great way to explore potential careers in Natural Resources or Outdoor Recreation.
Commitment: Stewardship Club will participate in 11 Stewardship Club sessions begininng September 2019 and end in May 2019.
Variety of fun activities: Stewardship Club members help with a variety of activities including habitat restoration, tree planting, invasive plant removal, and more, all while learning proper field techniques from Metroparks Natural Resources Staff. Club members will also have opportunities to learn outdoor skills activities such as tree climbing and kayaking!
Training: Metroparks provides on-site training for all Stewardship Club members.
Multi-Day Exursion: Stewardship Club members will be able to participate in a free multi-day excursion upon successful completion of this program. This is a chance to utilize skills learned over the course of the year and to gain more knowledge about other area industries related to natural resource management and conservation. Activities will include a mix of outdoor recreation and educational opportunities.
Application Information: 10 Stewardship Club members will be accepted for the 2019-2020 season. The selection process includes filling out a volunteer application, providing one non-related reference, and an interview. Application and references are due by August 18, 2019.
Important dates for 2019-2020 Stewardship Club Applicants:
August 18: Deadline for applications and reference forms
Early September: Interviews and Acceptance date
September 2019 - June 2020 Stewardship Club Sessions
| | |
| --- | --- |
| Date (9 a.m. to Noon) | Topics |
| September 21, 2019 | Kayaking |
| October 12, 2019 | Milkweed Collection/Processing |
| November 2, 2019 | Tree Climbing |
| November 16, 2019 | Invasive Plant Removal |
| December 7, 2019 | Tree Shelter Repair & Installation |
| January 18, 2020 | Camping 101 |
| February 8, 2020 | Toledo Area Research Forum |
| March 7, 2020 | Orienteering/Geocaching |
| March 21, 2020 | Invasive Plant Removal |
| April 11, 2020 | Erosion Control |
| Early May, 2020 | Tree Planting |
| June 2020 | Year-End Multi-Day Excursion |

APPLICATION PROCESS
Thank you for your interest in the Stewardship Club for the 2019-2020 season. Stewardship Club is an exciting time of learning, growing, and having fun in the great outdoors! We look forward to meeting you.
To complete the application process, please follow these steps:
Check your Availability
Check your schedule and talk with your family to see if you are able to participate in the interview process and the scheduled Stewardship Club Sessions.


Complete Volunteer Application
Fill out a Metroparks Volunteer Application by August 18, 2019. List Stewardship Club in the "Volunteer Assignments" section of the application.


Provide a Reference
Identify one potential reference who has known you for at least one year and is not related to you. The reference should be able to speak about your abilities. This could be a teacher, coach, religious leader, neighbor, a family friend, etc.

Personally ask the potential reference if they will be a reference for you. Be sure to give them an explanation of Stewardship Club.

Send the reference form link to your reference by email. Instruct your reference to complete their reference form no later than August 18, 2019 for consideration.

Please follow through to confirm that your reference will submit the reference form by August 18, 2019.
At this point, we will be in communication with you about scheduling an interview.
Questions? Contact Trish Hausknecht, patricia.hausknecht@metroparkstoledo.com, 419-407-9703
THANK YOU
Thank you for volunteering! We look forward to receiving your application materials and meeting you during your interview.