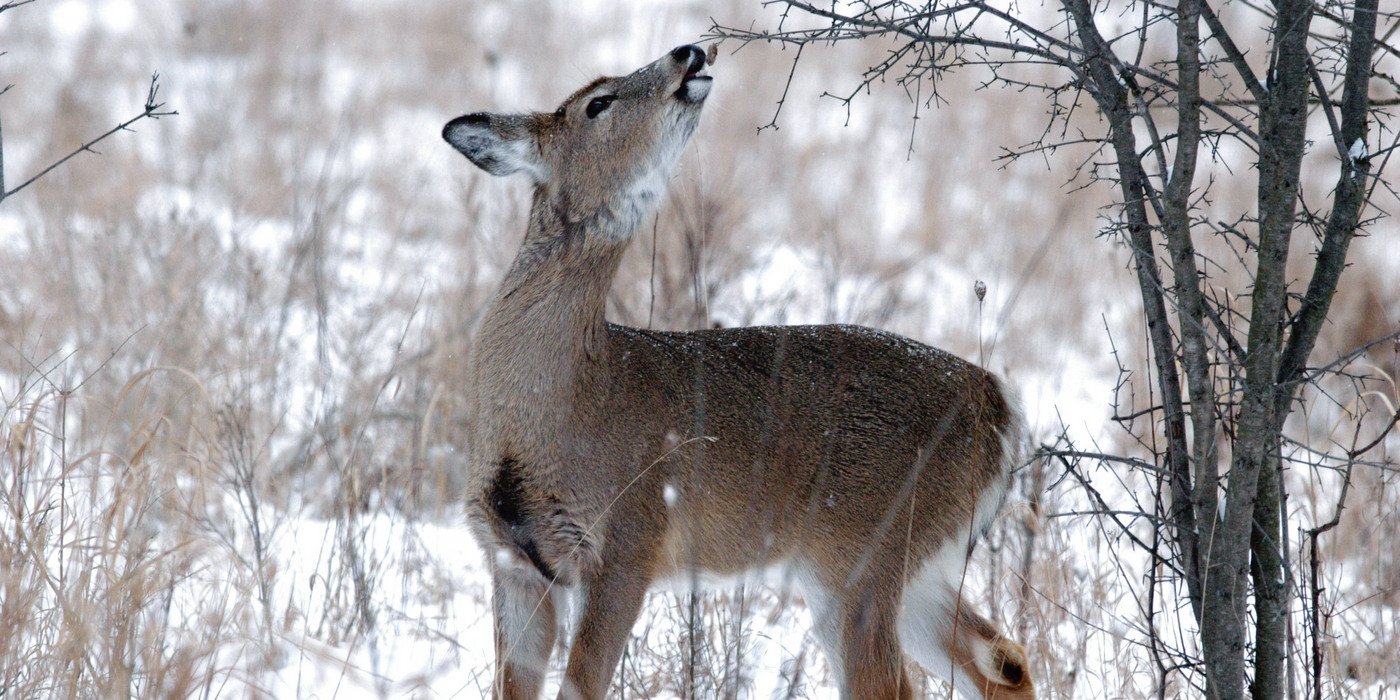 About the Program
Metroparks will use a lottery drawing for Archery Deer Hunts during the 2023-2024 statewide deer hunting season as a component of the District's overall wildlife management program. Archers that successfully harvested a Doe during 2022-2023 on Metroparks property will still need to register online to pay entrance fee, enter their qualification number, and select preferred Hunting dates. The hunts will take place on parcels of property owned by Metroparks Toledo in western Lucas County, Ohio.
Qualification
All applicants that wish to participate, including potential partners, will need to complete a qualification test BEFORE registering for the lottery drawing. The test will be administered at Cleland's Outdoor World in Swanton. You must sign up ahead of time for a date to complete your qualification. 
Archery Qualification Registration
Qualified Applicants must hit 4 consecutive arrows in an 8 inch circle at 20 yards to qualify. Qualification must be completed before you can register, and registration closes at 11:59 p.m. on August 31, 2023.
Permits and Partners
Permits will be issued for approximately 21-day blocks of time.  Each hunter may bring one licensed partner who also must qualify before registration. During registration, each hunter must enter the qualification number of their potential partners. However, within designated Special Opportunity areas only the selected applicant will be allowed to participate.  All scouting must be performed only during the allotted time period to avoid diminishing the hunting experience for other permit holders. 
Chosen hunters will be notified by September 8, 2023 via email.
Rules
The rules listed below must be followed. 
All applicants must possess a current Ohio hunting license in order to apply for controlled hunts. You will be required to enter your hunting license number before registering.
Limit of one application per person.
Selected applicants may bring one licensed hunting partner, except in Special Opportunity areas where no hunting partner will be allowed.
The selected permit holder must be on site at all times that the designated parcel is being hunted and/or scouted.
Hunting zones are available for mobility impaired hunters.
Minors participating in the program must be accompanied by an adult at all times.
Permits are NOT TRANSFERABLE
All State of Ohio hunting regulations apply to these controlled hunts and will be strictly enforced.
No hunting is permitted in the identified safety zones.
The cutting of trees, brush, or vegetation of any kind is prohibited.
Tree stands are permitted during the day of the hunt. However the bark of the tree should not be pierced by the stand, equipment hook, step, or any other device.  If stands are left in place during the permit period, they should be marked with the name and phone number of the hunter.  It is also recommended that they be locked to the tree.
The use of bait piles is expressly prohibited. However hunters are allowed to use non-edible attractants.  Any items brought into the hunting area must be removed including flagging or other wayfinding materials, at the end of your permit period. Practice leave no trace.
Access to deer management parcels is limited to 1 hour before sunrise until 1 hour after sunset. The use of a flashlight is mandated before and after legal shooting hours.
All applicants and partners will be required to pass a proficiency test before registering. Proficiency tests will be administered free of charge at Cleland's Outdoor World in Swanton OH, but you must sign up ahead of time for your qualification date – only 30 applicants will be permitted to qualify at Cleland's each day. Upon successful completion of your proficiency test, Cleland's will provide you with a unique qualification number which you must enter before registering. You must also enter the qualification numbers of your potential partners.
All hunters must check in with the Oak Openings Park Ranger by calling (419) 407-9718, prior to each day of active hunting. There will be no texting, please select 2 when prompted and leave a message with your name and hunting area. Designated parking areas will be identified on the parcel maps distributed with the hunting permit. Hunters must not block designated trails or fire lanes.
Hunters must notify the Oak Openings Park Ranger immediately by calling (419) 407-9718 whenever a deer is harvested and when tracking a wounded deer after legal hunting hours. Each harvested deer must be checked-in by Metropark Rangers before leaving designated hunting area. Any doe not checked-in by a Ranger in person will not be qualified for an automatic slot for the next year's hunt.
All selected participants will be asked to complete a mandatory hunting log sheet during their participation period. If not completed, you will become ineligible to participate in any Metroparks future hunts.



Send completed forms to: ControlledArchery@MetroparksToledo.com

 ( or)

Mail to Metroparks Controlled Archery Hunt, 6101 Fallen Timbers Lane, Maumee Ohio 43537

No one is permitted to hunt outside of designated areas on the permit map. If you wound a deer and it leaves your zone, call the Oak Openings Park Ranger at (419) 407-9718. Every attempt should be made to locate the deer if it is not near another hunting zone, otherwise tracking can resume after the proper contacts are made and permission is granted.
Hunters are responsible for field dressing their deer, but must do so at least 50 feet away from the nearest road, trail or property boundary. Hunters are responsible for transporting their deer from the field to their vehicle. No motorized vehicle of any kind can be used to access or retrieve deer on hunting parcels during the Metroparks hunting program.
Any permit holder who harvests a doe will automatically qualify for a place in the subsequent year's deer management program provided that the program is continued
Special Opportunity Hunts
Metroparks has established multiple hunting areas within existing parkland, designated as Special Opportunity hunt areas.  Within these designated special opportunity areas, Metroparks will install a tree stand at a fixed location for use by the hunter while hunting this area.  Additionally, Metroparks staff will provide shelled corn in limited quantities for Special Opportunity hunters to use during their hunt.  Hunters will not be permitted to use their own bait. For special opportunity hunting areas, the following rules apply: 
Participants assigned to Special Opportunity hunt areas are required to hunt in the designated area and from the deer stand provided. Special accommodations will be provided for youth and mobility impaired hunters.
In order to ensure safety, participants are prohibited from relocating the hunting stand.
The use of a deer stand harness is mandatory as well as safety lines (safety line provided).
Participants should check the condition of their assigned stand daily before ascending to the hunting platform.
All other program guidelines apply to special opportunity hunts.
Hunting Preference
For the 2023-2024 archery season, hunters will be allowed to indicate their preference for up to three hunting periods on their permit application. During the lottery draw, applicants will be placed in random order. As applicants are drawn, they will be given their first choice if it is available. If an applicant's first choice is unavailable, they will be given their second choice. If an applicant's second choice is unavailable, they will be given their third choice. If an applicant's third choice is unavailable, they will be given the next available hunting slot until all slots are filled.
Hunting Periods
There will be six hunting periods during the 2023/2024 archery season.  
| | | |
| --- | --- | --- |
|   | Regular Hunting Area | Special Opportunity Hunting Area |
| Period 1: | September 30 to October 20 |   |
| Period 2: | October 21 to November 10 | October 21 to November 10 |
| Period 3: | November 11 to December 1 | November 11 to December 1 |
| Period 4: | December 2 to 22 | December 2 to 22 |
| Period 5: | December 23 to January 12 | December 23 to January 12 |
| Period 6: | January 13 to February 4 |   |
If you have any general questions you can call Metroparks Toledo at 419-407-9727. Thanks for participating in this unique hunting opportunity and Good Luck!