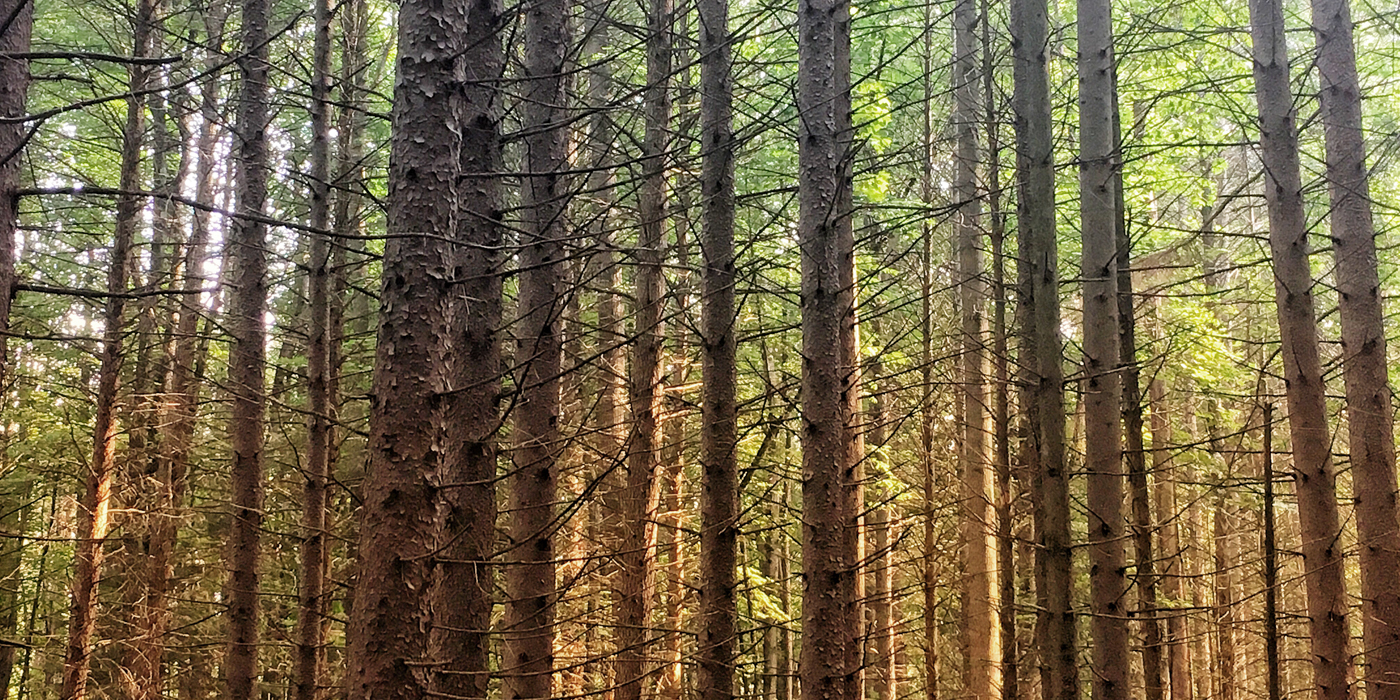 Pine Plantation Management
Aging Pine Trees Present Challenges and Opportunities at Oak Openings Preserve
People love them.
Pine trees planted decades ago were a way to stem soil erosion in Oak Openings Preserve by putting vegetation on the land. They were also envisioned as a future cash crop because the park district could sell the timber to generate revenue.
The trees were never harvested, and as they grew, so did park visitors' affection for the quiet solitude the pines provided in some areas of the preserve.
But despite their value as a cultural resource, the neatly spaces rows of planted trees have little value to native plants and animals in a region known for its diversity.
Today, many of the pines are reaching the end of their natural life, with collapsing stands of trees posing a potential safety hazard to park visitors. Other pine stands are reasonably healthy and can be managed to extend their life.
Metroparks Toledo is working from a management plan that will:
Salvage timber from dead and collapsed pine stands
Restore Oak Openings habitat 
Promote the health and vigor of culturally significant pine stands 
Where trees are removed, all revenue from the sale of timber will be used to restore the land to a natural state.
Research has shown that in areas where pine plantations have been removed, native species have thrived. Just a few of these areas that have already been restored contain more state-listed rare species than exist in some entire counties in Ohio.
2023
In late winter/early spring, a 7.7-acre stand of pines will be removed on the east side of Girdham Road at the Hiking Trail as part of a collaborative project with The Nature Conservancy. The project will restore forested wetlands, emergent wetlands, ephemeral streams and associated upland habitat at three sites within Oak Openings Preserve. The purpose is to create new habitat to support local populations of a number of species now at risk of decline in the Oak Openings Region, including spotted turtles and Blanding's turtles.
Winter 2019-2020
Metroparks Toledo sold timber from dead and collapsing pine trees in Oak Openings Preserve last winter to prevent safety hazards and continue efforts to restore one of Ohio's unique natural regions. That work will continue this winter.
The project began in November 2018 and continued into February. During that time, trails in the southern part of the park were closed for safety. All trails have since reopened, though some have been rerouted.
Likewise, work this year will close or cause the rerouting of trails periodically. The Evergreen Lake area, near a lot of the activity, will be closed starting in early January.
The Board of Park Commissioners previously approved the sale of pine timber from about 50 acres in the preserve to Roger Perkins Logging of Chillicothe, Ohio for $6 per ton for pine pulpwood, $10 per ton for pine saw timbers and $3 a ton for softwood timber. Perkins was the only bidder.
Proceeds from he sale or timber will be applied to the cost of restoring these natural areas, including stump removal.
Resources
Bringing Diversity Back to the Oak Openings
What Happened?
Metroparks asked local videographer Ellen Dziubek to explore sites in Oak Openings where pine trees were removed over the winter of 2018-2019. Natural Resources manager Tim Gallaher took her on a tour of a recently managed site, a restored area where pines were previously removed and areas that demonstrate the problems ahead.