Bridge Will Connect Riverfront Parks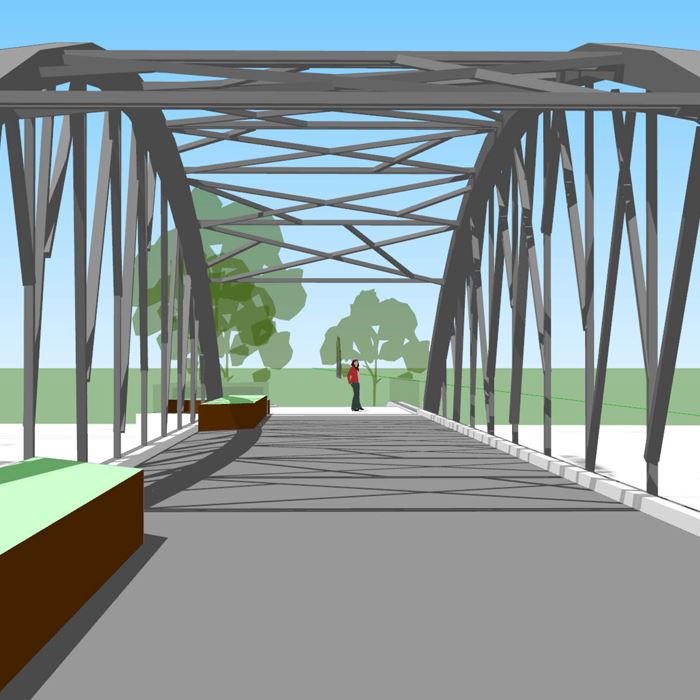 Mosser Construction began work May 2021 on a pedestrian and bicycle bridge over Main Street in East Toledo to connect trails at International Park with the new Glass City Metropark.
The 110-foot-long, 20-foot-wide bridge is in the location of a former railroad bridge and lines up with the existing path through International Park to Navarre Avenue. The project includes a 0.7-mile-long, 12-foot-wide asphalt bike path from Main Street to Marina Drive, through Glass City Metropark.
The nearly $2 million project is 80 percent funded by a federal grant secured by the Toledo Metropolitan Area Council of Governments. The bridge will be completed by the end of October.
Metroparks Toledo has an option to acquire International Park from the City of Toledo. Metroparks will renovate the park in the future as part of the Glass City Riverwalk project, a five-mile, 300-acre greenway on both sides of the Maumee River that will connect six neighborhoods in East Toledo and Downtown. The project will be funded in by a tax levy approved by Lucas County voters in November, state and federal funds and private donations.
Construction on Phase 2 of Glass City Metropark is expected to be underway in July by Lathrop Company. Phase 2 will be more than twice the size of phase 1, which opened in December. New features will include an ice skating ribbon, a Mini-Maumee water play area, a restaurant, cabanas, picnic shelters and a campground. Marina Drive will be realigned as part of the project, and a building at 815 Front Street will be renovated as a community center.