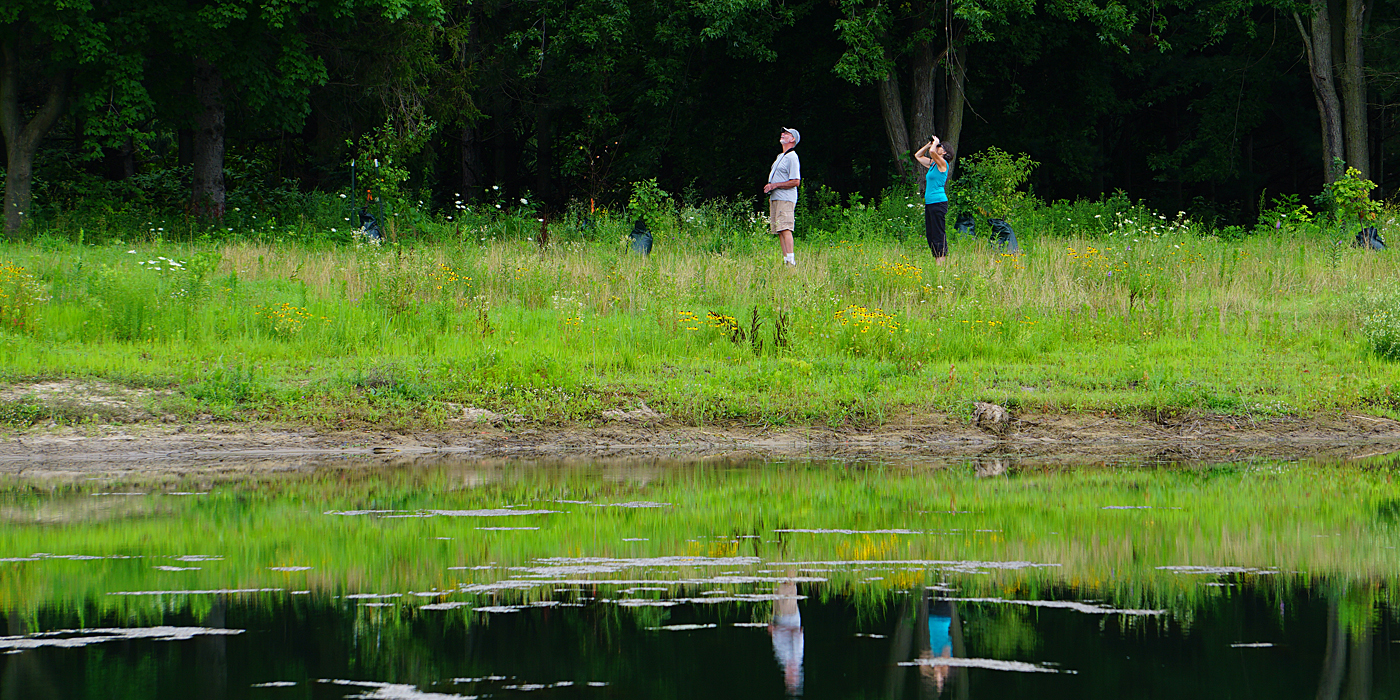 Cannonball Prairie Metropark
Recreation meets restoration a scenic Spot along the Wabash Cannonball Trail.
Once home to a 1,000 acres farm, almost 100 acres of this land is being restored to a rich habitat for birds, frogs and turtles.
For people, a bicycle, kayak or tent is the best way to truly experience this Metropark beside the region's longest trail.
The park has planted prairies, a pond for boating, three campsites secluded in the woods, walking paths and a connection to the Wabash Cannonball Trail, which runs through the park.
Fishing in the Future
Cannonball Prairie Pond is stocked and aerated (using solar power) to build a fishery that will one day be a destination. For now, fishing is on hold to give the population time to get established.
Take a Ride Through History
Whether you like trains, bicycles, music or  prairies, there's something for everyone in  Cannonball Prairie's past. 
Built in 1855, the northern leg of the Wabash Railroad ran from Toledo to Chicago until 1969. In the mid-1990s, it became part of the rails-to-trails project and today is the bicycle trail you see transecting this Metropark.
This historic railroad has a musical connection  as well. Folklore tells us that "Cannonball"  comes from a fictional train created by the song writer J.A. Roff in 1882. The song was so  popular that the rail line named a passenger train after it – the Wabash Cannonball. 
In 2013, Metroparks bought the land around this famous trail to further conservation and prairie restoration in the Oak Openings Region.
From Produce to Prairies
Formerly known as Springer Farm, Cannonball Prairie was once a part of a successful agricultural operation. During its height over 1,000 acres of corn, soybeans, tomatoes, cucumbers and peppers were cultivated. Today, Metroparks owns about 100 acres of this historic farm. Much of it will be restored to habitats that support the Oak Openings corridor.
Ponds and Wetlands
The pond and restored wetland at this park offer beautiful places to relax and an amazing opportunity for wildlife viewing after a long bicycle ride. Or bring your kayak, to enjoy the recreation available here. Fishing is currently not permitted while a fishery is being established. With aggressive stocking, feeding and aeration, the ponds will soon be a prime destination for fishing.