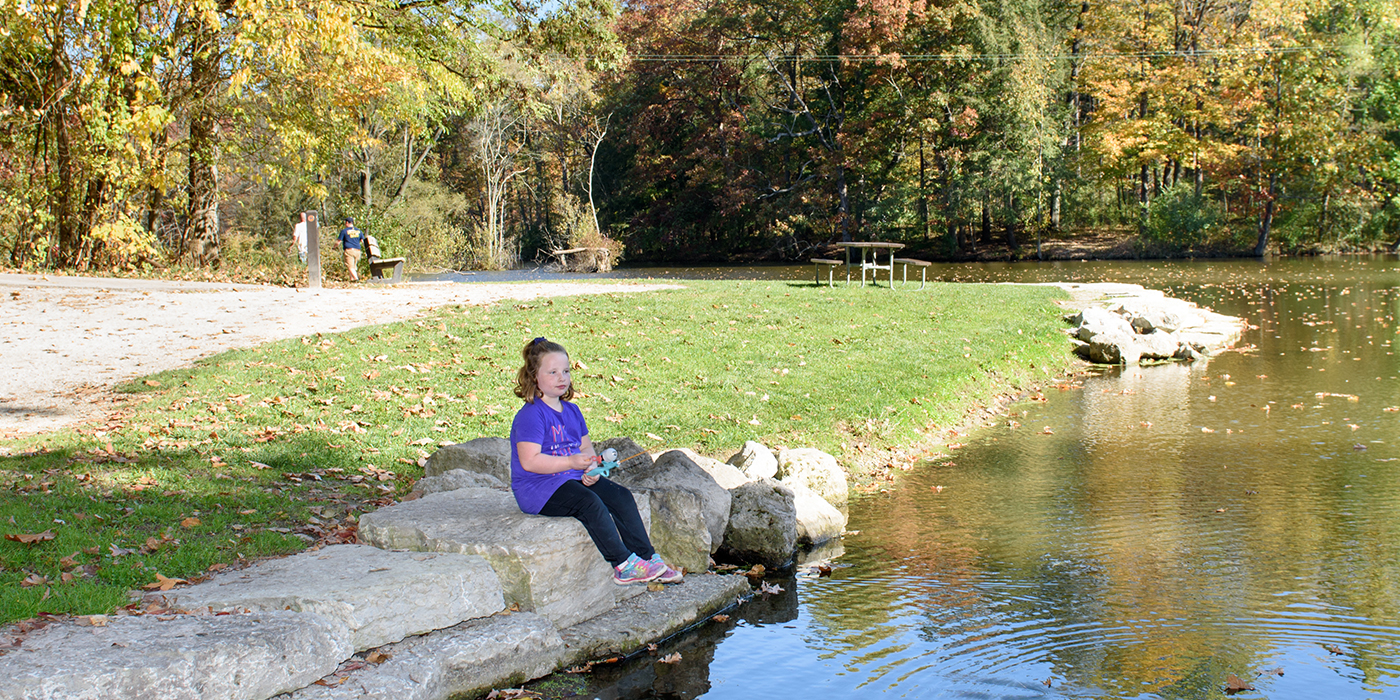 Featured Parks
Get hooked!
Wet a line in the Metroparks. Access to the Maumee River and inland waters provides a variety of fishing opportunities in scenic settings.
Ohio fishing regulations apply to the river and all inland waters in the Metroparks.
The Spring Walleye Run
March madness on the Maumee River means a frenzy of fishermen wading into the cold water to cast their lines for walleye. The popular gamefish swims upriver to spawn in numbers that are unparalleled on the Great Lakes, and Side Cut Metropark is right in the middle of the action.
Starting mid- to late-Mach, fishermen line up to cast jigs and reel in keepers. Vendors set up on the shore and spectators stop to stare. The spawn is one of the factors that make Lake Erie the Walleye Capital of the World, and put the Maumee on the map as a premier angling destination.
Click Here to check current Maumee River temperature and height.
More Fishing at Side Cut
About the time the walleye run ends, white bass move in to spawn. Crappie, smallmouth bass, bluegills, carp, catfish, gar, bullhead, red-eared and other sunfish, Northern pike and yellow perch are among the species commonly caught from the river.
Because of occasional flooding, many of these species also find their way into Siegert Lake and Silver Lake at Side Cut.
Fishing at Farnsworth & Providence
Upriver from Side Cut, the other Maumee River Metroparks are also destinations during the spring runs of walleye and white bass, as well as a variety of other river species most of the year. A popular destination is just below the Providence Dam.
Boaters have direct access to the river from a boat launch at Farnsworth. The park also has accessible platforms for fishing.
---
Unless otherwise noted, fishing in all inland ponds and lakes of the Metroparks is catch-and-release only. Ohio licensing requirements are enforced.
Fishing at Wiregrass Lake
Bluegill, largemouth bass and channel catfish are stocked in this small, scenic lake. There is fishing access from shore or an accessible fishing dock, which also has a roll-off canoe and kayak launch.
Fishing at Pearson
The Ohio Division of Wildlife stocks the lake at Pearson with rainbow trout from the Castallia hatchery, providing a unique fishing opportunity to catch this cold water species in early spring – and you can take them home with you. Fishermen catch catfish and other species year round. The lake's stair-stepped shore makes it an accessible place to introduce children to fishing.
Fishing at Blue Creek
Bluegill and catfish are commonly caught in the quarry pond on this former farm. Blue Creek is a partially open park with a one-mile trail that circles the scenic pond.
Fishing at Oak Openings Preserve
Largemouth bass, bluegill and channel catfish are species commonly caught at Mallard Lake, which has a stair-stepped shoreline making it easy to get to the water and accessible for children.
Evergreen Lake also has largemouth bass, bluegill and channel catfish as well as black crappie.