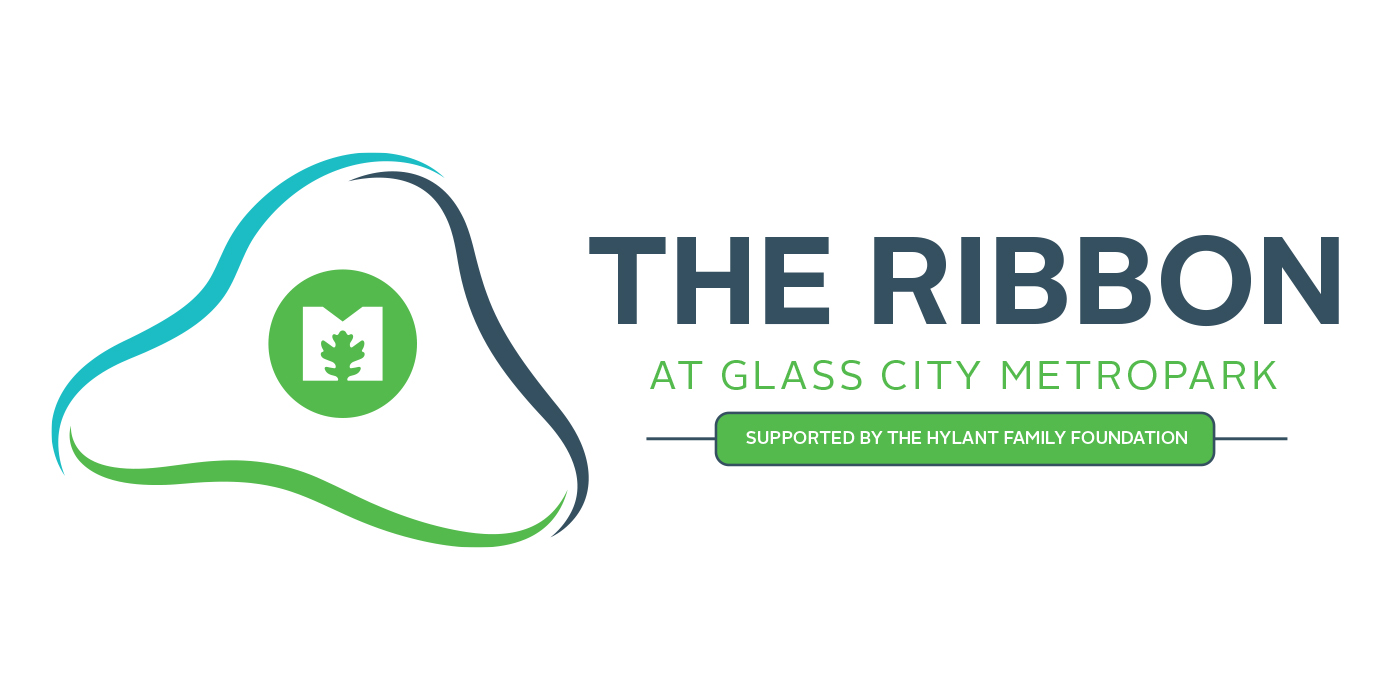 The Ribbon, supported by the Hylant Family Foundation, is a 1,000 foot loop trail featuring rolling hills and soft curves for a uniquely Metroparks winter ice skating experience. The Ribbon is connected to a 5,000 square foot skating pond that offers a traditional ice rink experience for beginners and a series of special events and programs.
Ice skating is available throughout the cold weather season with the inaugural skating season set to open in November 2023 through February 2024. Admissions and skate rental will be available at the Market Hall building located near The Ribbon.
Metroparks Announces Special Ribbon Preview!
The community is invited to be the first to skate at The Ribbon at Glass City Metropark during limited behind-the-scenes preview days this February. During this special preview, capacity will be limited and advanced reservations are highly recommended. Preview prices, including skate rental, are $8 for adults and $6 for children. The experience is free for children 3 and younger.
Click the link below to make your reservation. Click Here to view the skate size chart.
Ice Skating Contact Information 
Call 419-407-9717 or rinkmanagement@metroparkstoledo.com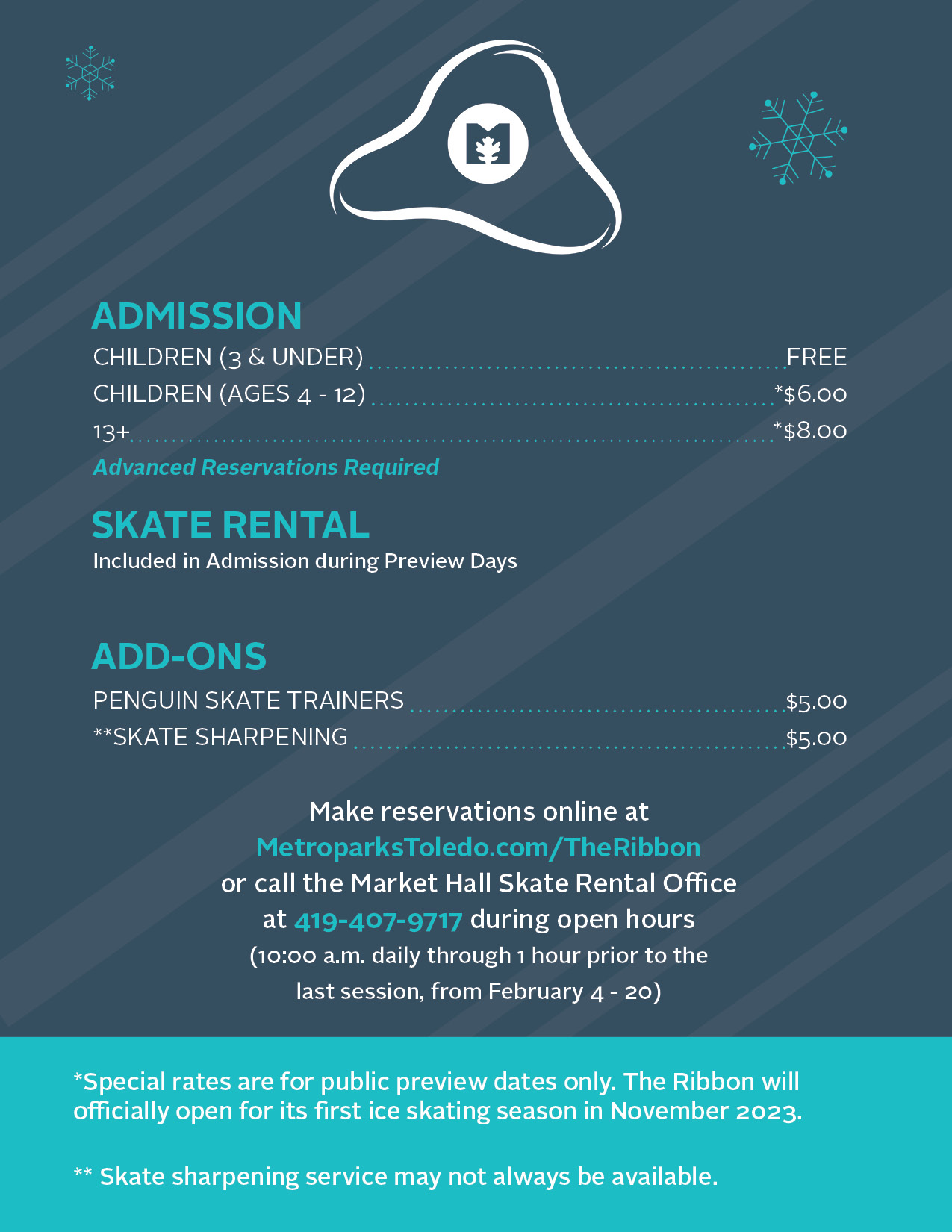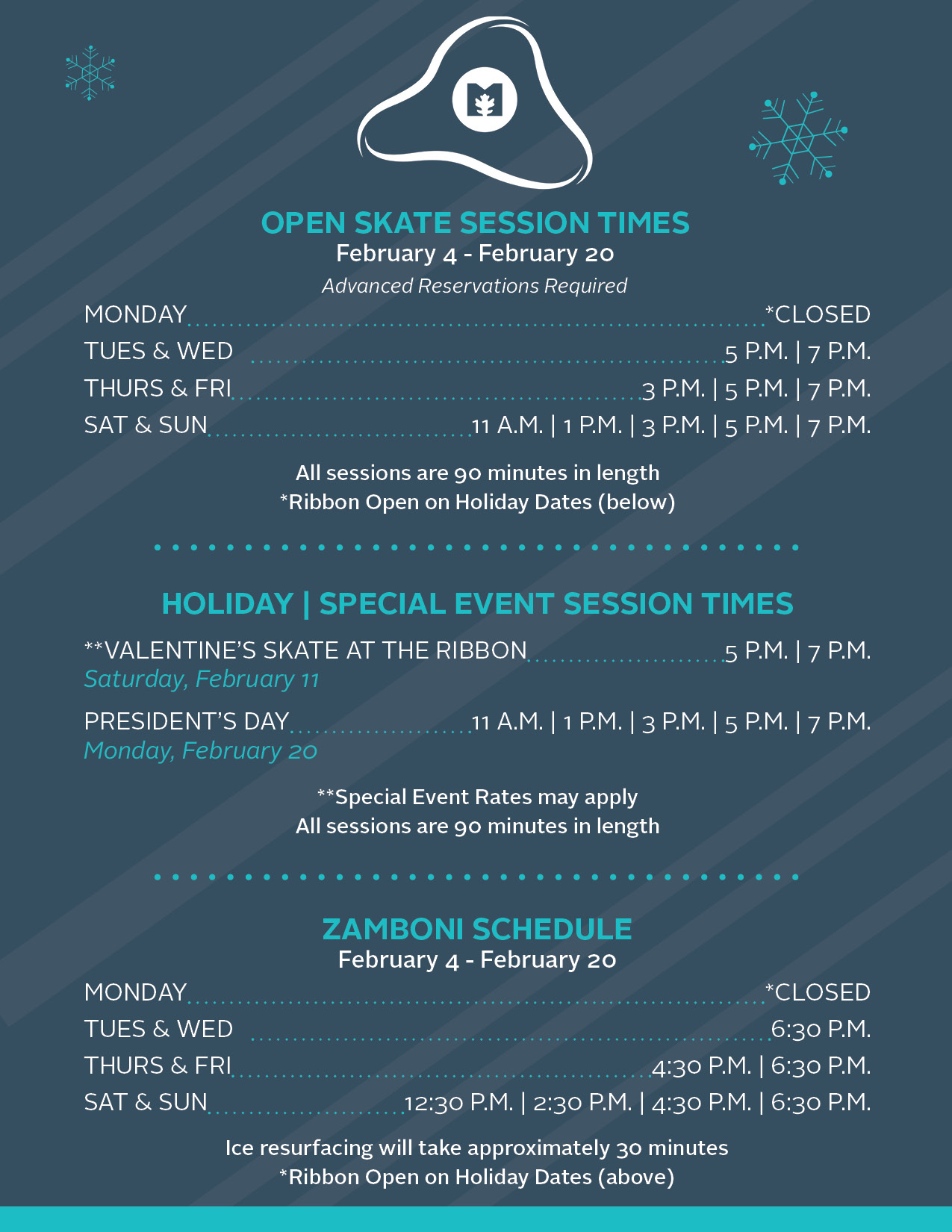 About The Ribbon
The 1,000-foot long Ribbon is a paved, loop trail that is refrigerated in winter to provide 25,000-square-feet of ice skating surface with rolling hills and soft curves. It includes a 5,000-square-foot ice skating rink called the Pond that is suitable for beginning skaters and events. Fourteen miles of tubing under the pavement supplies refrigerant to the surface, while a Zamboni ice resurfacing machine will maintain a smooth skating surface.
In warm weather, The Ribbon will be a multi-purpose trail that will be free to use for walking, roller skating and scooters.
During the winter, the site will be managed by Rink Management Services Corp., the largest operator of ice skating facilities in the U.S. The company operates a variety or sports facilities nationwide, including the ice ribbon at Maggie Daley Park in Chicago.
Park Opening in Spring
A grand opening for the addition to Glass City Metropark is being planned for this spring. The park will include three, nature-themed playgrounds; a plaza for winter and summer activities; all-purpose trails for walking and bicycling; six cabanas beside The Ribbon that can be rented for small, private gatherings; and Market Hall. A restaurant operated by local company Poco Piatti will open in Market Hall when the park addition opens. A campground is expected to open in fall 2024.
Support The Ribbon
Partner with Metroparks Toledo to provide high-quality outdoor activities while generating awareness of your brand through unique opportunities. To discuss partnership opportunities please contact Ally Effler at 419-407-9708 or email Ally.Effler@metroparkstoledo.com.
Become a Metroparks Member
Become a Metroparks Member to support important Metroparks initiatives at The Ribbon and other programs throughout the district.
FAQs
Reserve your skating time in advance?

How much does it cost to skate?

What types of payment are accepted at The Ribbon?

Do we have to sign a waiver before skating?

Do you offer group discounts?

Where can we put our items while skating?

What skate sizes are offered?

Where do I park?

Will there be concessions available at The Ribbon?

What should we bring?

What are the hours of the Zamboni?

What happens if there is inclement weather?

Do I need to make a reservation for a person who won't be skating?

Can I rent a cabana in the Cabana Village?

Can I rent the Glass City Ice Ribbon or skating pond for a private event?

Can I host a party at the Glass City Ice Ribbon?

Are wheelchairs allowed on The Ribbon?

When do I need to show up for my skating session?