Cannaley Treehouse Village
About The Treehouse Village
The Cannaley Treehouse Village is the only public treehouse village in the country, creating an experience that is truly one-of-a-kind. Treehouse Village includes six-, four- and two-person treehouses plus three raised platforms attached to trees for tent and hammock camping.
The treehouses have electricity with heat and air conditioning. There restrooms and shower facilities are nearby.
A large common treehouse available for day uses, a group gathering place around a campfire, connecting boardwalks, a canopy bridge and a crow's nest complete the charming village in the trees.
Treehouse Village Features
A six-person treehouse
A four-person treehouse (ADA accesible)
Two, 2-person treehouses
Three tent/hammock platforms for camping in the trees
A common treehouse with seating for up to 20 people (day use only; ADA accessible)
A crow's nest
A canopy walk linking the common treehouse to the crow's nest 
Restrooms with showers
Common fire pit (wood provided)
Reservations & Rental Rates
The four private treehouses and three tent/hammock platforms are available to rent for overnight stays. The common treehouse may be reserved for daytime and evening (but not overnight) group gatherings. And for that truly special event, the entire Treehouse Village may be reserved – available 4 weekends per year.
To ensure opportunity for a broad segment of the population to stay at Treehouse Village, an occupancy cap will be established for traditional rentals. Monday and Tuesday nights will be reserved for community outreach, programming, camps and subsidized stays.
Community Days at the Cannaley Treehouse Village
Local non-profit agencies, whose mission and priorities are similar to Metroparks Toledo, may reserve the treehouse village at no-cost on Mondays and Tuesdays.
All participating agencies must follow the approved diversity policy (Board Policy #20) from the Board of Park Commissioners of Metroparks Toledo. As noted in that policy, Metroparks Toledo shall embrace the diverse community that Metroparks serves and ensure that all people feel welcome and benefit from its park areas, facilities, services and programs.
Call 419-407-9701 or email for details.
Click Here to download a current list of available dates for the Dragline, Nest, Hub and Stable Treehouses, through August 2023 [updated 09/23/2022].
Click Here to download a current list of available dates for the Dray, Lair and Perch Tent Platforms through October 2022 [updated 08/11/2022].
Location
The Cannaley Treehouse Village is located at the Beach Ridge area of Oak Openings Preserve.
3520 Waterville Swanton Rd, Swanton, OH 43558
Check Availability and Make a Reservation Online:
---
Like us on Facebook and follow us on Instagram for the latest updates on the Cannaley Treehouse Village.
The Stable
Where are the horses? The Stable sleeps 6 guests and has 2 queen beds, a full bed, a couch, 2 chairs a coffee table and has lots of barn-like features. Look for special embellishments that equestrians especially will appreciate. [Details]
Rental Rate: $225 per night
Member Rate: $200 per night
Click Here to check availability or to reserve
The Hub
Let's ride! The Hub is a mountain biker's paradise. Accommodating 4 guests, it is ADA accessible treehouse has an accessible bedroom with queen bed, a loft with a queen bed, couch and 2 small end tables. A slide makes it easy and fun to get back to the ground. Want easy access to the mountain bike trail? A separate ramp leading bikers directly from the Hub to the trails will be coming in the future. [Details]
Rental Rate: $200 per night
Member Rate: $175 per night
Click Here to check availability or to reserve
The Dragline
Sleep, climb and play! The Dragline is a spider web-themed cabin, it accommodates 2 guests and has a queen, a dining table with 2 chairs. Try your skills on the dragline and tube cargo net. [Details]
Rental Rate: $150 per night
Member Rate: $125 per night
Click Here to check availability or to reserve 
The Nest
Hey, birdie, birdie... The Nest accommodates 2 guests with a full bed, 2 chairs and a coffee table. A loft - or nest - is a great place to hang out. This special nook has custom structures made to look like the home of our feathered friends. A curly, tube slide is the fastest way down. [Nest]
Rental Rate: $150 per night
Member Rate: $125 per night
Click Here to check availability or to reserve
Platforms Camping
Nature enthusiasts will love these perches in the trees for a memorable overnight experience. Pitch your tents high above the ground. There are three platforms – The Drey, The Perch and The Lair – can accommodate tents and hammocks for a unique camping experience in the trees. Cargo tube netting and hammocks strung throughout are places to play or relax.
Rental Rate: $30 per night
Member Rate: $20 per night
Click Here to check availability or to reserve
Flatwood Commons
This day use treehouse is ADA accessible with an ADA-accessible ramp and deck. Flatwood Commons is available for parties of up to 20 guests for small gatherings and programs. It is connected to the Crow's Nest, which is linked to the Tower by a swinging bridge. 
9 a.m. to 5 p.m.
Rental Rate: $250 per day
Extended Hours 9 a.m. to 11 p.m.
Rental Rate: $350 per day
Call 419-407-9701 to reserve.
Entire Treehouse Village Rental 

Friday, Saturday and Sunday Nights, available once per quarter
Rental Rate: $5,000 for two nights
Member rate: $4,900 for two nights
Call 419-407-9701 for available dates.
Creating a Destination
The 500-acre Beach Ridge Area of Oak Openings, including Treehouse Village, is a compelling, unique new way for people to connect with the outdoors. This destination for local and out-of-town outdoor enthusiasts features:
Treehouse Village
12-mile singletrack mountain bike trail and skills development course
Additionally, Metroparks will be hosting regular public events and programming at Beach Ridge and Treehouse Village to give the community access to this unique location.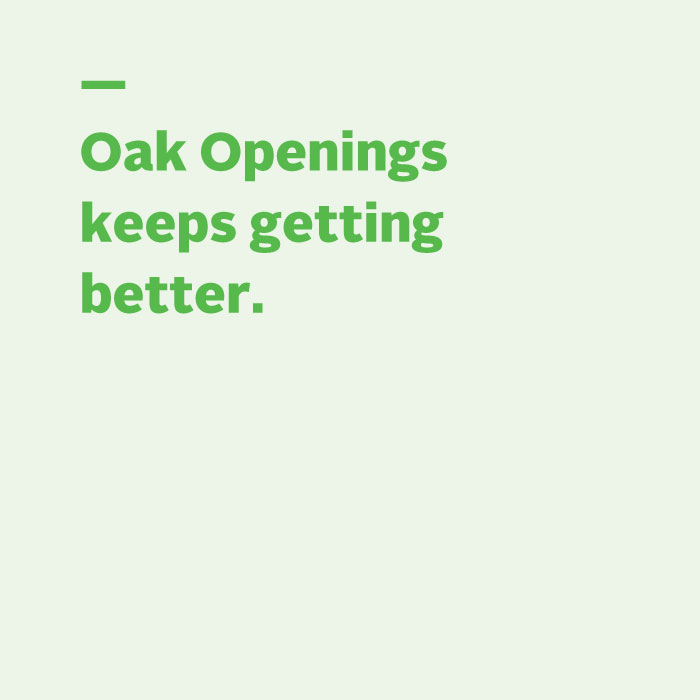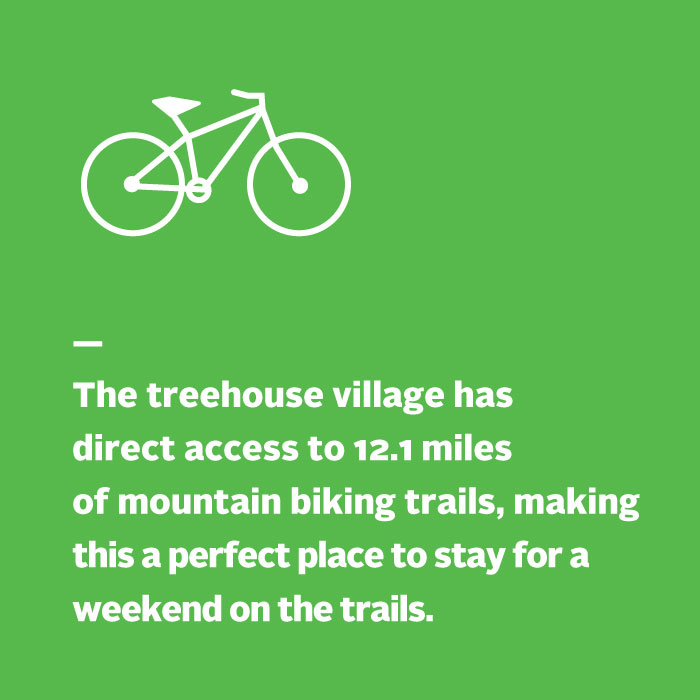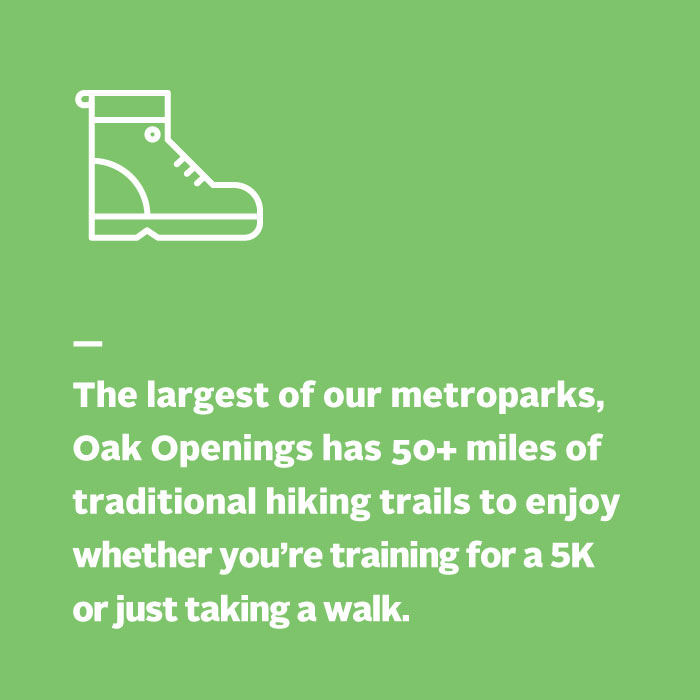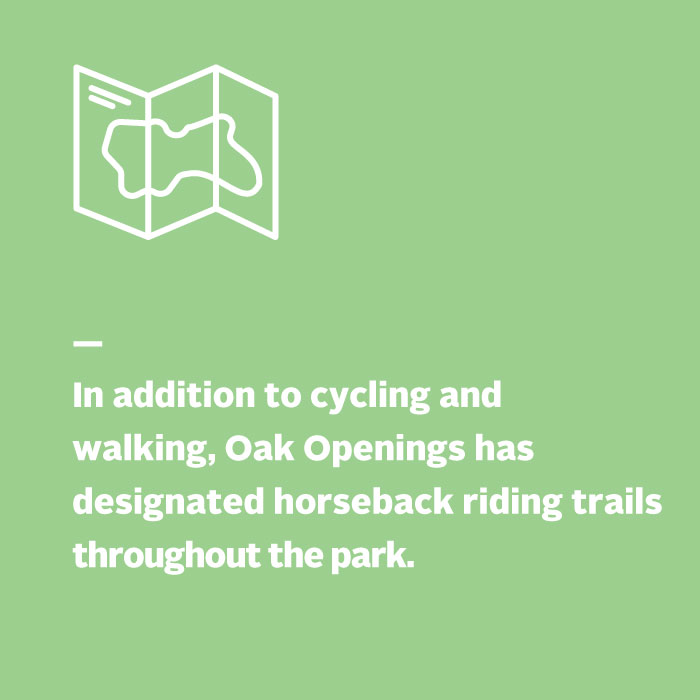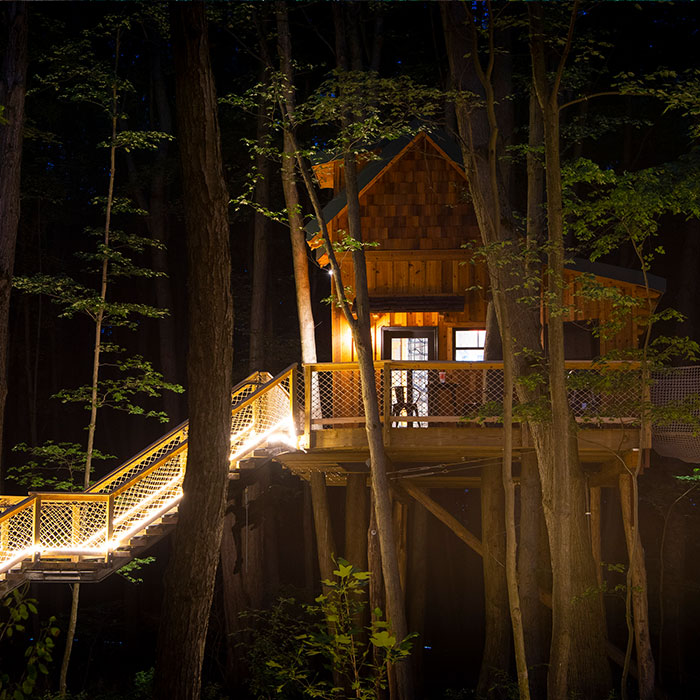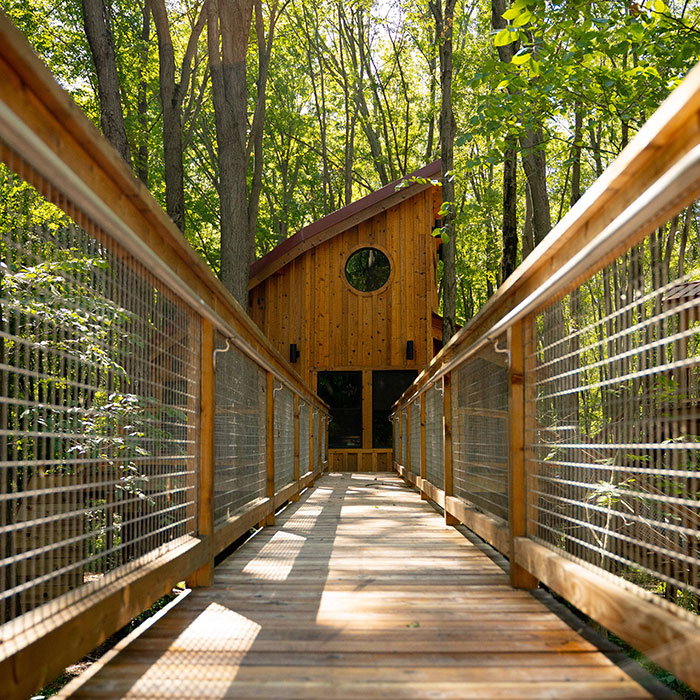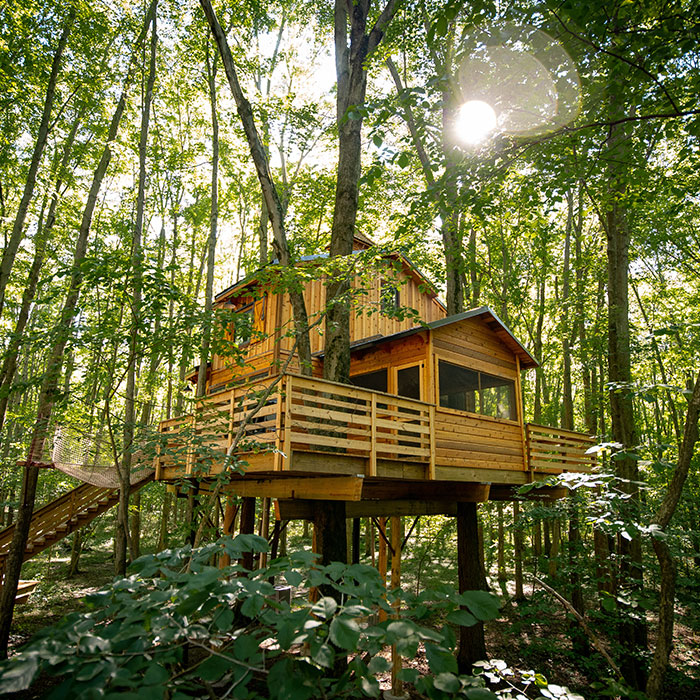 Make Your Stay An Experience
Program offerings for treehouse village renters must be booked 6-weeks out for staff scheduling.
Call 419-407-9701 to book your experience or package.
Tree Climbing: Facilitated tree climb at the Treehouse Village Climbing Tree.
Mountain Biking: Guided 2-3 hour mountain bike adventure on the Beach Ridge Singletrack Trail.
Maumee Kayaking Adventure: Self-guided paddle based out of the Farnsworth concession with transportation from Treehouse Village to Farnsworth.
Guided Backpacking/Hiking Adventure: Guided hiking adventure within the Oak Openings Region. Transportation from Treehouse Village to hiking location and return trip provided. Campfire snack upon completing the hike.
Romance Package: A dozen roses and a box of chocolates. 
Responsible Development
The Treehouse Village is in large part a result of the generous support of the local community through the Metroparks Toledo Foundation.
Private contributions made to the Foundation will fund the development of the Treehouse Village. Metroparks financial plan provides for the expected operations costs, which will be covered by revenue from rental fees.
Metroparks Toledo has established a local team of experts to complete the design and construction of the Treehouse Village. The team will help ensure that the community project is completed responsibly and is cost effective.
FAQs
Where is the Village Located?

How old do you have to be to rent a treehouse?

How do I make a reservation?

What is the arrival and departure time for a rental?

What if I have to cancel my reservation?

How do I gain access to my rental treehouse?

What if I need assistance during my stay?

Is there a Fire pit?

What furniture is provided in the Treehouses?

What's in the kitchen?

Are the treehouses heated and air conditioned?

Do I bring my own linens?

Where to park?

Where are the restrooms?

Where are the showers?

Where can I get water?

Can I bring my pet?

Is smoking permitted?

Can I have alcohol in my treehouse?

How many people can stay overnight?

What are the dimensions of the tent platforms?

When is quiet time?

Addtional Fees