Featured Parks

Maps & Trails
Singletrack trail riding at Oak Openings Preserve delivers thrills for mountain bike fans across the midwest.
Metroparks encourages riders of all skill levels and ages to experience the Beach Ridge Trail at Oak Openings. This new 12-mile trail offers fast riding with optional obstacles throughout to increase the difficulty if you're game for the challenge. The natural terrain of Northwest Ohio is a great place for riders of all abilities and fitness levels to get started. So whether you're new to the sport or an experienced rider, come enjoy nature and get outside yourself on two wheels.
The Beach Ridge Trail
Built and maintained by volunteers with the support of and guidance of Metroparks Toledo, the full 12.1-mile singletrack trail is now open. With 12 unique bridges and other obstacles along the narrow, scenic path, riders can enjoy a nice afternoon ride or get after it with a group of friends. Don't expect black diamond jumps and drops, but get ready for the best seasonal trail riding in the area.
Learn More about Mountain Biking
Metroparks offers instructional programs and group rides for all levels to get you on the bike and out on the trail. If you're just getting started, look for an Introductory 101 course led by Metroparks staff or a local expert. We also offer more advanced programs if you're looking to master your skills or maybe learn some new ones. Keep an eye on the park calendar to find the next available program or free group ride.

  Frequently Asked Questions
Can kids or beginners ride this trail?

Do I need a mountain bike?

Is safety gear required?

Who maintains the trails?

What do I do if I find a downed tree?

Can I ride when the trail is wet?

Are dogs allowed on the trail?

Are hikers allowed on the trail?

How long is the trail?

How long does it take to ride the full trail?

Do I have to do all the obstacles on the trail?

Where should I park?

Where can I find trail conditions?

Safety First
The Beach Ridge trail is great for all skill levels, but it's important to always be cautious on a new trail. If you have any questions about the trail or your ability, start slowly and work your way up as you build your skills. Make sure that you and your bike are both ready to hit the trail. Wear a helmet and proper safety gear and ride with a partner in case of emergency. Be prepared, be cautious and enjoy the trails!
—
Pre-Ride.
Take your time getting to know the trail at a slow speed. Look for signage and be aware of trail conditions. 
—
Re-Ride.
Get to know the features and build confidence on the trail. Practice the obstacles and make mental notes.
—
Freeride.
Work your way up to faster speeds as you become more familiar with the trail and its features.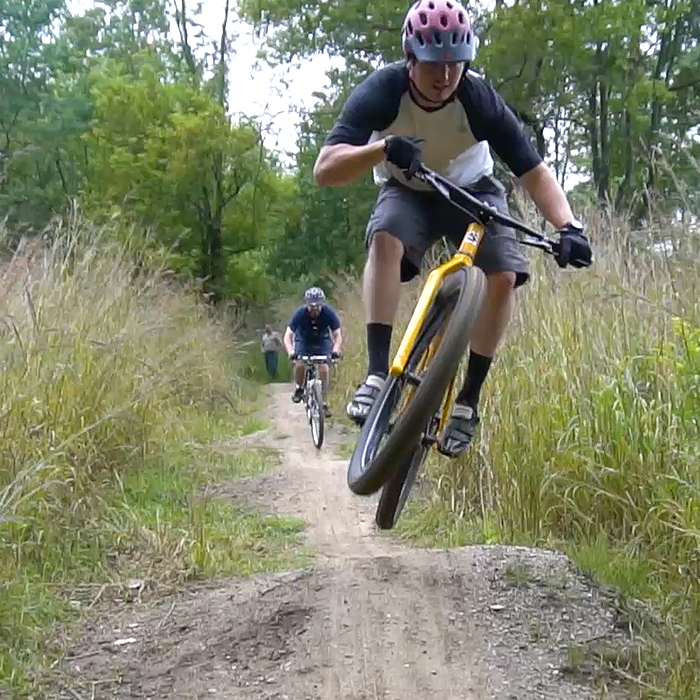 Mountain Bike Checklist
Before riding, always inspect your equipment or have it checked by a qualified bike mechanic.
Ensure helmet is in good shape and properly adjusted.
Inspect bike frame for cracks, damaged or dented areas.
Ensure you have sufficient brake pads to stop.
Front and rear axles (skewers) should be tight.
Headset and stem must be secure with no looseness or play.
Check that your tires are in good condition and properly inflated.
Handle bar & handle grips must be tight and unable to spin.
Seat and seat post need to be fastened securely.


—
If you are not completely familiar with your bike and its various components, these checklist items, or if you have any doubt as to your bike's condition, we highly recommend you check with a qualified bike mechanic for further advice.
Mountain Bikers Responsibility Code
Although the Beach Ridge Trail is suitable for all ages, mountain biking involves the risk of serious injury or death. Your knowledge and actions contribute to your safety and that of others.
Stay in Control—You are responsible for avoiding objects and people.
Know Your Limits—Ride within your ability.
Protect Yourself—Use an appropriate bike and helmet.
Inspect and Maintain Your Equipment—Know your bike and its components prior to riding.
Inspect the Trails and Features—Conditions change quickly; be aware of unexpected debris on the trail.
Obey Signs and Warnings—Stay on marked trails only. Ride in the direction indicated. Do not cut switchbacks.
Be Visible—Do not stop where you obstruct a trail, feature, or are not visible to other riders.
Look Out for Others—When overtaking, use caution and yield to those ahead. Be aware of two-way traffic and hikers.
Cooperate—

Please assist if you are involved in or witness a collision or accident.