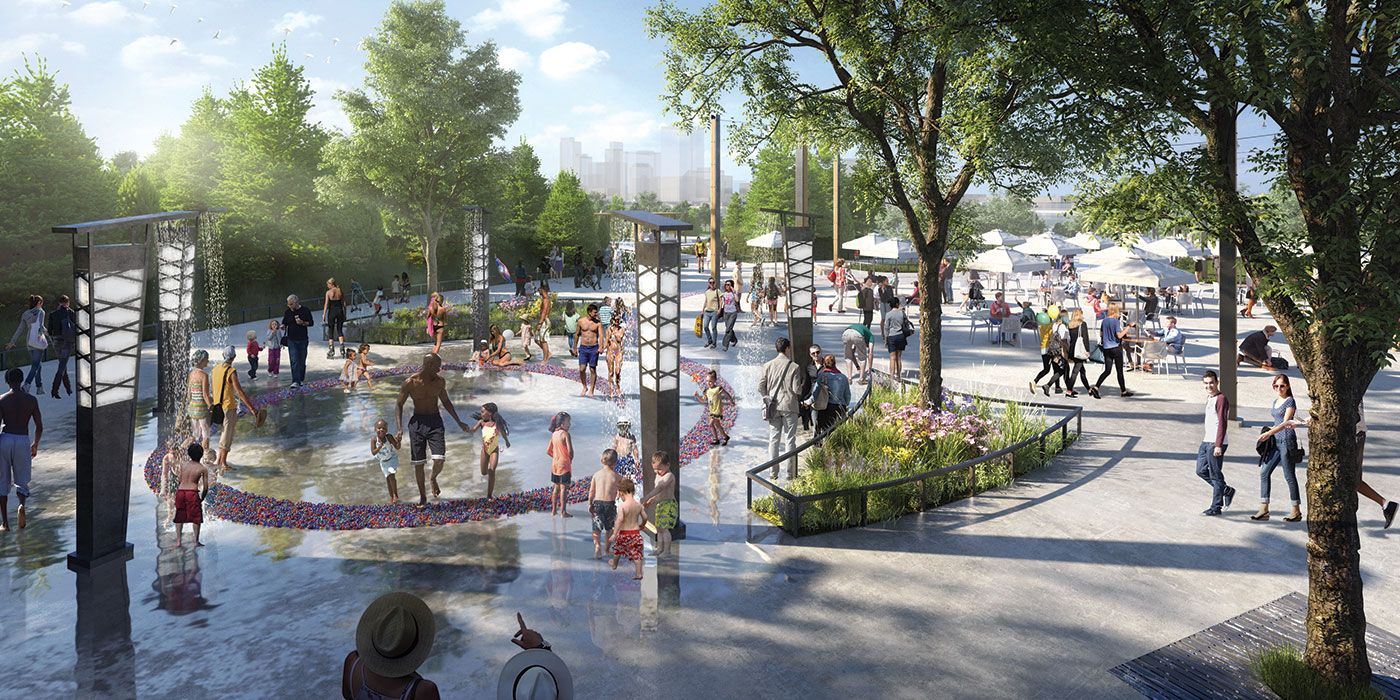 Waterfront Transformation Underway
Glass City Metropark will enhance East Toledo and downtown neighborhoods while creating a new regional destination. Construction is underway on Phase 1 of the new Metropark on the east side of the Maumee River. 
Phase 1 is bordered by the Maumee River, Front Street, the Marina Lofts apartments currently under construction on Main Street, and E. Broadway, which will be extended across Front and become the park entrance.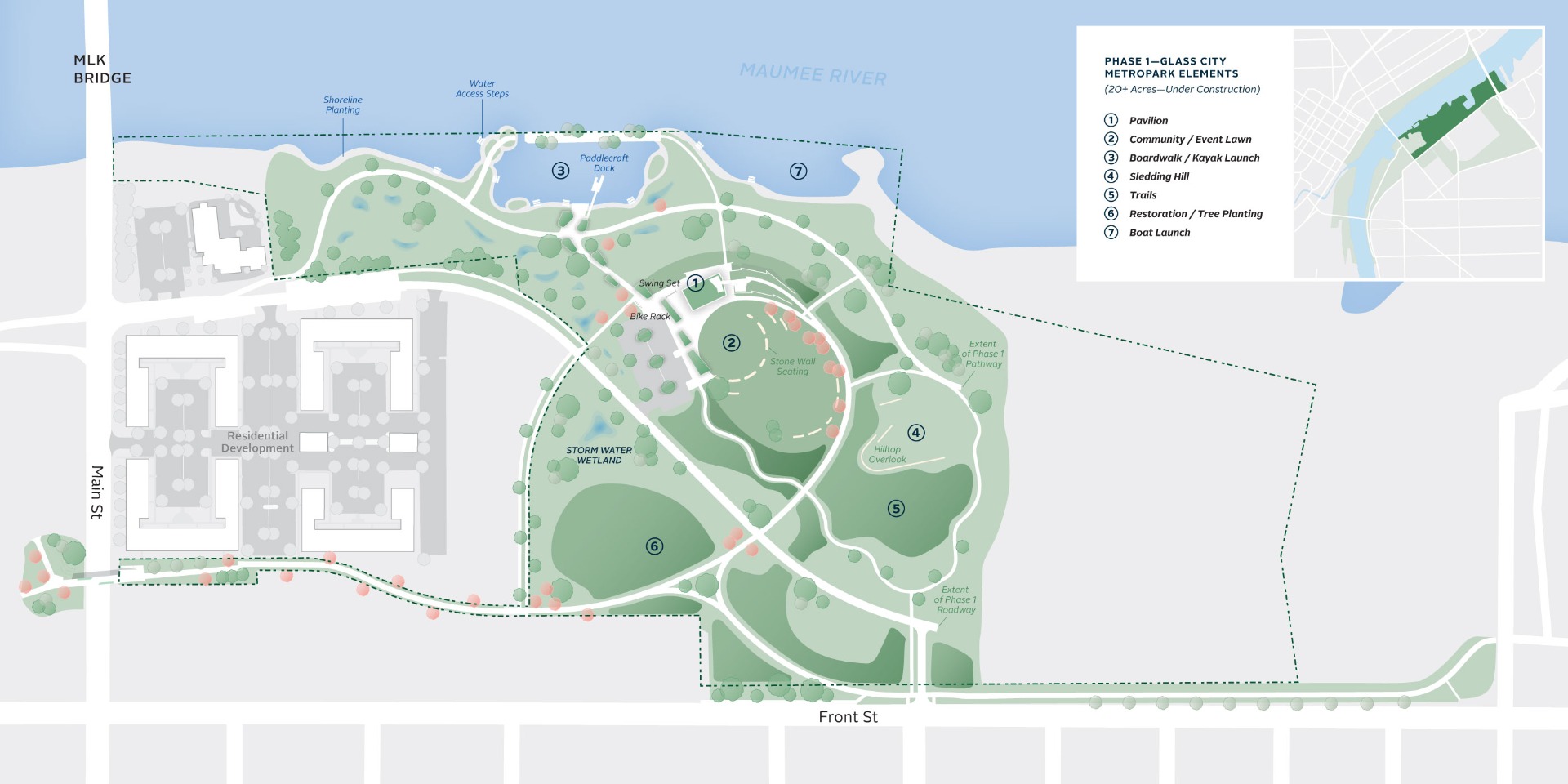 "This is only a beginning, by this time next year, phase one will be well underway as plans are being finalized for the next phase. What we are creating is not only a beautiful Metropark, but a gateway to our community. This is an important step in the renaissance of our entire waterfront on both sides of the Maumee."
— Scott J. Savage, President of the Board of Park Commissioners

Phase 1 of park development will include:
A 3,500-square-foot pavilion with restrooms, a concession window and green roof. The building will accommodate 150 people.

Rooftop plaza space

An event lawn that will accommodates 5,000 people for special events

A sledding hill

Aggregate and asphalt walking paths

Water access for fishing, canoeing/kayaking

Shoreline restoration

Reforestation with more than 2,000 trees as well as prairie plants

Stormwater wetlands and bioswales

A boardwalk over water with seating

The realignment of Riverside Drive

A 70-vehicle parking lot

A new curb cut for park access from E. Broadway Street
A separate contract is expected to be awarded in late 2020 for construction of a bike and pedestrian bridge over Main Street to connect Glass City Metropark with the City of Toledo's International Park.
Phase 1 will be completed fall 2020, and the bridge will be completed in 2021.
Since September 2018, Metroparks has purchased 67 acres of riverfront land from ProMedica for just under $6 million, with more than $4 million of the purchase price paid for by the Clean Ohio Fund. A federal Department of Transportation grant will pay for nearly $1 million of the $1.2 million cost of the bridge. Additional funding from the National Fish and Wildlife Foundation and U.S. Forest Service will support habitat restoration and reforestation.
"The success of Middlegrounds Metropark and the tremendous amount of support and input from the community on this project demonstrate the potential for this to be the start of a truly transformational project for our region. Our vision is to have connected neighborhoods on both sides of the river that will enhance our quality of life and property values, and project a fresh, welcoming face of northwest Ohio."
— Dave Zenk, Executive Director of Metroparks Toledo
Phase II Planning Begins
As construction is set to begin soon on Phase 1 of Glass City Metropark, two grants recently awarded to Metroparks will help fund planning for Phase 2, roughly between E. Broadway and the National Museum of the Great Lakes: 
The Ohio Department of Natural Resources awarded a $200,000 grant through the Coastal Management Assistance Grants programs.

The Toledo Community Foundation awarded a grant of $100,000 from the William and Elsie Knight Fund of the Toledo Community Foundation to support preliminary engineering and design work.
"The funds will enable the park system to conduct a comprehensive planning process necessary to transform the property into a world-class waterfront. Just as important, they are an early vote of confidence in the project from important community partners."
— Dave Zenk, Executive Director of Metroparks Toledo
What Others Are Saying
Joe Napoli
President, Toledo Mud Hens, Toledo Walleye and Hensville; Chairman, Metroparks Toledo Foundation
"Many riverfront communities have come to realize that they had turned their backs on their most important asset, a river. Although many rivers served an important industrial purpose at the beginning of the last century, today's purpose is even more impactful. The Maumee River can serve multi-purposes: it can continue to serve commercial enterprises while also being a place to enjoy a vibrant, healthy lifestyle. By doing so, people in other communities have responded – they are moving back into a downtown setting, especially one that offers recreation on a riverfront."
Randy Oostra
President and CEO, ProMedica
"There is strong evidence that parks stimulate economic development in local communities. The work of Metroparks Toledo along the riverfront will help strengthen nearby businesses and neighborhoods, attract new investments and bring visitors to the area. As an anchor institution headquartered in downtown Toledo, we are excited to see this level of progress in our community and look forward to having a first-class, waterfront park nearby."
Sharon Speyer
President, Huntington Bank Northwest Ohio Region, and chair of the board of ConnecToledo
"Glass City Metropark is a forward thinking project that will make Toledo an even greater place to live, work and play. The enhancements to the Maumee River will be a catalyst for redevelopment in both Downtown and East Toledo. A revitalized riverfront will provide better access to the riverfront, more space for community events and places for people to enjoy natural amenities in an urban context. These plans are important to make our entire region more competitive. Making Toledo a great place to live is imperative to keeping local talent, and talent is essential for economic development."
Peter Ujvagi
former Toledo City Council Member, District 3, East Toledo
"The start of the construction of Phase 1 of the Glass City Metropark in East Toledo marks the culmination of many years of collaborative work and investment to not only further open the Maumee riverfront to the residents of East Toledo, but to also begin the development of an exciting and adventurous new park that will attract regional and national attention to Toledo's riverfront and neighborhoods."
Latest From Our Blog

Volunteers decorated over 100 Snow People that line the road through the new Glass City Metropark.

Reservations are now being accepted for tours of the new Metropark under construction on the east side of the Toledo riverfront.

Toledo Mayor Wade Kapszukiewicz's administration is requesting City Council approval to convey International Park to Metroparks, which will explore funding to renovated the riverfront park as part of ongoing efforts to revitalize the waterfront.
Partnership Opportunities
Metroparks Toledo has several exciting opportunities for partners to participate in this transformative project. To learn more contact: Ally Effler 419-407-9708.