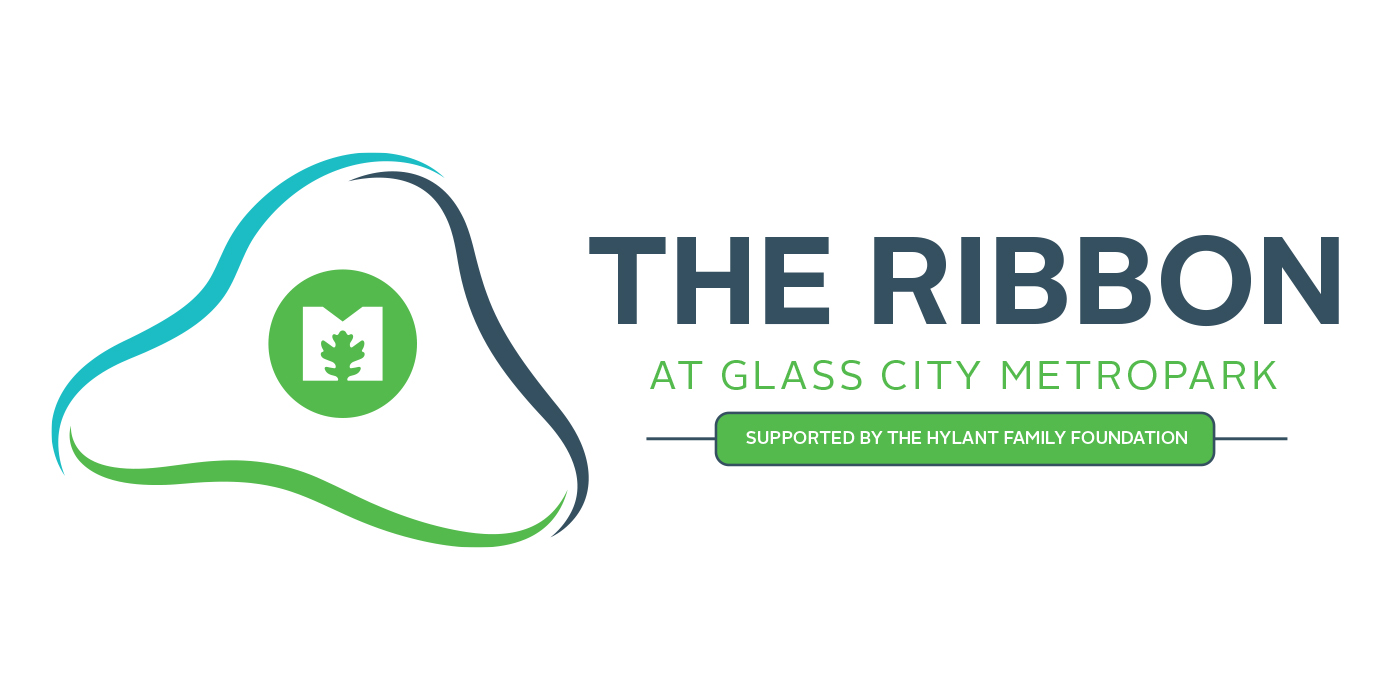 Roller Skating Season at The Ribbon
Lace up your roller skates, Toledo! The Ribbon at Glass City Metropark, the outdoor mixed-use skating trail located next to the Market Hall building, will feature an open-air roller skating, roller blading & scooter trail experience from June 9 through October 1.
The Roller Ribbon will be open daily during park hours for guests with their own kick scooters (non-motorized) and balance bikes (no pedal bikes or e-bikes) during normal park hours. Equipment rentals will be offered at Market Hall from 3 to 8:30 p.m. on Thursday and Friday, 10 a.m. to 8:30 p.m. on Saturday and Sunday with extended hours for Special Events and Holiday activities.
The Roller Ribbon is situated in the heart of Glass City Metropark, with plenty of activities to explore during your visit, like our Discover Play Areas, The Garden by Poco Piatti restaurant & bar [Details], and more!  Stay and play at Glass City Metropark!
The Perfect Summer Night in the City!
Park Address:
1505 Front Street
Toledo, Ohio 43605
*The rental counter will stop renting new equipment 30 minutes before closing. An ID is required to be turned in as collateral while you have your rental equipment.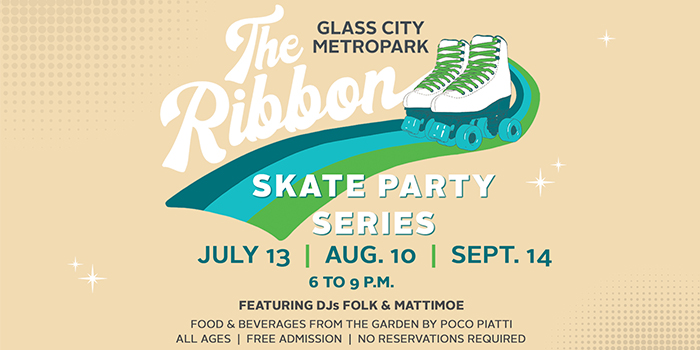 The Ribbon Skate Party Series
Get your skates ready for three exciting Skate Party dates at The Ribbon in Glass City Metropark! Mark your calendars:
July 13, 6 to 9 p.m.
August 10, 6 to 9 p.m.
September 14, 6 to 9 p.m.
Admission to the Skate Party Series is FREE! Grab your friends and join us for an evening of roller skating fun that you won't want to miss.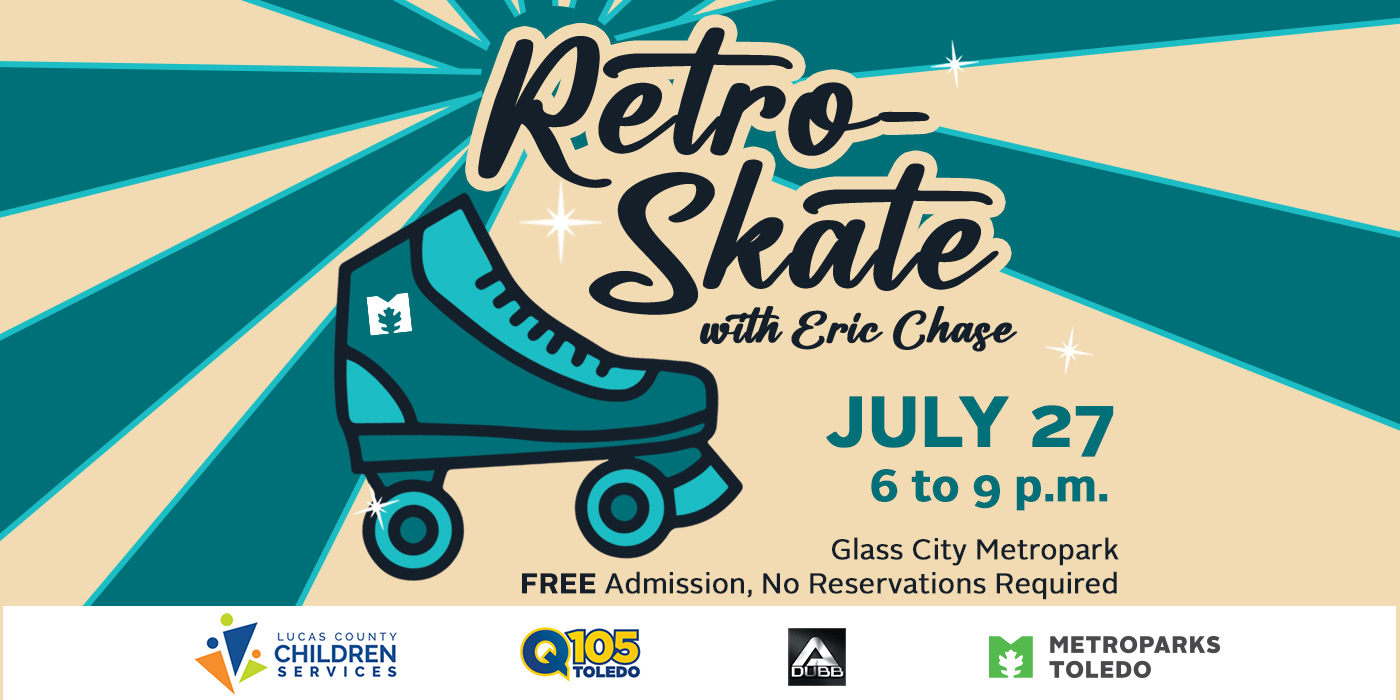 Join Eric Chase for the first ever Retro Skate Party at The Ribbon at Glass City Metropark. Lace up your roller skates or blades and roll for a great cause! Admission is FREE, no advanced reservations required. In lieu of an admission fee we encourage all attendees to donate an item to Lucas County Children Services. [Details]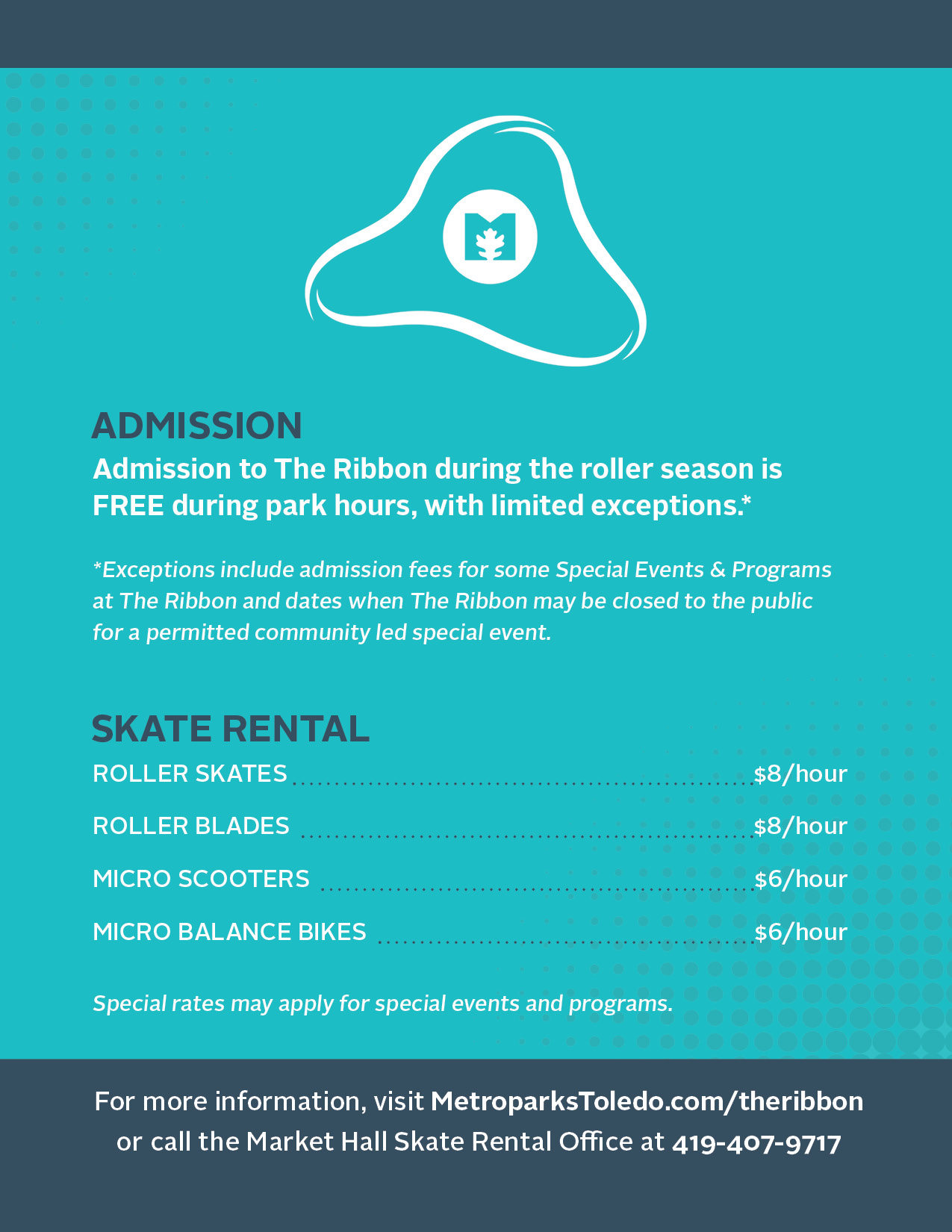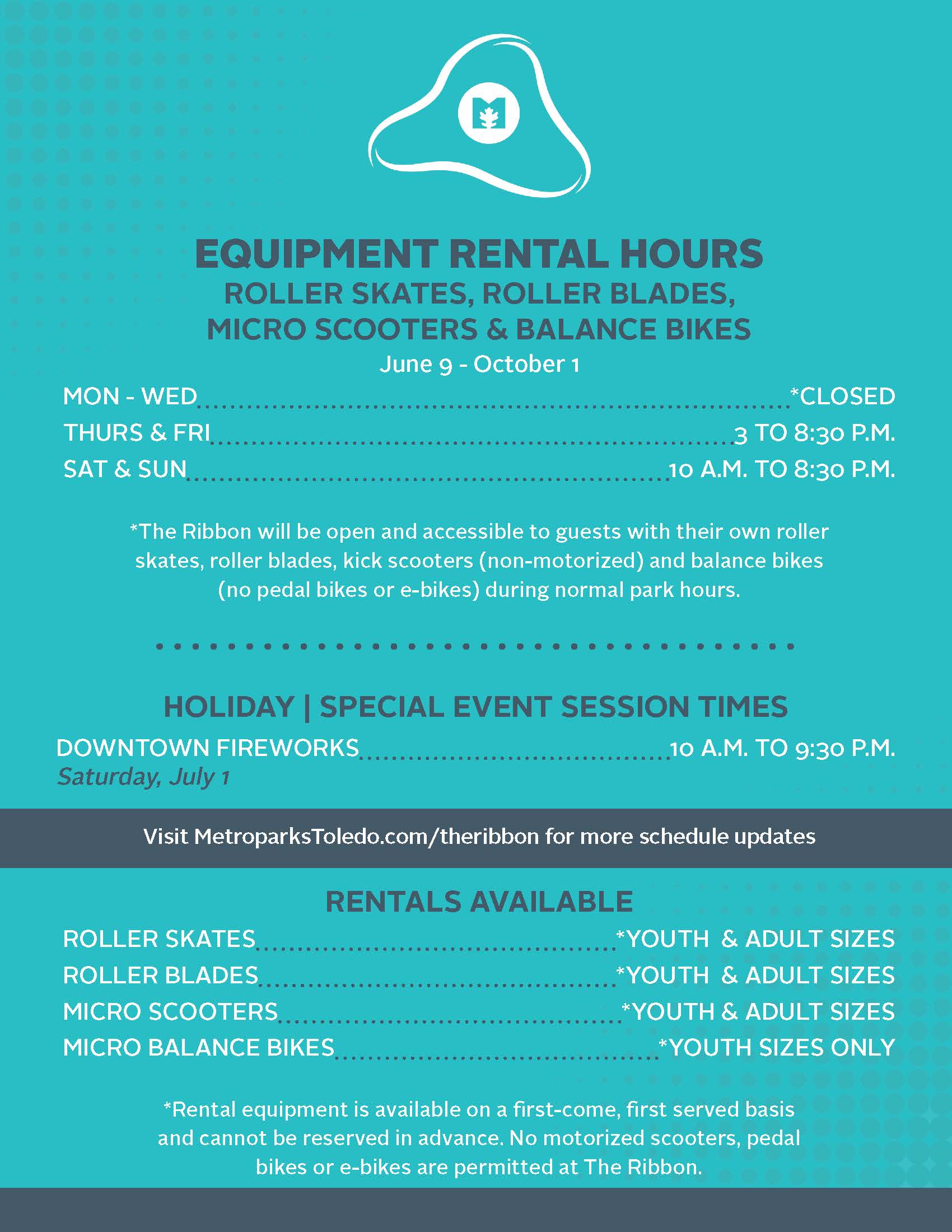 Support The Ribbon
Partner with Metroparks Toledo to provide high-quality outdoor activities while generating awareness of your brand through unique opportunities. Metroparks Toledo has several exciting opportunities for partners to participate in this transformative project. Click Here to learn you can get involved.
Become a Metroparks Member
Become a Metroparks Member to support important Metroparks initiatives at The Ribbon and other programs throughout the district.
Other Fun Features at Glass City Metropark
Mini Maumee
Discovery Play Areas

Grosbeak Discovery Play Area [Details]

The Garden by Poco Piatti [Details]
Rules & Regulations
Children must be supervised by parent/guardian at all times while scooting or roller blading
Walking is permitted on The Ribbon but skating and scooter traffic has the right of way. Please stay to the right side of The Ribbon while walking.
Use caution if Skating Ribbon is wet. Slick surfaces make it easy for a roller blade or scooter to slide out from under you and cause a fall
It is recommended that all users of scooters, roller skates and roller blade wear protective equipment including helmets, elbow, knee and wrist guards.
Riders must maintain hold on handlebars of scooters at all times; only one person at a time may ride the scooter
Never roller skate, roller blade or scoot out of control. Stay within your comfort level and don't take unnecessary risks
The Ribbon or portions of The Ribbon, is subject to close at any time due to maintenance, permitted community led special events or Metroparks Toledo programs.
Pedal bikes, skateboards, and motorized scooters are not permitted.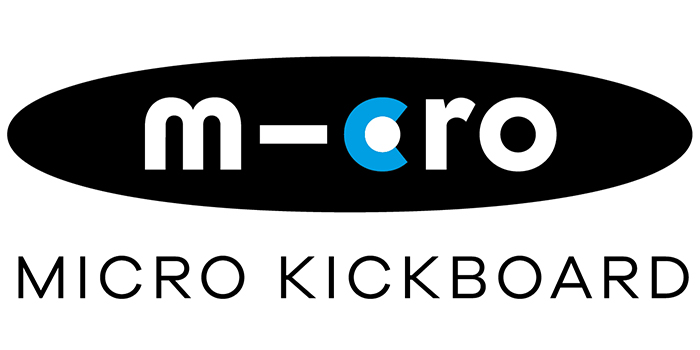 Official Scooter & Balance Bike Provider of The Ribbon