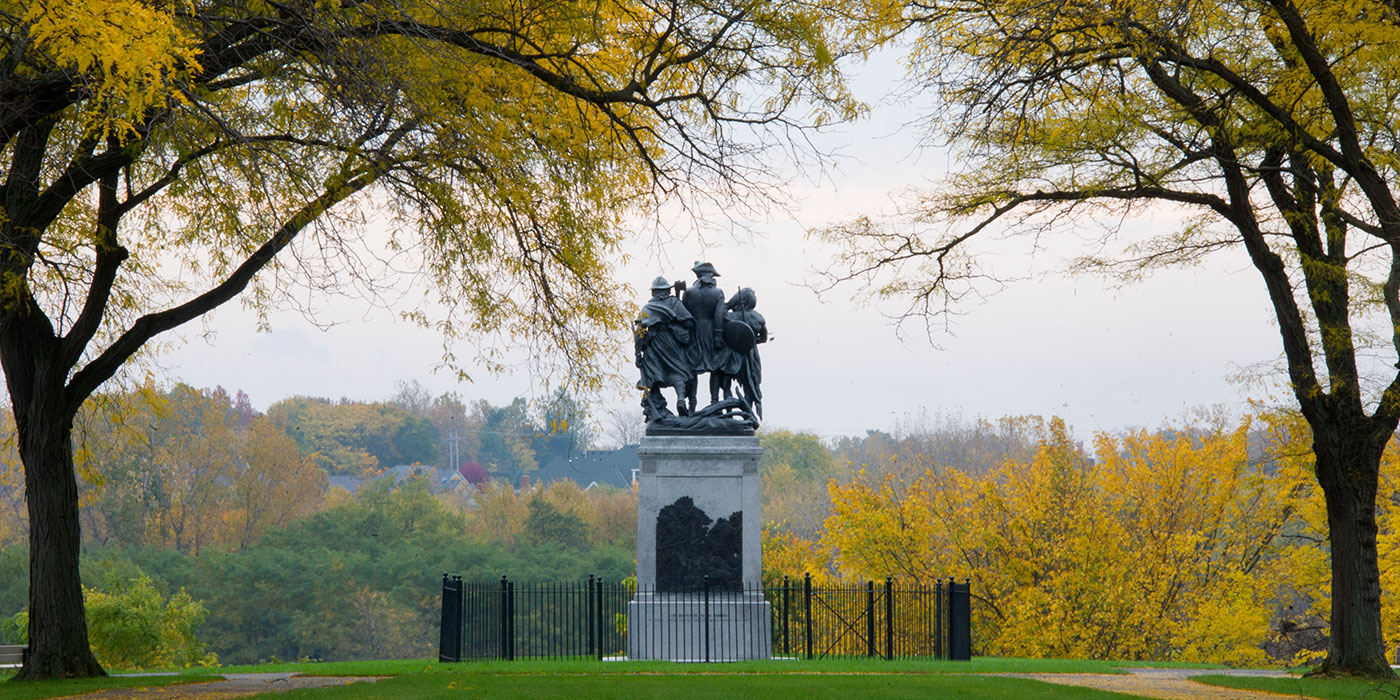 Fallen Timbers Battlefield & Ft. Miamis
Park Maps and Trails

Park Rentals and Highlights

Park Hours & Contact Information
History from the region's rich past is brought to life at three sites that together make up one extraordinary Metropark.
From the street, the connection between Fallen Timbers Battlefield, Fallen Timbers Monument and Fort Miamis are not obvious, but all three sites are forever, indelibly connected. Each site is reminiscent of a substantial turning point in our nation's history. The Fallen Timbers Battlefield and Fort Miamis National Historic Site is an Affiliated Unit of the National Park Service, owned and managed by Metroparks Toledo.
These parks sit on lands that were ancestral homes to Native American Tribes such as the Ojibwe (Chippewa), Odawa (Ottawa) Potawatomi, Lenapi (Delaware), Shawnee, Myaami (Miami), Wyandot (Huron), Mingo and the Wabash Nations which consisted of Peoria, Wea, Kickapoo and Piankashaws Nations. Metroparks Toledo embraces the Native Nations traditions of environmental stewardship as a critical part of the park system's conservation mission.
Visitors can have their National Parks Passport stamped at the Maumee Branch of the Toledo-Lucas County Public Library, 501 River Road.
Fallen Timbers Battlefield
A pleasant 1.5 mile Northwest Territory Trail loops through a wooded area and over a ravine where the 1794 Battle of Fallen Timbers took place. Along the way, you will encounter interpretive areas providing information about the conflict. A planned visitors center will open with interpretive displays. The battlefield can be accessed in Maumee at the intersection of US23/I-475 and US24 (Anthony Wayne Trail). A parking lot and visitors center are located on Jerome Road. An extensive reforestation plan for the site has added tens of thousands of small trees protected by white tubes. The Wabash Cannonball Trail connects the Battlefield with Side Cut, Cannonball Prairie and Oak Openings Preserve Metroparks.
Fallen Timbers Monument
Fallen Timbers Battlefield Memorial Park, across the Anthony Wayne Trail from the actual battlefield, has an impressive monument to the important battle and the combatants on both sides. A bike/pedestrian bridge connects the two sites. Owned by Ohio History Connection, the monument is situated on a bluff overlooking Side Cut Metropark and the beautiful Maumee River.
Fort Miamis
The British fort, several miles away on River Road, played a role in the Battle of Fallen Timbers and, later, the War of 1812. The park is open, and much of the earthworks used to create the fort are still visible. An observation deck and tower overlook the site, which also has a kayak access to the river at the end of Corey Steet.
Latest From Our Blog

Metroparks Toledo planted 35,000 trees over several weeks this spring with the help of partners and volunteers.

Metroparks reforested more than 60 acres in three separate projects, resulting in 47,000 more trees and shrubs in the ground.

Historical interpreters in period dress will bring to life stories of the battle and its aftermath on the 223rd anniversary of the conflict.