The Spring Run: Walleye Fishing on the Maumee River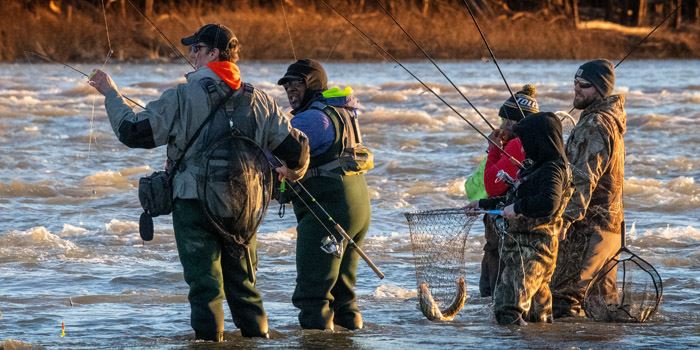 CURRENT CONDITIONS 
Walleye Hotline: 419-407-9731 (select Option 1)
The hotline is updated by park rangers whenever conditions change. Information includes water levels and temperature, and comments on current fishing success.
---
 Monofilament Fishing Line Recycling
Receptacles have been placed at Side Cut to collect monofilament fishing line to be recycled. Please help protect wildlife and keep the park clean and safe by placing your used line in these containers.
Fishing line will be sent to Berkley, maker of Berkley Trilene and other well-known bait and tackle brands, to be used to make artificial habitats for fish and other aquatic species.
Accepted: Monofilament fishing line; any color, any weight. Fishing line spools.
Not accepted: Braided lines and metal-core lines.
---
ABOUT THE SPRING RUN
Just about the time the Toledo Walleye hockey team is ending its regular league play, the Lake Erie walleye are beginning an annual tradition as old as the Maumee River.
This time every year, up to 500,000 of the fish make their way up the largest river flowing into the Great Lakes for the spring run. The reproductive ritual is responsible in part for Lake Erie's claim to fame as the Walleye Capital of the World.
And this time of year, it's the Maumee that can lay claim to the title Walleye Capital.
Walleye run, or spawn, in other tributaries of the Great Lakes, including the Sandusky River in Fremont, but the Maumee River run is the largest and best known. Thousands of fishermen from throughout the region and beyond begin arriving in Maumee and Perrysburg shortly after the ice is gone to wade into the river after the coveted game fish.
It's a spectacle to watch, but it's not new. Native Americans harvested fish in the same spots.
Side Cut Metropark in Maumee is one of the most popular spring run fishing destinations. The park provides easy access from W. Broadway Street to the prime spawning grounds just below the Jerome Road Rapids.
That's where the female walleye broadcast thousands of eggs each over the cobblestone on the bottom of the river. The stones provide cover for the eggs so they don't get washed away before the males arrive to fertilize them.