Come Along for the Ride, With Cycle Circle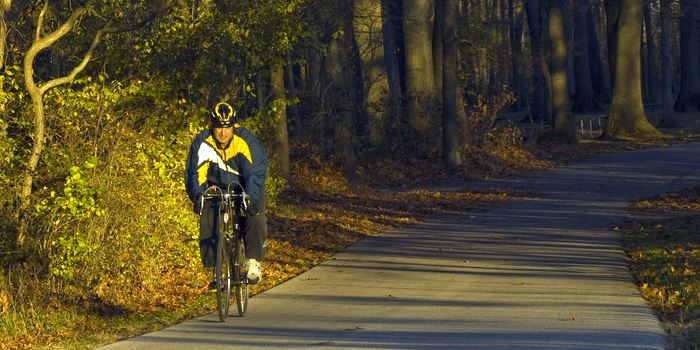 Cycle Circle, a series of new programs by Metroparks Outdoor Skills staff, will roll into fall with a variety of options to get you on your bike and into the Metroparks.
Sign up for each program separately. Then bring your bike, mosquito spray, water and a helmet, and come along for the ride.
For registration, where needed, click on the date.
Cycle Circle: University/Parks Trail Ride (6 miles)
1 p.m., September 2 and October 7
UT to Wildwood | Free
Grab a friend and meet at the Rocket Hall, Rocket Wheels Bike Share Station. Ride the University/Parks Trail to Wildwood Preserve where a naturalist will show you around the grounds before the return ride to UT.
Cycle Circle: Women's Group Ride (10 miles)
7:30 a.m., September 3; October 1, 8, 15, 22, 29
Oak Openings Preserve | Free
Meet at the Lodge parking lot for a fun, all women's ride. Pace will be set by consensus of the group. No one left behind.
Cycle Circle: Eco-tours for Young Professionals (6 miles)
5:30 p.m., two dates/locations | Free
Break away from the daily grind and get to know other young professionals in the Toledo area on this eco-tour. A networking session including snacks and beverages will wrap up this tour.
Cycle Circle: Glow Ride (5 miles)
7 p.m. at various Metroparks | Free 
Light up the night with friends on a bike ride through your favorite parks. All skill levels and bikes are welcome. A basic bike repair and safety course will be offered during this program. Please bring your bike, helmet (required), wear reflective gear and/or lights.
Family Bike Tours (3 miles)
1 p.m. at various Metroparks | Free
Let's ride! Each week explore our beautiful natural resources at different Metroparks with a naturalist and keep your family on track for a healthier lifestyle. All skill levels and bikes are welcome. 
Overnight Bike Adventures (40 miles)
Friday-Saturday, October 1-2 starting at Secor Metropark
Fee: $30 (includes your guide and campsite)
First, attend an orientation/planning workshop from 1 to 2:30 p.m. p.m. September 25 at Secor Metropark, Nature Photography Center. Learn details about the trip, accommodations, what to bring and how to pack for the ride.