Conservation Leader Honored by State Association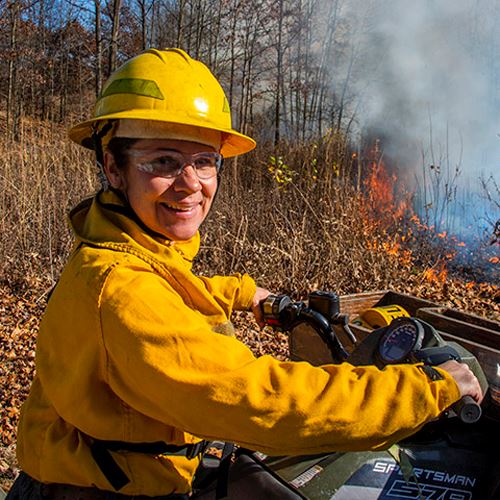 LaRae Sprow, a supervisor on the Metroparks Natural Resources staff, is the latest recipient of the prestigious Jack Hanna Award for Resource Conservation from the Ohio Parks and Recreation Association. The honor was presented January 31 at OPRA's annual conference in Sandusky.
With more than 20 years of service protecting Lucas County's natural resources, LaRae has overseen habitat restoration and management of parklands in the Oak Openings Region since 2013.
"Ms. Sprow has exemplified what it means to be a leader in resource conservation as an innovative practitioner, team leader, teacher and mentor," Tim Schetter, chief conservation officer, wrote in his nomination.
She is the fourth member of the Natural Resources team to receive the award. Previous recipients were Dr. Schetter and supervisors Denis Franklin and Tim Gallaher.
During her time with Metroparks, LaRae has become one of the foremost experts on managing and restoring natural areas within the globally rare Oak Openings Region. She currently oversees resource conservation activities on more than 8,400 acres of Oak Openings parklands including some of the most iconic and biologically diverse natural areas in Ohio.
As an Ohio Certified Prescribed Fire Manager, she has conducted prescribed burns on 2,800 acres of parkland since 2010, an essential management technique for managing and restoring oak savannas and prairies. In 2022 she began implementing a controlled cattle grazing program. And she is one of Ohio's leading experts on managing and containing the fungal pathogen responsible for causing oak wilt, a growing threat to Ohio's oak woodlands, especially in the Oak Openings Region.
Among several other restoration projects, LaRae has overseen a 250-acre expansion of Secor Metropark, which is the largest Oak Openings habitat restoration project in Metroparks 94-year history.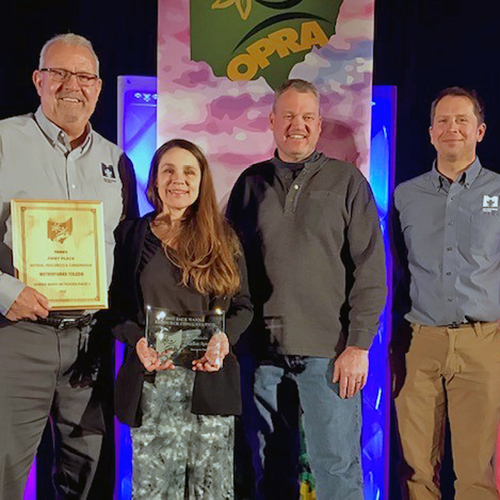 As a mentor, LaRae has trained over 200 members of the Metroparks staff in the safe operation of chainsaws, felling techniques and proper storm damage response and cleanup.
LaRae is coauthor of four peer reviewed, scientific papers focused on expanding our understanding and use of various ecological restoration techniques. She chairs the Oak Openings Region Green Ribbon Initiative Stewardship Committee and a member of the Ohio Invasive Plant Council Board of Directors.
--
Photo: The award-winning team: Denis Franklin, LaRae Sprow, Tim Gallaher and Tim Schetter.