Eco-tours Take Your Paddling Skills to the Next Level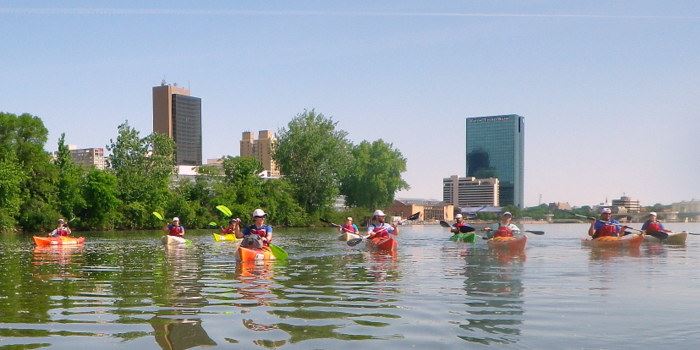 Slip away from it all and take an eco-tour through the beautiful waterways of the Toledo area. Watch a blue heron take flight and feel the summer breeze while traveling down the Maumee or and Ottawa rivers. Learn about the natural beauty and historical sites right in your backyard from a Metroparks naturalist.
Metroparks Eco-tours by kayak or stand up paddleboard are reasonably priced at $44 per person, which includes kayaks, lifejackets and certified instructors as guides. All skill levels welcome. Participants must be 12 or older.
Take your paddling skills to the next level and find out why Toledo was named one of the top cities in the country for outdoor lovers by US News and World Report.
Audubon Stand Up Paddleboard Eco-tour
Saturday, August 6, 10 a.m. to 12:30 p.m.
Launches from Orleans Park boat launch
[Sign up]
Middlegrounds Kayak Eco-tour
Saturday, August 13, 10 a.m. to noon
Launches from International Park boat launch
[Sign up]
Ottawa River Kayak Eco-Tour
Saturday, August 20, 1 p.m. to 4 p.m.
Launches from Wildwood Metropark outside the Ward Pavilion
[Sign up]
Audubon Island Kayak Eco-tour
Saturday, September 3, 10 a.m. to 12:30 p.m.
Launches from Orleans Park boat launch
[Sign up]
Missionary Island Stand Up Paddleboard Eco-tour
Sunday, September 4, 10 a.m. to 12:30 p.m.
Launches from Farnsworth boat launch
[Sign up] 
Ottawa River Kayak Eco-tour
Saturday, September 10, 1 p.m. to 4 p.m.
Launches from Wildwood Metropark outside the Ward Pavilion
[Sign up]
Middlegrounds Canoe Eco-tour
Saturday, September 24, 1 p.m. to 4. p.m.
Launches from Middlegrounds parking lot
[Sign up]