Federal Grant Boosts Plans for Riverwalk on Toledo Waterfront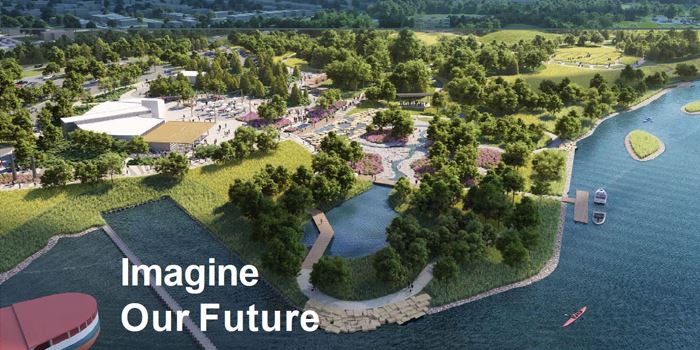 $23.6 Million Will Help Fund Development
Glass City Riverwalk, a proposed greenway along both sides of the Maumee River that will connect six neighborhoods and is projected to generate hundreds of millions of dollars in private investment, is closer to reality thanks to a major grant announced today.
The U.S. Department of Transportation will award the Toledo Metropolitan Area Council of Governments $23.6 million in funding as part of the Better Utilizing Investment to Leverage Development (BUILD) competitive grant program. This funding will help TMACOG in partnership with the City of Toledo and Metroparks Toledo develop Glass City Riverwalk.
The funding will help construct more than one mile of shared-use paths, transient docks, transit facilities, bike and kayak sharing facilities and important repairs to the existing seawall along the Maumee River.
 The first phase of Rivierwalk, Glass City Metropark, is currently in development in the Marina District in East Toledo, and has already attracted a $50 million private residential and retail development on adjacent property.
"Full development of Riverwalk is dependent upon funding from a tax levy on the November 3 General Election ballot to pay for half the cost, with the other half coming from sources like the grant announced today," said Dave Zenk, executive director of Metroparks.
"Plans for the riverfront continue to gain momentum because it's the right project at just the right time," Zenk continued. "We are on the cusp of realizing a vision that has been decades in the making. With public support of our issue on the November ballot we will see an immediate return on our investment."
Object reference not set to an instance of an object.
Sen. Rob Portman wrote a letter in support of the project to Secretary of Transportation Elaine Choa in April. Sen. Portman, Sen. Sherrod Brown and Rep. Marcy Kaptur each announced the grant.
"This project is built on partnerships and it will succeed because of partnerships," said Scott J. Savage, president of the Board of Park Commissioners. "We are grateful for the leadership and support of Congresswoman Kaptur, Senators Portman and Brown as well as Toledo Mayor Wade Kapszukiewicz and Tim Brown of TMACOG in securing this tremendous grant.
"We are happy that our publicly elected officials, business leaders,  community advocates, the labor community and all who love Metroparks Toledo are united in their support of making the Glass City Riverwalk a reality," Mr. Savage added.
Additional Comments 
Toledo Mayor Wade Kapszukiewicz
"This allows Toledo to build on our momentum and create an exciting identity that will last for a generation. Now more than ever, we need to support the Metroparks and the Glass City Riverwalk project, so we don't miss the chance to receive this badly needed federal money."
US Rep. Marcy Kaptur
"Toledoans have long waited for additional recreational opportunities along our precious waterfront and this federal investment, with leveraged local resources, will soon make this long-held dream a reality."
US Senator Rob Portman
"This project will transform the downtown Toledo riverfront and as a result boost opportunities for job creation and economic growth.
US Senator Sherrod Brown
"The Glass City Riverwalk will not only connect neighborhoods and businesses within the Toledo area, but also serve as a regional attraction. Moving forward with this project is a big win for Toledo and look forward to its completion."