Fight the Winter Blahs in Your Metroparks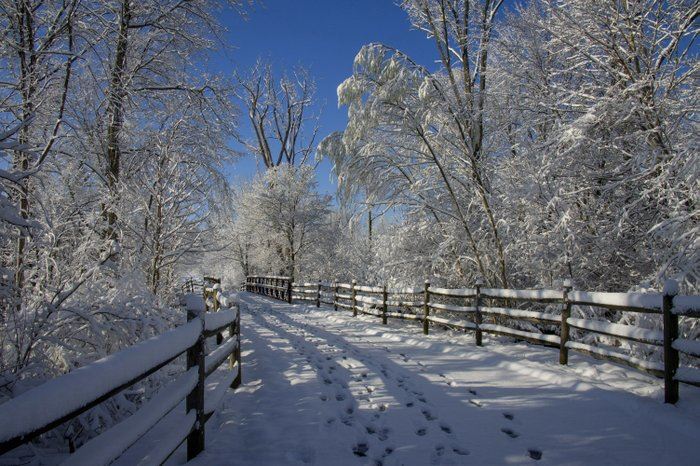 Winter time blues? The Metroparks have the cure.
With sledding hills, ski trails, ponds for skating and fund, educational programs, there is no shortage fun things to do this winter. Or, pull up a chair in one of the six warm, dry Windows on Wildlife and let nature come to you. 
Snowshoe Pop-Ups
You never know what can "pop-up" in winter! Sometimes, conditions are just right for a fun snowshoe adventure in our beautiful Metroparks. These fun winter wonderland escapes will be posted on short notice, so keep your eyes peeled Snowshoeing programs will occur at different Metroparks in our area, so you'll be able to enjoy a variety of local natural spaces. Please register to be added to our email list so you can be informed when they happen. However, please note that receiving email updates does not register you for any pop-up programs. You'll need to register for each adventure individually when you receive an email alert. #GetOusideYourself. Free, Reservations, Code: 105514501
JANUARY 1 THROUGH MARCH 31
Various Dates, Times and Locations
Escape the Manor House
Escape the Manor House is back in 2019 with a new set of challenges and puzzles to solve! Work with team members and put your skills and wits to the test to overcome different nature and outdoor skills themed challenges to escape the Manor House before time runs out. The majority of the program will take place inside with brief outdoor challenges; dress to be both indoors and outdoors. Registration required, register all participants. Minors must be accompanied by an adult. $18, Reservations, Code: 105512601 
JANUARY 25
Friday, 6:45 p.m. or 8 p.m. (Adults) [Register] 
JANUARY 26
Saturday
5:30 p.m., (Ages 12 and Up) [Register]
6:45 p.m. (Adults) [Register]
8 p.m. (Adults) [Register]
Star Struck
Explore the night sky with a naturalist and discover the science and stories surrounding the celestial bodies. Discover the Toledo you never knew existed. Free, Reservations, Code: 104305101 
FEBRUARY 12 "Moon Viewing" [Register]
MARCH 4 "Deep Sky Objects" [Register]
Various Times and Locations
Behind the Scenes
The Manor House at Wildwood Preserve had a previous life as the Stranleigh mansion, a part of the Stranahan Estate. When you visit, you may notice a lot of closed doors. What is behind all of them? Where did the maids work and sleep? How did the kitchens work? Join us for this unique opportunity to see all four floors of the Manor House and discover what life was like there long ago. Small groups will be taken for tours in typically closed areas of the entire house, from the boiler room to the attic! Bring your family and enjoy light refreshments at the end of your journey. $10, Reservations, Code: 102202601 
FEBRUARY 21
Thursday, 6 to 9 p.m. [Register] 
FEBRUARY 23
Saturday, 9 a.m. to Noon [Register] 
FEBRUARY 24
Sunday, 6 to 9 p.m. [Register] 
MARCH 21
Thursday, 6 to 9 p.m. [Register] 
MARCH 23
Saturday, 6 to 9 p.m. [Register] 
MARCH 24
Sunday, 6 to 9 p.m. [Register]
Try It! Kayaking Pool Session
Dreaming of kayaking on open waters, but it's 25 degrees and freezing outside. Join Metroparks Toledo paddling instructors at the UT Rec Center's indoor pool for a unique winter boating opportunity. You'll learn basic kayaking skills and play games. This program is beginner-friendly. #GetOutsideYourself. Free, Reservations, Code: 105501103 
JANUARY 26
Saturday, 6 to 8 p.m.
University of Toledo Rec Center 
Archery and Fireside S'mores
Pierce the heart of those winter blahs. Join us for an afternoon of friendly archery competition and warm, gooey s'mores. A toasty fire awaits participants upon arrival. At this program, you'll refine your archery skills and enjoy a tasty treat, too. We'll provide the equipment, but registration is necessary for each participant. #GetOutsideYourself. $4, Reservations, Code: 105502102 
FEBRUARY 3 [Register]
MARCH 19 [Register]
Sundays; 1 to 2:30 p.m.
Various Locations 
Try It! Archery: Cupid Shoot
Come out for a family friendly day of fun indoor Valentine's Day themed archery. Stay warm while shooting inside the Buehner Center as well as outside by the fire for s'more fun. Minors must be accompanied by an adult. Register all participants. #GetOutsideYourself. $5, Reservations, Code: 105502102 
FEBRUARY 16
Sunday, 1 to 2:30 p.m.
Oak Openings Preserve, Buehner Center 
Wintering The Towpath
Shake off those winter blahs at the best winter hike in the region. Stunning views of the Maumee River await those hiking the 5-miles from Providence to Bend View. Board a shuttle bus back to Providence for more winter fun; chili, s'mores, hot chocolate and a Beer Garden at Lock #44 (next to the Heritage Center).  If weather conditions are right, bring your own skates for skating on the Canal, or wonder to the Isaac Ludwig Mill and see artisans at their craft.  Participants receive a collectible commemorative gift. Want to go extreme? Join our Metroparks staff on a guided hike of 10-miles. Wintering Extreme 10-miler starts at 8:30 a.m. and registration for the 10-mile extreme begins at 8 a.m., Fee: $5 (12 and under are Free), Reservations. Fee supports the maintenance of the Towpath Trail. 
FEBRUARY 23
Saturday, 8 a.m. or 10 a.m.
Wintering Celebration runs 10 a.m. to 2 p.m.
Providence, Historic parking lot
St. Patrick's Day Hike and Treasure Hunt
Hooray spring is upon us! Celebrate with a nature walk along the canal towpath to Lock 44. Upon reaching Lock 44 kids will enjoy a treasure hunt as they search for gold coins which can be exchanged inside the Heritage Center for a prize. Cap off the afternoon with a visit to the Isaac Ludwig Mill to sip some St. Patrick's Day punch and see how Metropark millers are gearing up for the 2019 grist milling season. Discover the Toledo you never knew existed. Register children only. $3, Reservations, Code: 104404601 
MARCH 17
Sunday, 1 to 2:30 p.m.
Providence, Historic parking lot