First Of New 'Signature' Playgrounds Open At Farnsworth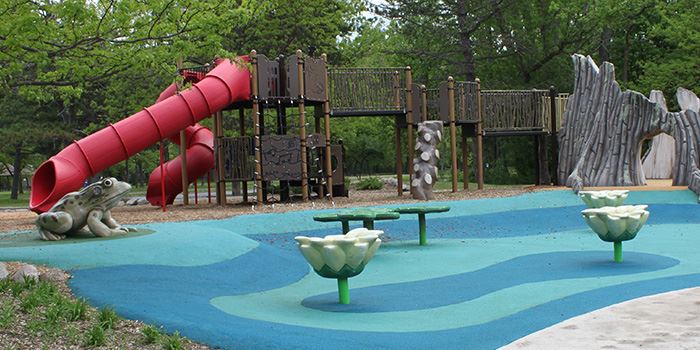 The first example of the new Metroparks 'signature' playgrounds is now open at Farnsworth in Waterville, and a second, larger playground is about to break ground at Pearson in Oregon.
Artists Doug Kampfer and Jeremy Links, of Graphite Design + Building, Toledo, have created detailed, natural-looking pieces of art that also function as play equipment. The first piece – a slide in the shape of a downed tree complete with a great horned owl nest - was installed at Secor Metropark two years ago.
The first of the completely new playgrounds opened recently at the Boat Launch entrance to Farnsworth, on the Anthony Wayne Trail. It also uses a tree as the basis for the playground, but adds sculptures of a turtle and a great blue heron, as well as soft surfaces in blue and green, to capture that park's riverside theme.
At Pearson, a towering tree will be the centerpiece of a large "playscape" reflecting that park's natural history as the Great Black Swamp. The "tree" is being constructed in a former gymnasium at the Blue Creek Conservation Area in Whitehouse, a Metroparks property that was formerly known as the Toledo House of Corrections.
At both parks – and others in the future – children will find typical play structures, such as swings, slides and climbing walls, as well as custom-made, functional sculptures based on the natural surroundings.
"The new playgrounds go right to the heart of our mission as a preservation and educational organization," said Dave Zenk, deputy director of the 11,000 acre Metroparks system in Lucas County.
"The first goal of a playground, of course, is to attract children by giving them places to explore, challenge themselves and have fun," Mr. Zenk said. "A lot of research shows the importance of outdoor play for a child's development. We are adding additional elements so that they not only can enjoy playing outdoors, but will also learn a little about the natural surroundings when they are there."
The Farnsworth play area was paid for from the park system's capital improvements fund.
The total cost of the Pearson playground will be offset by donations from the community. The BP-Husky Refinery awarded an initial gift of $25,000 then gave an additional $25,000 as a challenge grant, with Metroparks raising another $25,000 through donations from the France Stone Foundation, Friends of Pearson and the Eastern Maumee Bay Chamber of Commerce.
To enhance the monetary donation, BP-Husky employees and their families are also contributing volunteer time to remove an existing playground at Pearson.
Graphite Design + Build was commissioned to create the interactive sculptures after Metroparks consulted the Arts Commission of Greater Toledo.
"When we have the new playgrounds in place, they will be unlike anything else around," Mr. Zenk said. "They won't be just playgrounds – they will be Metroparks playgrounds, with designs that inspire kids to discover nature."