Gift Will Help Further Goal of Transforming Toledo Riverfront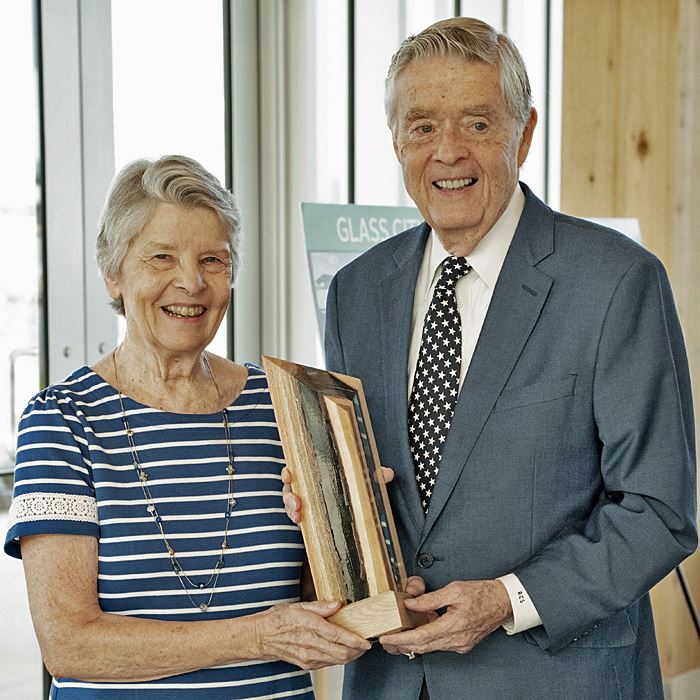 A major gift from a prominent local family will help fund Glass City Riverwalk, which will transform the Toledo waterfront into active parkland with features unique to the region.
The Bob and Sue Savage family's donation of more than $1 million to the Metroparks Toledo Foundation will go toward development of 300 acres of riverfront parkland with a five-mile, multi-use path on both sides of the river. The gift will be acknowledged at a campground and an educational play area in Glass City Metropark, which is now in development in East Toledo.
"Bob and I are drawn to this exciting new Glass City Metropark because of all the family-centered activities that can happen here -- family times together and special events," Sue Savage said. "Having the Metropark so easily accessible to citizens living near downtown Toledo will enrich the lives of those in East Toledo, North Toledo, and the near South End, as well as those who come downtown to enjoy the river and park."
"This leadership gift will provide meaningful recreational experiences for those living near Glass City Riverwalk as well as those who travel there as a destination," said Joe Napoli, president of the Metroparks Toledo Foundation board. "The Savage family's commitment to equitable access to clean, safe, natural park experiences through their support of Metroparks is a legacy that will help transform and create a world class riverfront."
The Savages' contributions will be acknowledged at two of the iconic features in the park: 
Cabins designed for overnight accommodations at a planned campground near the Craig Memorial Bridge. The campground will also include 11 campsites to immerse campers in nature in an urban setting. A restroom and shower building and an overlook to view the river will be designed into the campground, which is expected to be developed in late 2023.
A Prairie and Pollinator Play Area, which will be constructed this year, will have wooden play structures, swings and seating surrounded by prairie plants. The nature-play area will provide a fun, interactive nature experience where children will develop physical and social skills while learning about pollinators and plants that rely upon each other.
"Both of these immersive experiences are critical to our vision for Glass City Riverwalk," said Dave Zenk, executive director of Metroparks Toledo. "We are reimagining the Toledo riverfront, and doing it through the lens of conservation and interaction with nature."
The first phase of Glass City Metropark opened in December 2020 and phase 2 is under construction now. It is expected to be completed this winter and include an ice skating ribbon, three unique play areas and a building that will house a restaurant, among other amenities. Glass City Riverwalk will include the renovation of International Park and continue with a five-mile, multi-use trial on both sides of the river, connecting existing and new greenspaces in East Toledo and Downtown.
Metroparks and the Metroparks Toledo Foundation continue to raise funds through grant applications and a capital fundraising campaign. Major financial support for the project, previously announced, comes from Owens Corning, ProMedica, Mercy Health, Dana Incorporated and the Hylant Family Foundation.
The Bob and Sue Savage family have made many contributions to the region, including one that would later become another Metropark.
When he was a member of Toledo City Council and the city's vice mayor in the 1960s, Mr. Savage had a friend named Howard Crosby who owned a large horse farm off Elmer Drive in West Toledo. Mr. Savage encouraged Mr. Crosby to preserve the space for the enjoyment of all the people in the area.
"I had a vision of his farm becoming a place where young people could learn to enjoy the beauty of open spaces," Mr. Savage recalled.
The property became Crosby Garden, which was renamed Toledo Botanical Garden and today is one of the 19 Metroparks.
"Metroparks brought this vision to reality," Mr. Savage continued. "They are an incredible asset to our community, and this new park on the Maumee River will allow many people who do not live near the other major parks an opportunity to more fully enjoy the great outdoors."