Jack Gallon Served Metroparks Board For 20 Years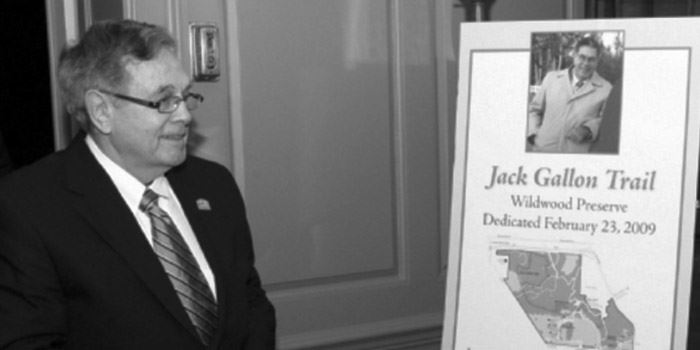 Jack Gallon, a Metroparks Board member for 20 years who was inducted into the Ohio Parks and Recreation Association Hall of Fame in 2010, died Saturday at Aspen Grove Assisted Living, Lambertville. He was 82.
Mr. Gallon was an athlete, attorney, businessman and champion of many social justice causes.
Mr. Gallon devoted most of his life to advancing parks and recreation at the local, state and national level, starting as a playground leader for Toledo City Parks as a teen in the 1940s. From 1989 to 2009, he served on the Board of Park Commissioners, and as president for much of that.
One of his major accomplishments during that time was the creation of the University/Parks Trail, one of the first multi-jurisdictional trail partnerships in Ohio. With Mr. Gallon's leadership on the board, Metroparks later added the Wabash Cannonball Trail. He was also instrumental in starting the Volunteer Trail Patrol, which his law firm has supported financially.
The Fallen Timbers Battlefield and Blue Creek Conservation Area were acquired under his Board leadership, and a land levy was approved by voters, leading to 10 years of unprecedented growth for the park district.
Among Mr. Gallon's many passions were improving the effectiveness of boards, providing educational opportunities and forums for citizen-board members to interact. That leadership extended beyond Metroparks to the state, regional and national levels.
He served on the OPRA Board for more than 10 years as the Chair of the Citizen Board Member Section. He served as Ohio's citizen representative to the National Recreation and Park Association Great Lakes Regional Council for three years while also serving on the NRPA Citizen Board Member Branch Board of Directors for six years. And he represented Ohio at the NRPA Legislative Forum for more than a decade. One of his many legacies is a Board and Staff Development Institute at OPRA, which is named in his honor.
Upon his retirement from the Metroparks board in 2009, the Red Trail at Wildwood was named the Jack Gallon Trail.