Kaptur Named Legislator of the Year By Ohio Parks and Recreation Association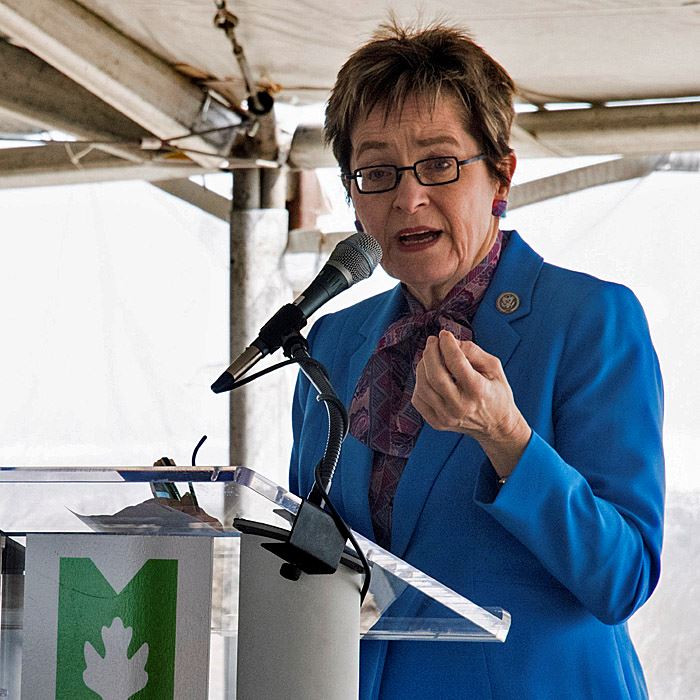 U.S. Rep. Marcy Kaptur has been named Legislator of the Year by the Ohio Parks and Recreation Association. The award will be presented at a banquet February 5 during OPRA's annual conference and trade show at Kalahari resort in Sandusky.
"Congresswoman Kaptur has been a friend to our agency and many others in our field," said Dave Zenk, executive director of Metroparks Toledo, which nominated her for the honor. "The new Chessie Circle Trail, an important north-south link in the region's trail system, is just one example of the many projects that may not have happened without her vision."
"Please let me express to you my sincere gratitude for the honor you have extended to me as your legislator of the year," said Rep. Kaptur. "I believe deeply in the value of our exceptional park systems and in those who serve the public by connecting them with nature and the joy of outdoor experiences. I would like to thank the outstanding people who serve the Metro Parks Toledo system for nominating me for this honor. It has been my pleasure to work with you and the other parks and recreation advocates to preserve our natural heritage."
A statement from the Association cited Rep. Kaptur as a longtime champion for parks, conservation and access to greenspace, "with an impressive record of action on each."
The longest-serving woman in the U.S. House of Representatives, Rep. Kaptur has played important roles in numerous Metroparks projects. She secured funding for a 500-acre addition to Oak Openings Preserve, the region's largest park and part of an even larger greenway corridor. She also was an early champion of Howard Marsh, the largest wetland restoration project in recent years on all the Great Lakes, and the single largest project in Metroparks Toledo history. She helped secure nearly $7 million in federal funding for that project.
In addition, Rep. Kaptur has been a champion for the National Parks System, including the two National Parks located in her Congressional District: Cuyahoga Valley National Park and Perry's Victory and International Peace Memorial on South Bass Island in Lake Erie. Recently, she was able to help the Perry Memorial address long-standing, critical structural repairs to its iconic monument. She was the key sponsor of the National World War II Memorial in Washington D.C. Dedicated in 2004 and located on our National Mall, it is one of the nation's most frequently visited National Parks sites.
Rep. Kaptur is especially proud of her efforts on behalf of the Ottawa National Wildlife Refuge, nearly 10,000 acres of preserved coastal lands and the only federal refuge in Ohio. Along with benefiting thousands of visitors each year, ONWR provides valuable wildlife and waterfowl habitat, and is a critical migratory bird stopover spot.
--
Photo, top: Rep. Kaptur at the dedication to Howard Marsh, April, 2018.
Video, below: The Congresswoman sent this video to be shown at the OPRA awards banquet, February 5.