Librarian Picks Books Focusing on Birds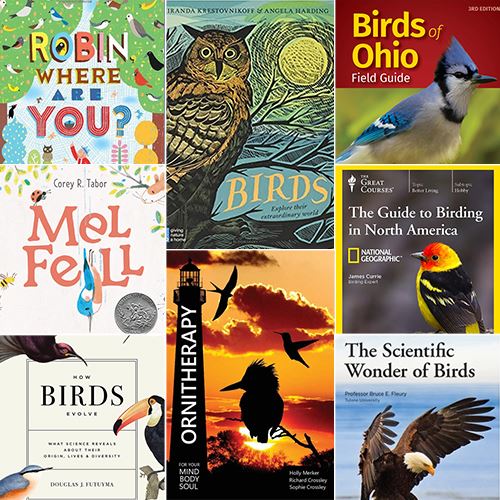 Recommended reading on nature-related topics from librarians at the Toledo Lucas County Public Library.
Robin, Where Are You?
By: Harriet Ziefert
Lucy and her grandpa go birdwatching together, but although he teaches her about many different birds that they see in the woods and near the pond, what Lucy really wants to see is a red-breasted robin. Includes facts about more than a dozen kinds of birds.
Find it at your Library: [ Book ] 
Birds: Explore Their Extraordinary World
By: Miranda Krestovnikoff
"A heavily designed and stunning look at the many birds of the sky--perfect for fans of Botanicum"--|Provided by publisher.
Find it at your Library: [ Book ] 
Mel Fell
By: Corey R. Tabor
A Caldecott Honor Book and ALA Notable Book of the Year! An innovative and charming tale about a plucky little bird, from the award-winning author-illustrator of Fox the Tiger.
Readers will delight in turning their book sideways and upside down to follow Mel on her journey from downward fall to triumphant flight in this tale of self-confidence and taking a leap of faith. Please note for Libby/Overdrive: For the best reading experience, ebook customers may want to lock the orientation of their device before beginning to read.
An especially enjoyable and satisfying read-aloud!
Find it at your Library: [ Book ]    [ eBook ] 
Ornitherapy: for Your Mind, Body, and Soul
By: Molly Merker, Richard Crossley, Sophie Crossley
 "This interactive new book is unlike any other and written for those who want to learn more about the birds around them! Ornitherapy will bridge the gap between bird ID and overall wellbeing of mind, body, and soul. Transport yourself into the world of birds while amplifying the benefits that connecting with birds brings to our physical and mental wellness. Throughout the 216 pages of this hardcover book, we guide you into deeper experiences with birds through focused explorations and stunning imagery. A fuller appreciation of birds is enhanced through a journaling section. We bring mindfulness together with observation in a way that will heighten your awareness and understanding of birds. Ornitherapy: For Your Mind, Body, and Soul will change the way you connect with birds right outside your own door." -- Amazon.
Find it at your Library: [ Book ]
How Birds Evolve: What Science Reveals About Their Origins, Lives, and Diversity
By: Douglas J. Futuyma
 "How Birds Evolve explores how evolution has shaped the distinctive characteristics and behaviors we observe in birds today. Douglas Futuyma describes how evolutionary science illuminates the wonders of birds, ranging over topics such as the meaning and origin of species, the evolutionary history of bird diversity, and the evolution of avian reproductive behaviors, plumage ornaments, and social behaviors. In this multifaceted book, Futuyma examines how birds evolved from nonavian dinosaurs and reveals what we can learn from the "family tree" of birds. He looks at the ways natural selection enables different forms of the same species to persist and discusses how adaptation by natural selection accounts for the diverse life histories of birds and the rich variety of avian parenting styles, mating displays, and cooperative behaviors. He explains why some parts of the planet have so many more species than others and asks what an evolutionary perspective brings to urgent questions about bird extinction and habitat destruction. Along the way, Futuyma provides an insider's perspective on how biologists practice evolutionary science, from studying the fossil record to comparing DNA sequences among and within species. A must-read for bird enthusiasts and curious naturalists, How Birds Evolve shows how evolutionary biology helps us better understand birds and their natural history, and how the study of birds has informed all aspects of evolutionary science since the time of Darwin." - Amazon
Find it at your Library: [ Book ] 
Birds of Ohio Field Guide
By: Stan Tekeila
 "Make bird watching even more enjoyable. With Ohio's best-selling bird guide, field identification is simple and informative. There's no need to look through dozens of photos of birds that don't live in your area. This book features 124 species of Ohio birds organized by color for ease of use. Do you see a yellow bird and don't know what it is? Go to the yellow section to find out. Crisp, stunning full-page photographs present the species as you'll see them in nature, and a "compare" feature helps you to decide between look-alikes. Plus, Stan Tekiela's naturalist notes feature fascinating tidbits and facts.

This new edition includes 12 new species, updated photographs and range maps, expanded information, and even more of Stan's expert insights. So grab Birds of Ohio Field Guide for your next birding adventure-to help ensure that you positively identify the birds that you see."
Find it at your Library: [ Book ]    [ hoopla ] 
The National Geographic Guide to Birding in North America
Provided by: The Great Courses
2017 | 12hr 31min
Birding offers direct contact with one of our primary treasures of wildlife. Learn core elements of birding and methods for observing birds in the field. You'll also take a panoramic look at the bird species of North America and visit 23 of the top North American birding sites. These lectures are your doorway to an endlessly rewarding pursuit, and a lifetime of enjoyment and discovery.
Find it at your Library: [ Kanopy Streaming ] 
The Scientific Wonder of Birds
Provided by: The Great Courses
2018 | 5hr 27min
In these 12 vividly illustrated lessons, biologist and bird expert Professor Bruce E. Fleury takes you on a journey through the amazing world of birds—their evolution, their lives in the wild, and the science that underlies their behaviors. Whether you're an experienced birder or a newcomer to the bird world, you'll gain a deeper appreciation for the beauty and diversity of our feathered friends.
Find it at your Library: [ Kanopy Streaming ]