Librarian Picks Books Focusing on Bugs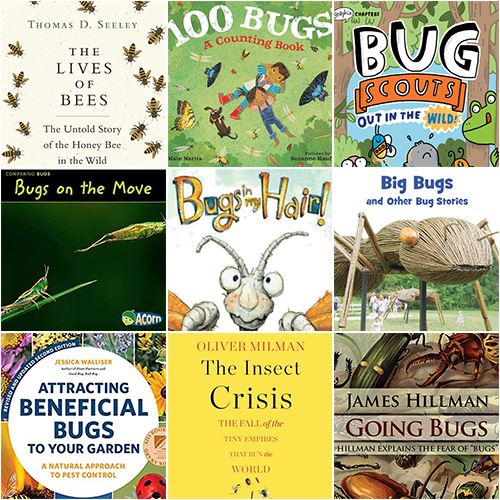 Recommended reading on nature-related topics from librarians at the Toledo Lucas County Public Library.
100 Bugs! : a counting book
By: Kate Narita
How many bugs can you count? From walking sticks to spittlebugs, dragonflies to katydids, discovering 10 bugs at a time, you just might see 100 bugs!
Find it at your Library: [ Book ]
Bug Scouts : out in the wild!
By: Mike Lowery
To earn their "foraging" bug badge, Doug, Abby and Josh, the Bug Scouts, embark on an adventure in the wilderness to find an edible plant and encounter a clever, yet hungry, frog who distracts them from their mission.
Find it at your Library: [ Book ]
Bugs on the Move
By: Charlotte Guillain
This book introduces readers to the exciting world of insects and arachnids. Each title uses simple text and vibrant photographs to introduce one important bug feature or behavior. In "Bugs on the Move," children learn about the different ways bugs move, whether they are on land, in water, or in the air.
Find it at your Library: [ Hoopla eBook ]
Bugs in My Hair!
By: David Shannon / Read by: Jess Bernstein
Is something bugging you? Here is the funny side of waging war against - oh no! - head lice. This book is guaranteed to make you laugh- and itch! From the opening scene of happy, oversized lice, you know these bugs are determined to stay, and Mom is about to go nuts!
Find it at your Library: [ Kanopy Film ]
Big Bugs and Other Bug Stories
From: Highlights for Children
Bugs! See the work of an artist who makes giant sculptures of some of the world's smallest creatures. Enjoy a creepy crawly counting poem. Learn about an insect eating caterpillar and get answers to questions such as why can't bugs talk? Stories by Jennifer Mattox, Mary Meinking, Charlotte Gunnufson, and Highlights for Children.
Find it at your Library: [ Hoopla eAudiobook ]
Attracting Beneficial Bugs to Your Garden : a natural approach to pest control  
By: Jessica Walliser
With this indispensable gardening reference-now updated with new research, insights, and voices-learn how to create a healthy, balanced, and diverse garden capable of supporting a hard-working crew of beneficial pest-eating insects and eliminate the need for synthetic chemical pesticides.
Find it at your Library: [ Book ]
The Insect Crisis : the fall of the tiny empires that run our world
By: Oliver Milman
Three out of four of the planet's known species are insects, but a torrent of recent evidence suggests this kaleidoscopic group of creatures is suffering the greatest existential crisis in its remarkable 400-million-year history. Oliver Milman delves into why insect numbers are plummeting and outlines the dire consequences of losing the tiny empires that hold life aloft on Earth. Along the way, readers encounter a researcher who collects insect guts from the windshields of cars, the bees sent on long-haul truck journeys to prop up our food supply, and a desperate attempt to move trees up mountains to save an iconic butterfly. The mounting losses threaten to unpick the web of life we rely upon. Illuminating and inspiring, The Insect Crisis is a wake-up call for all of us.
Find it at your Library: [ Book ] [ eBook ]
Going Bugs
By: James Hillman
James Hillman is a psychologist and author of The Soul's Code, recently at the top of the New York Times bestseller list. His essay "Going Bugs" is a classic exposition of the meaning of bugs in the human psyche. Hillman examines the role that bugs - insects and creepy-crawlies - play in dreams and how human reaction to them is symptomatic of larger concerns about animals and the natural world. Satya talked with him recently about bugs and the ducks and chickens with whom he lives in eastern Connecticut. A Better Listen audio production.
Find it at your Library: [ Hoopla eAudiobook ]
The Lives of Bees: The untold story of the honey bee in the wild
By: Thomas D. Seeley
This captivating audiobook narrated by William Hope reveals why wild honey bees may hold the key to saving the world's managed bee colonies. Seeley, a world authority on honey bees, sheds light on why wild honey bees are still thriving while those living in managed colonies are in crisis. Drawing on the latest science as well as insights from his own pioneering fieldwork, he describes in extraordinary detail how honey bees live in nature and shows how this differs significantly from their lives under the management of beekeepers. Seeley presents an entirely new approach to beekeeping—Darwinian Beekeeping—which enables honey bees to use the toolkit of survival skills their species has acquired over the past thirty million years, and to evolve solutions to the new challenges they face today.
Engagingly written and deeply personal, The Lives of Bees reveals how we can become better custodians of honey bees and make use of their resources in ways that enrich their lives as well as our own.
Find it at your Library: [ eBook ]