Librarian Picks Books Focusing on Preparing for Winter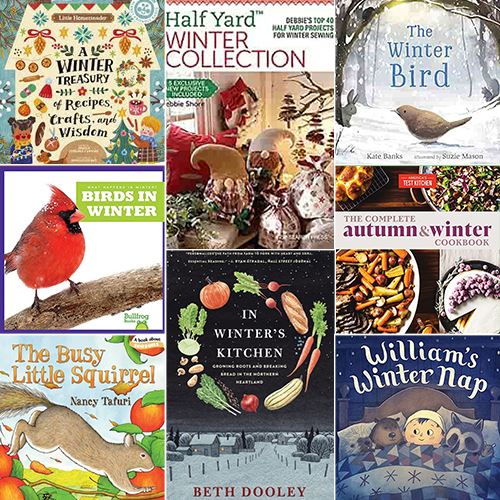 Recommended reading on nature-related topics from librarians at the Toledo Lucas County Public Library.
Birds in Winter
By: Jenny Fretland VanVoorst
In Birds in Winter, beginning readers will learn how birds migrate or adapt to survive the winter months. Vibrant, full-color photos and carefully leveled text engage early readers as they discover how birds handle the chilly weather conditions. A labeled diagram shows birds that stay put during the winter, while a picture glossary reinforces new vocabulary. Children can learn more about birds in winter online using our safe search engine that provides relevant, age-appropriate websites. Birds in Winter also features reading tips for teachers and parents, a table of contents, and an index.
Find it at your Library: [ hoopla eBook ] [ hoopla eBook (Spanish) ]
The Busy Little Squirrel
By: Nancy Tafuri
Squirrel is too busy getting ready for winter to nibble a pumpkin with Mouse, run in the field with Dog, or otherwise play with any of the other animals.
Find it at your Library: [ Book ]
William's Winter Nap
By: Linda Ashman
A cozy winter bedtime story, featuring a boy and animal characters, that touches on the concept of hibernation.
Find it at your Library: [ Book ]
The Winter Bird
By: Kate Banks
Forest animals help an injured nightingale survive the winter in a comforting story of friendship and resilience, lyrically told and gorgeously illustrated.
As the days grow shorter and the air becomes colder, the spring birds fly south for winter—all except for a nightingale with a broken wing. Unable to fly, the nightingale worries about how to prepare for weather it's never had to experience before. Luckily, the forest animals who are used to frosty conditions help the nightingale navigate the cold as its wing heals. Though the unfamiliar season proves challenging, and even a little scary at times, the nightingale discovers there's beauty to be found in even the harshest weather—and with that comes newfound gratitude for the return of spring. Kate Banks weaves a story of perseverance and kindness, brought beautifully to life by Suzie Mason's stunning artwork.
Find it at your Library: [ Book ]
Complete Autumn and Winter Cookbook
By: America's Test Kitchen
Celebrate the season with this treasure trove of cozy cooking and baking recipes, from soul-warming soups and simple dinners to showstoppers and weekend projects.
As the air grows chillier and nights longer, these dishes draw us to the table and the warmth of an active kitchen: Slow-simmered dishes like Cider-Braised Pork Roast, cheesy weeknight pasta like Unstuffed Shells with Butternut Squash, or a crusty bread like Fig and Fennel Bread.
When the flavors of summer fade, autumn and winter fruits and vegetables can be just as bold and bountiful. Find recipe inspiration from the season's first ripe figs and plump brussels sprouts to roasty sides featuring celery root, kohlrabi, and kabocha squash, or a cranberry curd tart to brighten a winter's night.   
Find it at your Library: [ eBook ]
Half Yard Winter Collection
By: Debbie Shore
A collection of Half Yard™ sewing projects for wintertime style, designed by the award-winning and best-selling author Debbie Shore.

Sew your own winter wonderland with just half a yard of fabric! Debbie has chosen her favorite winter designs from her much-loved Half Yard™ series, including five brand-new projects for you to sink your needles into.
 
Whether you're decorating the house for the holidays, looking for crafts to keep the little ones occupied or searching for gift inspiration, you'll find a gorgeous collection of items to make: from classics such as stockings, advent calendars and fabric baubles to snugly slippers, gorgeous gift bags and cheeky Christmas gnomes!
 
Each item requires no more than half a yard of outer fabric, plus all the necessary hardware, trimmings and lining. As always, every project features Debbie's friendly, easy-to-follow instructions and a beautiful photograph of the finished make.
Find it at your Library: [ Book ]
In Winter's Kitchen
By: Beth Dooley
The award-winning cookbook author "personalizes the path from farm to fork with heart and skill" in a combination of "memoir, history and guidebook" (Wall Street Journal).
The James Beard Award-winning author of such beloved cookbooks as Sweet Nature and The Sioux Chef's Indigenous Kitchen explores how the "food revolution" can take root in the northern heartland in this inspiring food memoir. In Winter's Kitchen reveals how a food movement with deep roots in the Heartland could feed the entire country, rather than just a smattering of neighborhoods and restaurants.
Through the lens of a single thanksgiving meal, Beth Dooley discovers that a locally-sourced winter diet is not only possible—it can also be delicious. With chapters on apples, wheat, turkey, wild rice, and more, Dooley weaves together personal remembrances, environmental awareness, and the joy of cooking foods grown or raised not far from her Minnesota home.
Find it at your Library: [ eBook ]
A Winter Treasury of Crafts, Recipes, and Wisdom
By: Angela Ferraro-Fanning
A Winter Treasury of Recipes, Crafts and Wisdom (Little Country Cottage) offers nature-based crafts, bakes and gardening projects in a celebration of self-sufficient, eco-friendly, country cottage-style life. The seasonal gardening and growing projects, such as planting bare root berry bushes in the ground or in containers, can be done in a big back yard or on a balcony, making this eco-friendly activity book a fun resource, whether readers are based in town or country. Woven alongside the cooking, crafting and planting projects are little snippets of seasonal information and self-sufficient wisdom from homesteading teacher Angela Fanning of Axe and Root Homestead, with a focus on enjoying and celebrating the best of what the winter season has to offer.
Find it at your Library: [ Book ]