Librarian Picks Books Focusing on Spring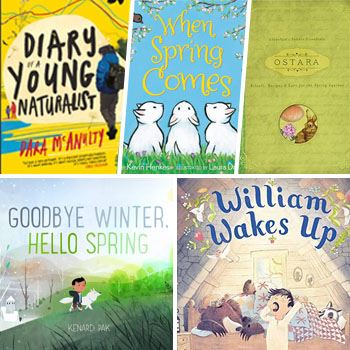 Recommended reading on nature-related topics from librarians at the Toledo Lucas County Public Library.
Diary of a Young Naturalist
By: Dara McAnulty
Diary of a Young Naturalist chronicles the turning of a year in Dara's Northern Ireland home patch. Beginning in spring—when "the sparrows dig the moss from the guttering and the air is as puffed out as the robin's chest. These diary entries about his connection to wildlife and the way he sees the world are vivid, evocative, and moving. As well as Dara's intense connection to the natural world, Diary of a Young Naturalist captures his perspective as a teenager juggling exams, friendships, and a life of campaigning. We see his close-knit family, the disruptions of moving and changing schools, and the complexities of living with autism.
Find it at your Library: [ Book ] [ hoopla eBook ]
William Wakes Up
By: Linda Ashman
William asks his animal friends, one after another, to awake from hibernation and prepare a celebration for a special friend who has been away all winter.
Find it at your Library: [ Book ]
Goodbye Winter, Hello Spring
By: Kenard Pak
Join a boy and his dog as they explore nature and take a stroll through the countryside, greeting all the signs of the coming season. In a series of conversations with everything from the melting brook to chirping birds, they say goodbye to winter and welcome the lushness of spring.
Find it at your Library: [ Book ]
When Spring Comes
By: Kevin Henkes
Animals and children alike watch as the world transforms from the dark and dead of winter to a full and blooming spring.
Find it at your Library: [ Book ]
Ostara: Rituals, Recipes & Lore For The Spring Equinox
By: Kerri Connor
Ostara—also known as the Spring Equinox—is a time of renewal, a time to plant seeds as the earth once again comes to life. This guide to the history and modern celebrations of Ostara shows you how to perform rituals and work magic to renew your power and passion for living and growing.
Find it at your Library: [ hoopla eAudio ]