Librarian Picks Books Focusing on Winter Fun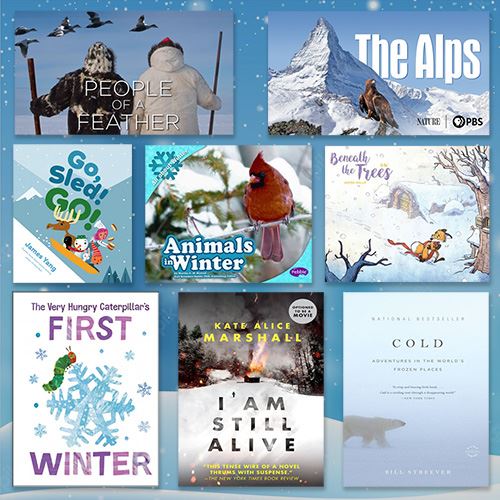 Recommended reading on nature-related topics from librarians at the Toledo Lucas County Public Library.
Beneath the trees: winter chills
By: Dav
"Winter is here, and snow covers the woods like a cold blanket. Mr. Fox has his enormous scarf to keep him warm, but it is almost TOO big -- he can't help but trip over it and get caught on tree branches all the time. But as embarrassing as that is, it is even more humiliating when trying to catch the eye of a beautiful lady!"--Amazon.com.
Find it at your Library: [ Book ]
The Very Hungry Caterpillar's First Winter
By: Eric Carle
There are so many ways to spend a chilly winter day. Join The Very Hungry Caterpillar and explore everything winter has to offer! Welcome winter with The Very Hungry Caterpillar and his friends in this sensory exploration of the season. Discover the very best of this time of year: snowy days full of play, the sounds of birds chirping atop a snowman, the smell of cookies fresh from the oven, and so much more!--Amazon.com.
Find it at your Library: [ Book ]
Animals in Winter
By: Martha E. H. Rustad
Snow falls, animals hibernate, and people bundle up, it's winter! Check out all the changes that come with longer nights and colder temperatures.
Find it at your Library: [ Book ]
Go Sled! Go!
By: James Yang
"An out-of-control sled filled with an elf, a bunny, a moose, a snowman and a baker with cakes speeds down the hill into more surprises, in this hilarious and easy-to-read picture book for beginning readers"-- Provided by publisher.
Find it at your Library: [ Book ]
I Am Still Alive
By: Kate Alice Marshall
"This tense wire of a novel thrums with suspense. . . . [this book] just might be the highlight of your summer."– The New York Times Cheryl Strayed's Wild meets The Revenant in this heart-pounding story of survival and revenge in the unforgiving wilderness. After: Jess is alone. Her cabin has burned to the ground. She knows if she doesn't act fast, the cold will kill her before she has time to worry about food. But she is still alive—for now. Before: Jess hadn't seen her survivalist, off-the-grid dad in over a decade. But after a car crash killed her mother and left her injured, she was forced to move to his cabin in the remote Canadian wilderness. Just as Jess was beginning to get to know him, a secret from his past paid them a visit, leaving her father dead and Jess stranded. After: With only her father's dog for company, Jess must forage and hunt for food, build shelter, and keep herself warm. Some days it feels like the wild is out to destroy her, but she's stronger than she ever imagined. Jess will survive. She has to. She knows who killed her father...and she wants revenge.
Find it at your Library: [ Book ] [ eBook ] [ eAudiobook ]
Nature: The Alps
By: PBS
In Europe's highest mountain range, discover how Eurasian lynx, golden eagles, ibex, marmots and more face extreme seasonal fluctuations, from volatile thunderstorms and landslides of summer to avalanches and frozen temperatures of winter. [From Kanopy]
Find it at your Library: [ Kanopy Streaming ]
People of a Feather
By: First Run Features
Featuring stunning footage from seven winters in the Arctic, People of a Feather takes us through time into the world of the Inuit in the northern reaches of Canada. Connecting past, present and future is the Inuit's unique relationship with the eider duck. Eider down, the warmest feather in the world, allows both Inuit and bird to survive harsh Arctic winters.
Changing sea ice and ocean currents disrupted by the massive hydroelectric dams powering eastern North America bring modern challenges to these Arctic residents. Inspired by Inuit ingenuity and the amazing properties of the eider feather, the film is a call to action to implement energy solutions that work with nature.
Find it at your Library: [ Kanopy Streaming ]
Field Guide to Tracking Animals in Snow
By: Louise R. Forrest & Denise Casey
Focuses on the animal's track pattern, making windblown and obscured tracks identifiable.
Find it at your Library: [ hoopla eBook ]
Cold
By: Bill Streever
From avalanches to glaciers, from seals to snowflakes, and from Shackleton's expedition to The Year Without Summer, Bill Streever journeys through history, myth, geography, and ecology in a year-long search for cold — real, icy, 40-below cold. In July he finds it while taking a dip in a 35-degree Arctic swimming hole; in September while excavating our planet's ancient and not so ancient ice ages; and in October while exploring hibernation habits in animals, from humans to wood frogs to bears.
A scientist whose passion for cold runs red hot, Streever is a wondrous guide: he conjures woolly mammoth carcasses and the ice-age Clovis tribe from melting glaciers, and he evokes blizzards so wild readers may freeze — limb by vicarious limb. [From hoopla ]
Find it at your Library: [ hoopla eBook ]