Librarian Picks Books Focusing Summer Picnic Fun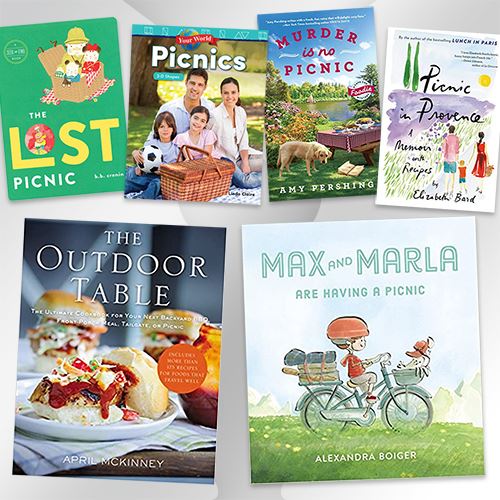 Recommended reading on nature-related topics from librarians at the Toledo Lucas County Public Library.
The Lost Picnic: a seek-and-find book
By: B.B. Cronin
Follow a grandfather and his grandchildren as they head out for a day in the country not noticing items are gradually disappearing from their basket.
Find it at your Library: [ Book ]
Max and Marla Are Having a Picnic
By: Alexandra Boiger
As Max and Marla set out for the perfect picnic, they learn getting along isn't always easy, but best friends can't stay mad for long
Find it at your Library: [ Book ]
Picnics
By: Linda Claire
You can see shapes all around you when you go on a picnic! Beginning readers will enjoy finding the circles, triangles, squares, and hexagons in this brightly illustrated book. With vibrant images and easy-to-read text, this full-color text uses a real-world example of a picnic to teach math concepts in everyday settings.
Find it at your Library: [ Hoopla eBook ]
Murder is No Picnic
By: Amy Pershing
The Fourth of July is coming, and for professional food lover Samantha Barnes, it's all about the picnic. Okay, and the fireworks. And the parade. But mostly the picnic. What could be better than a DIY clambake followed by the best blueberry buckle in the world? Sam has finally found the perfect recipe in the kitchen of Clara Foster, famed cookbook author and retired restaurateur, and she's thrilled when Clara agrees to a buckle baking lesson. But when Clara dies in a house fire blamed on carelessness in the kitchen, Sam doesn't believe it. Unfortunately, her doubts set in motion an investigation pointing to the new owner of Clara's legendary restaurant--and a cousin of Sam's harbormaster boyfriend. So, in between researching the Cape's best lobster rolls and planning her clambake, Sam needs to find Clara's killer before the fireworks really start...
Find it at your Library: [ Book ]
The Outdoor table: the ultimate cookbook for your next backyard BBQ, front-porch meal, tailgate, or picnic
By: April McKinney
Some of the best dining memories take shape under the stars, on the deck, and outside the stadium. Whether it's a muggy August night grilling on the patio with family or a chilly October morning with friends before the big game, the outdoor table is the perfect place to gather for the most important occasions or for no real reason at all. April McKinney's recipe collection and event profiles reflect the rich tradition of outdoor dining.
Find it at your Library: [ Book ] 
Picnic in Provence: a memoir with recipes
By: Elizabeth Bard
Filled with enticing recipes for stuffed zucchini flowers, fig tart and honey & thyme ice cream, Picnic in Provence is the story of everything that happens after the happily ever after: an American learning the tricks of French motherhood, a family finding a new professional passion, and a cook's initiation into classic Provencal cuisine. With wit, humor and scoop of wild strawberry sorbet, Bard reminds us that life-in and out of the kitchen-is a rendezvous with the unexpected.
Find it at your Library: [ Book ]     [ eBook ]