Librarian Picks Books that Focus on Camping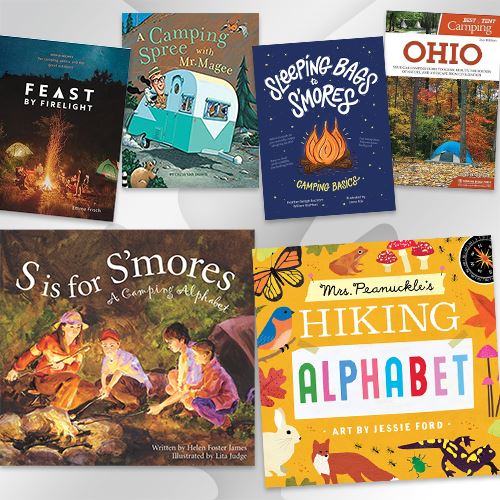 Recommended reading on nature-related topics from librarians at the Toledo Lucas County Public Library.
Mrs. Peanuckle's Hiking Alphabet
By: Marie Rodale
"Mrs. Peanuckle takes on the outdoors and shares all her favorite animals, plants, and more in her latest tour of the ABCs! From A to Z, Mrs. Peanuckle introduces toddlers to 26 different natural-world experiences. With playful text, bright illustrations, and sturdy pages, Mrs. Peanuckle's alphabet book engages toddlers and takes them on an alphabet adventure through the natural world!" -- Amazon.
Find it at your Library: [ Book ]
Best Tent Camping Ohio
By: Robert Loewendick
"The Buckeye State provides a spectacular backdrop for some of the most scenic campgrounds in the country. But do you know which campgrounds offer the most privacy? Which are the best for first-time campers? Robert Loewendick traversed the entire state-from Lake Erie and its fantastic fishing to the rich Native American culture of southwestern Ohio-and compiled the most up-to-date research to steer you to the perfect spot!"-- Provided by publisher.
Find it at your Library: [ Book ] [ hoopla ]
S is for S'Mores: A Camping Alphabet
By: Helen Foster James
"Introduces camping from A to Z using poetry, prose, and illustrations in a children's picture book. Includes information on beach camping, canyons, foliage, camping gear, John Muir, Juliette Gordon Low, and more"--Provided by publisher.
Find it at your Library: [ Book ]
A Camping Spree with Mr. Magee
By: Chris Van Dusen
Mr. Magee and his trusty dog, Dee, are enjoying a peaceful camping trip when all of a sudden they find themselves plunging down a mountain and teetering on the edge of a huge waterfall! How will they find their way out of this slippery situation? Chris Van Dusen, the creator of Down to the Sea with Mr. Magee, has filled this new adventure with charming illustrations and a playful, rhyming text. A fun read-aloud for children (and adults!) on campouts or snuggling at home! (Taken from hoopla.)
Find it at your Library: [ Book ] [ hoopla ] [ eBook ]
Sleeping Bags to S'mores: Camping Basics
By: Heather Balogh Rochfort and William Rochfort
"From choosing a destination and staying safe to what to cook and doing it on a budget, this guide provides fun advice for tent camping, car camping, and backpacking" -- Provided by publisher.
Find it at your Library: [ Book ]
Feast by Firelight: Simple Recipes for Camping, Cabins, and the Great Outdoors
By: Emma Frisch
Feast by Firelight offers solution-oriented recipes that make cooking outdoors feel effortless and downright fun and it shows how to utilize clever cooking methods, prep food at home, and pack smart. The book includes recipes for camp cooking as well as detailed menus, shopping and equipment lists, and tips showing how to prepare before you leave. Featuring 70 accessible recipes, it is the first of its kind in the outdoor-cooking niche to pair useful information with evocative photography of finished dishes and useful illustrations (such as how to pack a cooler and how to build a fire), setting a new standard for camping cookbooks. (Taken from TLCPL catalog.)
Find it at your Library: [ Book ]