Librarian Picks Focus on People and Wildlife Getting Ready for Winter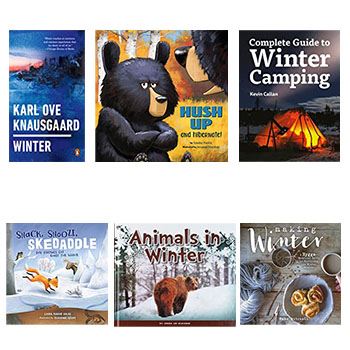 Winter
by Karl Ove Knausgård
In Winter, we rejoin the great Karl Ove Knausgaard as he waits for the birth of his daughter. In preparation for her arrival, he takes stock of the world, seeing it as if for the first time. In his inimitably sensitive style, he writes about the moon, water, messiness, owls, birthdays—to name just a handful of his subjects. These oh-so-familiar objects and ideas he fills with new meaning, taking nothing for granted or as given. New life is on the horizon, but the earth is also in hibernation, waiting for the warmer weather to return, and so a contradictory melancholy inflects his gaze.
Find it at your Library: [ Book ] [eAudio] 
Hush Up and Hibernate
by Sandra Markle
Winter is coming and it's time for black bears to hibernate; however, a black bear cub is making excuses to Mama Bear to try to avoid the inevitable.
Find it at your Library: [ Book ] 
Making Winter: A Hygge-Inspired Guide
by Emma Mitchell
"Want to survive those dark and freezing winter months? The Danish do it with hygge--a concept that's all about coziness, simple pleasures, and the company of loved ones. Embrace this warmhearted philosophy with these 25 creative crafts and recipes, which range from gorgeous trinkets to snuggly woolens and tasty treats. You don't have to be an expert with a crochet hook or a whiz in the kitchen to complete the projects, which include easy-to-follow instructions and photographs. Make vintage ornaments, bake plum and orange blondies, crochet boot cuffs, and more--and you'll feel hygge warming you no matter how cold it is outside" -- Amazon.com.
Find it at your Library: [ Book ] 
Complete Guide to Winter Camping
by Kevin Callan
"A guide to enjoying winter camping in warmth and comfort. Complete guide to winter camping offers advice on selecting a four-season tent and constructing other types of shelter, maintaining personal hygiene and cooking the cold, choosing a sleep system and getting the right warm clothing to properly enjoy winter"--Back cover.
Find it at your Library: [ Book ]
Snack, Snooze, Skedaddle: How Animals Get Ready for Winter
by Laura Purdie Salas
There is more than one way for animals to prepare for winter. Some, such as mice, foxes, and moose, simply tolerate the cold. Of course, black bears hibernate, but chipmunks, wood frogs, and garter snakes do too. And then there are the creatures that migrate, including hummingbirds, blue whales, and even earthworms! – Hoopla
Find it at your Library: [ eBook ] [ Movie ] [ Movie Read Along ]
Animals in Winter
by Jenna Lee Gleisner
"Engage readers with stories of animals in winter. Readers are introduced to different animals in winter, which are hibernating, migrating, and changing colors to blend in with the snow. Additional features include a table of contents, a phonetic glossary, an index, an introduction to the author, and sources for further research. A kid-friendly project inspires creativity and hands-on fun." – Amazon
Find it at your Library: [ Book ] [ eBook ]