Librarian Picks Focus on Spring Birding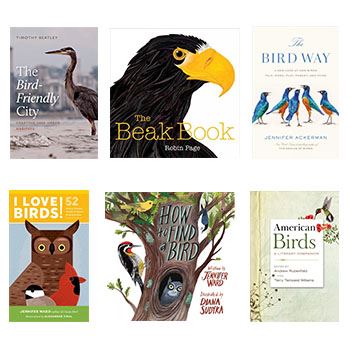 Recommended reading on nature-related topics from librarians at the Toledo Lucas County Public Library.
American Birds: A Literary Companion
Edited by Andrew Rubenfeld and Terry Tempest Williams
Featuring some of America's greatest writers and poets, this landmark anthology is a one-of-a-kind field guide to the American literary imagination. Americans have always been fascinated by birds and from the beginning American writers have captured this keen interest in a variety of genres: poems, journals, memoirs, short stories, essays, and travel accounts. Here literature professor and avid birder Andrew Rubenfeld, in collaboration with acclaimed writer Terry Tempest Williams, who provides a foreword, gathers evocative and surprising writings on birds and our fascination with them from an astonishing array of American poets and writers. The result is a literature of singular depth and beauty, with occasional flights of fancy in the mix. Experience the exquisite beauty of Native American songs about birds. Accompany Lewis and Clark as they encounter new species, Audubon as he sketches near New Orleans, and Emerson and Thoreau birding together around Walden Pond. Delight in Sarah Orne Jewett's poignant tale of a snowy egret in the Maine woods and Florence Merriam's portrait of a winter wren in Central Park. Join Rachel Carson as she watches skimmers along the Atlantic coast and Roger Tory Peterson observing snail kites in the Everglades. And thrill to an impressive roster of modern and contemporary poets, including Robert Frost, Elizabeth Bishop, Sterling A. Brown, Cornelius Eady, Mary Oliver, Linda Hogan, Louise Erdrich, and David Tomas Martinez, as they evoke the magic and haunting beauty of America's birds.
Find it at your Library [Book]
The Beak Book
By Robin Page
Birds around the world have so many amazing kinds of beaks! There are short beaks and long beaks, straight beaks and curved beaks, flat beaks and even spoon-shaped beaks. But what do all of these beaks do?

Discover how beaks of different shapes and sizes are adapted to help birds sip nectar, make nests, battle for mates, and more!
Find it at your Library [Book]
The Bird-Friendly City : creating safe urban habitats
By Timothy Beatley
How does a bird experience a city? A backyard? A park? As the world has become more urban, noisier from increased traffic, and brighter from streetlights and office buildings, it has also become more dangerous for countless species of birds. Warblers become disoriented by nighttime lights and collide with buildings. Ground-feeding sparrows fall prey to feral cats. Hawks and other birds-of-prey are sickened by rat poison. These name just a few of the myriad hazards. How do our cities need to change in order to reduce the threats, often created unintentionally, that have resulted in nearly three billion birds lost in North America alone since the 1970s?
In The Bird-Friendly City, Timothy Beatley, a longtime advocate for intertwining the built and natural environments, takes readers on a global tour of cities that are reinventing the status quo with birds in mind. Efforts span a fascinating breadth of approaches: public education, urban planning and design, habitat restoration, architecture, art, civil disobedience, and more. Beatley shares empowering examples, including: advocates for "catios," enclosed outdoor spaces that allow cats to enjoy backyards without being able to catch birds; a public relations campaign for vultures; and innovations in building design that balance aesthetics with preventing bird strikes. Through these changes and the others Beatley describes, it is possible to make our urban environments more welcoming to many bird species.
Readers will come away motivated to implement and advocate for bird-friendly changes, with inspiring examples to draw from. Whether birds are migrating and need a temporary shelter or are taking up permanent residence in a backyard, when the environment is safer for birds, humans are happier as well.
Find it at your Library [eBook]
The Bird Way : a new look at how birds talk, work, play, parent, and think
By Jennifer Ackerman
There is the mammal way and there is the bird way." This is one scientist's pithy distinction between mammal brains and bird brains: two ways to make a highly intelligent mind. But the bird way is much more than a unique pattern of brain wiring, and lately, scientists have taken a new look at bird behaviors they have, for years, dismissed as anomalies or mysteries. What they are finding is upending the traditional view of how birds conduct their lives, how they communicate, forage, court, breed, survive. They're also revealing the remarkable intelligence underlying these activities, abilities we once considered uniquely our own -- deception, manipulation, cheating, kidnapping, infanticide, but also, ingenious communication between species, cooperation, collaboration, altruism, culture, and play. Some of these extraordinary behaviors are biological conundrums that seem to push the edges of -- well -- birdness: A mother bird that kills her own infant sons, and another that selflessly tends to the young of other birds as if they were her own. Young birds that devote themselves to feeding their siblings and others so competitive they'll stab their nestmates to death. Birds that give gifts and birds that steal, birds that dance or drum, that paint their creations or paint themselves, birds that build walls of sound to keep out intruders and birds that summon playmates with a special call, and may hold the secret to our own penchant for playfulness and the evolution of laughter. Drawing on personal observations, the latest science, and her bird-related travel around the world, from the tropical rainforests of eastern Australia and the remote woodlands of northern Japan, to the rolling hills of lower Austria and the islands of Alaska's Kachemak Bay, Ackerman shows there is clearly no single bird way of being. In every respect, in plumage, form, song, flight, lifestyle, niche, and behavior, birds vary. It's what we love about them. As E.O Wilson once said, when you have seen one bird, you have not seen them all.
Find it at your Library [Book]
How to Find a Bird
By Jennifer Ward
A joyful and informative guide to birdwatching for budding young birders from an award-winning author-illustrator duo. How do you find a bird? There are so many ways! Begin by watching. And listening. And staying quiet, so quiet you can hear your own heartbeat. Soon you'll see that there are birds everywhere—up in the sky, down on the ground, sometimes even right in front of you just waiting to be discovered! Young bird lovers will adore this lushly illustrated introduction to how to spot and observe our feathered friends. It features more than fifty different species, from the giant whooping crane to the tiny ruby-throated hummingbird, and so many in between, and a detailed author's note provides even more information about birding for curious readers. This celebration of the wondrous variety, colors, and sounds of the avian world is sure to have children grabbing their binoculars and heading outside to explore.
Find it at your Library [Book] [eBook]
I Love Birds! 52 Ways to wonder, wander & explore birds with kids
By Jennifer Ward
Part journal, part field guide, I love birds! is chock-full of the activities, information, and rich resources that will fuel discovery and inspire families, urban and rural, with everything bird. Through sensory, hands-on, creative explorations that involve birding basics and the how's and why's of bird behavior, parents are invited to share the joy of birds with children ages 4 to 8. The activities here will engage children's imagination and sense of wonder as they observe birds in the wild, become citizen scientists, delve into their DIY and artistic side, and enjoy the simple bounty of bliss birds provided merely by engaging with them, all the while forging a deeper understanding, appreciation, and stewardship toward nature, our planet, and all things feathery.
Find it at your Library [Book]