Librarian Picks Focus on Winter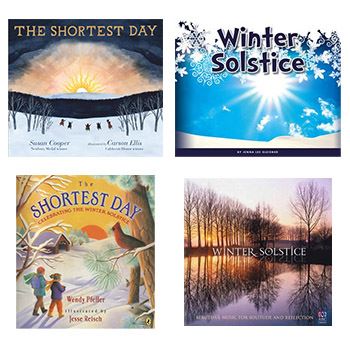 Recommended reading on nature-related topics from librarians at the Toledo Lucas County Public Library.
Winter Solstice
By Jenna Lee Gleisner
Engage readers with a story of the winter solstice. Readers are introduced to the concepts of how Earth's tilt creates the seasons and why there are less hours of daylight in winter. Additional features include a table of contents, a phonetic glossary, an index, an introduction to the author, and sources for further research. A kid-friendly project inspires creativity and hands-on fun.
Find it at your Library: [ Book ] [ eBook]

The Shortest Day: Celebrating the Winter Solstice
By Wendy Pfeffer
The beginning of winter is marked by the solstice, the shortest day of the year. Long ago, people grew afraid when each day had fewer hours of sunshine than the day before. Over time, they realized that one day each year the sun started moving toward them again. In lyrical prose and cozy illustrations, this book explains what the winter solstice is and how it has been observed by various cultures throughout history. Many contemporary holiday traditions were borrowed from ancient solstice celebrations.
Find it at your Library: [ Book ]

The Shortest Day
By Susan Cooper
A celebration of the winter solstice and the Yuletide season. As the sun set on the shortest day of the year, early people would gather to prepare for the long night ahead. They built fires and lit candles. They played music, bringing their own light to the darkness, while wondering if the sun would ever rise again. Written for a theatrical production that has become a ritual in itself, Susan Cooper's poem "The Shortest Day" captures the magic behind the returning of the light, the yearning for traditions that connect us with generations that have gone before-- and the hope for peace that we carry into the future. Richly illustrated by Carson Ellis with a universality that spans the centuries, this beautiful book evokes the joy and community found in the ongoing mystery of life when we celebrate light, thankfulness, and festivity at a time of rebirth. Welcome Yule!
Find it at your Library: [ Book ]    

Winter Solstice
Australia Broadcasting Corporation
Stream or download this collection of classical music that is perfect for the winter season.
Find it at your Library: [ eMusic ]